What's Behind the Trend to Value Animals More Than Humans
Remco Brommet, IFA Contributing Writer
|
October 4, 2022
What's Behind the Trend to Value Animals More Than Humans
Remco Brommet, IFA Contributing Writer
|
October 4, 2022
I Prayed
have prayed
Father in heaven, Creator of all things, we pray today that You awaken America to the truth that the hole in the soul that cries out for companionship, comfort, and support is designed to be filled by You, and not by created things. In Jesus' name. Amen.
Analysis. The New York Post reported last week that a cat lover was charged with murder after running over a man to save a cat. The article described how a woman in Cypress, Calif., spotted a man she thought was trying to kill a cat. She got out of her car, yelled at the man, and as he tried to speak to her, got back in the vehicle, made a three-point turn, and ran at him. She hit him so hard that he was launched off the hood, bounced off her windshield, and hit the pavement. He was pronounced dead at the scene. The Orange County district attorney commented: "This action showed a complete disregard for human life."
View Comments (32)
What is most disturbing about this story is not only that someone lost his life based on an assumption that might very well have been false, but also that this woman is hardly alone in placing more value on the life of an animal than that of a human being — at least on the life of an animal that can be considered a pet. This is a growing trend.
Psychology professor Hal Herzog explores this issue in an article on Wired.com. His research finds that cases of pet killings are reported far more frequently than murders are, and that public outrage over the former is greater. Herzog cites the work of sociologists who put this to the test by having people read murder reports versus reports of pets that were killed. They found that people reacted much more emotionally to the reports of pet killings. (And those reports were fictitious — created only for the experiment.)
Why do we see this trend? And is it even worth praying about, given that there are so many other, more pressing issues? I believe it is indeed worth praying for, because this is an easily overlooked symptom of a deep, dark need in the human soul, one that expresses itself in worship of the creature rather than the Creator. The Apostle Paul elaborates on this:
For although they knew God, they did not honor him as God or give thanks to him, but they became futile in their thinking, and their foolish hearts were darkened. Claiming to be wise, they became fools,and exchanged the glory of the immortal God for images resembling mortal man and birds and animals and creeping things. Therefore God gave them up in the lusts of their hearts to impurity, to the dishonoring of their bodies among themselves, because they exchanged the truth about God for a lie and worshiped and served the creature rather than the Creator, who is blessed forever! Amen. … And since they did not see fit to acknowledge God, God gave them up to a debased mind to do what ought not to be done (Romans 1:21–25, 28).
An obvious expression of worshiping the creature above the Creator is the religious veneration of animals. This dates back to ancient Egypt, where such animals as cats and birds were considered sacred. In the Old Testament, we read that soon after God delivered the Israelites out of Egypt, they rebelled against Him and forged a golden calf to worship instead (Exodus 31 and 32). Fast-forward to our modern world, where we have New Age religions and animism, with their worship of nature and of such animals as cows and monkeys, venerated by Hindus as incarnations of gods.
A less obvious expression of all this is when people's emotional attachment to pets is stronger than their respect for human life — and much more important, stronger than their attachment to and worship of God.
There is absolutely nothing wrong with caring about animals and enjoying our pets. God has given us all things to enjoy (1 Timothy 6:17), and being good to animals is, in general, part of good stewardship of God's creation. A dog brings unconditional love, cats are amusing and cuddly, and horses bring a calming presence. In our household we've owned and enjoyed all three of these, and more.
It is when we start to attribute humanlike qualities to them, to value their companionship more than that of humans, and to use them to fill our God-given need for emotional support, unconditional love, and companionship that we cross a line. I have frequently ministered to people with deep emotional scars who trusted animals more than people, and even more than God, because they had been wounded by people in the past and lived in fear of being hurt again. Some people have left their entire fortune to their pets when they died. Others marry their pets.
The growing popularity of ESAs (emotional support animals) is further evidence of relationships with animals that have been taken too far. In an article published in the University of New Mexico Newsroom, forensic psychologist Dr. Jeffrey Younggren elaborates on the headaches of certifying emotional support animals for people with mental health disorders. The reason, he says, is that there is little evidence that the animals put forward for certification can actually do what the patient expects them to do. "An ESA is an example of a well-intended idea that has metastasized and developed into a world of nonsense," Younggren states. He hastens to add that this has nothing to do with service animals like guide dogs and other assistance animals trained to perform specific tasks and which have proved to be extremely valuable to patients.
I believe that these trends of valuing animal life more than human life and of giving to them a greater place than to humans and especially to God all point to an urgent need for prayer. This is because valuing animals above God is a symptom of exchanging the truth for a lie and of worshiping the creature rather than the Creator, and thus of being given over to a debased mind to do what ought not to be done. An example of such a debased mind is the killing of a man because you think he is doing something bad to a cat. There are other symptoms of this soul sickness that are not related to animals. Among these are self-medication through substance abuse, alcoholism, and pornography and other sex addictions. All of these are man-made ways of trying to fill the "hole in our soul," that empty space that hungers for validation, comfort, unconditional love, hope, joy, peace, and purpose — the hole that was designed to be filled by God Himself when He created people. The debased mind that Paul talks about comes from our attempts to fill up that hole with everything under the sun except Him.
Incidents like the one that prompted me to write this call to prayer are occurring with ever greater frequency. They point to the reality that we are living in an increasingly anxious, depressed, stressed out, emotionally unstable society that is busy ignoring the One under Whom we claim to be as one nation, and to Whom alone we may turn for  intervention.
And that is cause for us to step up our prayer for God to open hearts to the gospel (Acts 16:14) that is being preached around the nation and is embedded in our foundation. God's call to turn away from animal veneration and from self-medication to open our hearts to Him, to be healed, and to have that hole in our soul filled to all fullness with Himself can still be heard.
Father in heaven, forgive us for all the times we have venerated created things, even pets, above You and sought fulfillment in places where You never intended for it to be found. Forgive us for being a nation of people claiming to be under You but who are looking to fill the hole in our souls with everything but You — including a vain intimacy with our pets. All of this moves us to pray that You would visit us with the Holy Spirit and open the hearts of those who are hurting and seeking to soothe their pain. Bring them to the truth of the gospel and its message that You not only long to bring redemption from the wages of sin, but also to be Yourself the center of our lives and the source of all healing, joy, peace, hope, comfort, and purpose. In Jesus' name. Amen.
What did you think of this article? Share your prayers for the respect and the value of human life below.
Remco Brommet is a pastor, spiritual-growth teacher, and prayer leader with over 40 years of experience in Europe, Southeast Asia, Africa, and the U.S. Born and raised in the Netherlands and having pastored his first church in Amsterdam, he moved to the U.S. in 1986. He and his wife, Jennifer, live north of Atlanta. When not writing books, he blogs and assists his wife as a content developer and prayer coordinator for True Identity Ministries. Jennifer and Remco are passionate about bringing people into a deeper relationship with Christ. Photo Credit:  Humberto Arellano on Unsplash.
Partner with Us
Intercessors for America is the trusted resource for millions of people across the United States committed to praying for our nation. If you have benefited from IFA's resources and community, please consider joining us as a monthly support partner. As a 501(c)3 organization, it's through your support that all this possible.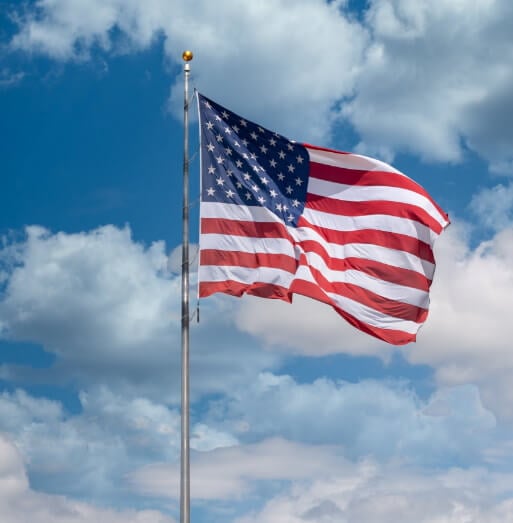 Become a Monthly Partner
You can post a prayer to share with others.
Alan V
October 7, 2022, 6:57 am
Father in heaven, Creator of all things, we pray today that You awaken America to the truth that the hole in the soul that cries out for companionship, comfort, and support is designed to be filled by You, and not by created things. Animals are wonderful because You made them. Exalting them above what You intended is sin, O Lord. Forgive us. In Jesus' name. Amen.
Christine S
October 5, 2022, 2:57 pm
Father in Heaven, and Lord Jesus Christ, this is at her insanity and complete nonsense, we are created in your image and therefore have the preeminence on earth, You are the Creator of all things, we pray today that You awaken America to the truth that the hole in the soul that cries out for companionship, comfort, and support is designed to be filled by You, and not by created things. In Jesus' name. Amen.