We Can Change the Narrative
Kim Potter, IFA Contributing Writer
|
March 5, 2022
We Can Change the Narrative
Kim Potter, IFA Contributing Writer
|
March 5, 2022
I Prayed
have prayed
Lord, we thank you for the power of prayer. We pray that we would continue to lean on You in every situation. Pull us deeper into You, Lord. We need you more than anything this world has to offer us!
According to a recent interview from CNBC, Bill Gates stated, "We'll have another pandemic. It will be a different pathogen next time."
Righteous indignation arose in me.  I knew we didn't have to accept his proclamation. We can change the narrative.
View Comments (66)
We are not yet on the other side of this last man-made variant as Gates attempts to prophesy the next.
The same holds true with what we see transpiring in Ukraine. Even as we hear of the tragic loss of life from Putin's invasion, we see God at work as Ukrainian believers and Russian believers alike unite in prayer for God's intervention.
The Ukraine Taskforce and Pastor Igor in Lviv shared, "Please tell your people, because of their prayers, God really fights our battles. The rockets disappear in the air, without reaching our homes and no one knows where they went. Enemy tanks run out of fuel. Russian troops have gotten lost and ask our locals for food and for directions. That is definitely God because we are dealing with the second strongest army in the world. Kyiv and other major cities are still free. Thank you for your prayers."
However, the fighting continues. Of great concern is that Russian forces have now taken control of Ukraine's Zaporizhzhia nuclear power plant even as the United Nations offers to come to help secure other nuclear sites. Considering the U.N. is part of the globalist architecture, that is not necessarily a positive thing. Additionally, although the key port city of Mariupol remains under Ukrainian control, it has been encircled by Russian forces, according to a recent report by Aljazeera News.
As we consider Bill Gates and the globalist's attempt to control the world with fear via the pandemic and Russia's invasion of Ukraine, my thoughts went to David and Goliath.
1 Samuel 17:4-11 says, "A champion named Goliath, who was from Gath, came out of the Philistine camp. His height was six cubits and a span. He had a bronze helmet on his head and wore a coat of scale armor of bronze weighing five thousand shekels on his legs he wore bronze greaves, and a bronze javelin was slung on his back. His spear shaft was like a weaver's rod, and its iron point weighed six hundred shekels. His shield-bearer went ahead of him.
"Goliath stood and shouted to the ranks of Israel, 'Why do you come out and line up for battle? Am I not a Philistine, and are you not the servants of Saul? Choose a man and have him come down to me. If he is able to fight and kill me, we will become your subjects; but if I overcome him and kill him, you will become our subjects and serve us.'
"Then the Philistine said, "This day I defy the armies of Israel! Give me a man and let us fight each other." On hearing the Philistine's words, Saul and all the Israelites were dismayed and terrified."
The men were frightened at the words of Goliath. (I can imagine that is how many felt when they read the words of Bill Gates.)  But one man had a different perspective.
David didn't hesitate to challenge Goliath's fear-filled narrative. "Who is this uncircumcised Philistine that he should defy the armies of the living God?," he declared.
Then, David said to Saul, "Let no one lose heart on account of this Philistine; your servant will go and fight him" (v.32).
As Goliath tried to prophesy fear into the Israelites, David prophesied truth out of confidence in the Lord. "You come against me with sword and spear and javelin, but I come against you in the name of the Lord Almighty, the God of the armies of Israel, whom you have defied. This day the Lord will deliver you into my hands, and I'll strike you down and cut off your head. This very day I will give the carcasses of the Philistine army to the birds and the wild animals, and the whole world will know that there is a God in Israel. All those gathered here will know that it is not by sword or spear that the Lord saves; for the battle is the Lord's, and he will give all of you into our hands" (v.45-47).
May we take the same stand David took against Goliath and declare, "Who is this man that speaks such words over the people of God?"
Instead of coming into agreement with Bill Gates's words or with the proclamation that Russia will take over Ukraine, we must stand against them, for they do not line up with God's Word. How do we do that?
We change the narrative. We speak God's Word into the situation.
The Bible is clear. You cannot curse what God calls blessed (Num 23:8). Sickness and disease are a curse. They are not from God. It is imperative that our words line up with God's Word–not the media's and certainly not Bill Gates'.
Yet many Christians continue to repeat what the enemy is saying. If they hear it on the news, they parrot it to everyone they encounter, reinforcing the message of doom. I must remind you, life and death are in the power of the tongue, and we will eat the fruit of our lips (see Proverbs 18:21).
There is great power in our words. Therefore, we must be careful what we say, and what we repeat.
The Bible teaches us how to speak and what to say. In Joel 3:10 we are told, "Let the weak say, I am strong." And in Mark 11:23 it says, "For assuredly, I say to you, whoever says to this mountain, 'Be removed and be cast into the sea,' and does not doubt in his heart, but believes that those things he says will be done, he will have whatever he says."
Then in Genesis 11:6 we read: "And the LORD said, 'Indeed the people are one and they all have one language, and this is what they begin to do; now nothing that they propose to do will be withheld from them.'"
The people at Babel had come into agreement with their words and their actions followed. It was a powerful combination. God said, essentially, "If they keep this up, nothing will be impossible for them." Don't you know that if this principle worked for evil, it would absolutely work for good?
We must change the narrative.
Years ago, prayer partners for my ministry and I witnessed the amazing power of our words during a time when gas prices had soared ridiculously high. God put it on my heart to have the partners pray and declare every single time they pumped gas that gas prices would come down to $2 a gallon. At the time, gas was over $4 a gallon.
We began to pray and decree that word. And you know what? Within a short period of time, gas prices did drop to $2 a gallon just as we had decreed. We, as the Body of Christ, saw the power of the prayer of agreement as we declared and called into existence what we wanted to see.
We can experience that same thing again today. Nothing is impossible for God, and all things are possible in Him. For we are in Him. His words are in us. And as we speak them out, they carry creative power.
I am confident that if we stop repeating the negative and begin declaring God's Word, we will see a turnaround just like when the gas prices dropped. God spoke to me concerning this, "We must change the narrative." And that is exactly what we do when our words of faith are louder and more consistent than that of the news media and that of the naysayers.
Words carry power. Are we going to just allow Bill Gates' or Russia's declaration to stand unchallenged?
If they say ten times a day, "another pandemic is coming our way," we must say, "In the name of Jesus, there will be no more pandemics, no more pathogens! This stops here and now." Whatever narrative is being spoken over Ukraine; we must speak only what God says. And we must say this more often than they are declaring the negative. The Bible tells us we will have what we say. When we keep repeating what they say, we will have what they say. I, for one, do not want that.
There is much power available to the Body of Christ which is released when we pray and agree. I have seen it over and over again. We have the power and authority to stop this thing if we will stand together, declare together and refuse to stop until we see our desired results. We can change the narrative, and consequently, change the outcome.
Please stop repeating the news media. Stop repeating fear and anxiety. Begin to declare the Word of God, even if you don't feel it at the time. If God created the world with His words, and we are created in His image, He has given us that same power. So, from here on out, let us declare only what we want to see happen. We can change this season, together, in the name of Jesus Christ and by the authority of His Word.
David did it. When no one else would stand up against the giants, David did.
My friend, there are more with us than with them. Let's stand up today, declare God's outcome, and watch Him give this enemy into our hands as we change the narrative.
Author Kim Potter is a writer and the founder of A New Thing Ministries, which sends a daily teaching to thousands of people all around the world. Her articles have appeared on The Elijah List, Charisma, Spirit Fuel and iBelieve.com. Kim's message is one of hope. She speaks to the heart of those who have grown discouraged or disappointed by the circumstances of life, imparting hope. To receive her daily inspirational writings, go to www.anewthingministries.com
Partner with Us
Intercessors for America is the trusted resource for millions of people across the United States committed to praying for our nation. If you have benefited from IFA's resources and community, please consider joining us as a monthly support partner. As a 501(c)3 organization, it's through your support that all this possible.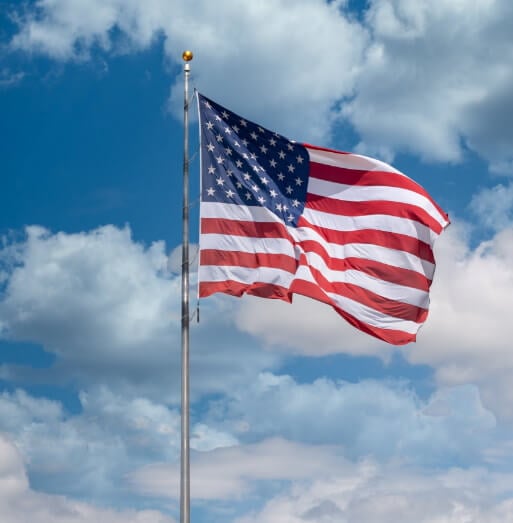 Become a Monthly Partner
You can post a prayer to share with others.
Christine S
March 5, 2022, 12:28 pm
Lord Jesus Christ, Thank You for the privilege of prayer. Help us continue to lean on You in every situation. Please make us stronger in You, Lord. You are keenly aware we need You more than anything this pitiful world has to offer us!
Vicki R
March 5, 2022, 9:22 am
Lord, we thank you for the power of prayer. We pray that we would continue to lean on You in every situation. Pull us deeper into You, Lord. We need you more than anything this world has to offer us! Father, I give thanks and praise to Your Almighty power and the wonderful ways You are working; when rockets disappear, when enemy tanks run out of fuel; when the Russian troops get lost and are without food. Holy Father, I pray that those soldiers ,whose original intention was to devastate the land, might have a divine connection to a believer to share the Gospel with. LORD, You say in Your word: "Today you are on the verge of battle with your enemies. Do not let your heart faint, do not be afraid and do not tremble, or be terrified because of them; for the LORD Your God, it is He who goes with you, to fight for you against your enemies, to save you. (Deut.20:3-4)
Alan V
March 5, 2022, 9:15 am
Lord, we thank you for the power of prayer. We pray that we would continue to lean on You in every situation. Pull us deeper into You, Lord. We need you more than anything this world has to offer us! Praise the Lord that He is reliable when the things of this world fail us.