Universal Basic Income: A Tool to End Poverty or a Vice for Government Control?
Angela Rodriguez, IFA Contributing Writer
|
January 15, 2022
Universal Basic Income: A Tool to End Poverty or a Vice for Government Control?
Angela Rodriguez, IFA Contributing Writer
|
January 15, 2022
I Prayed
have prayed
Lord Jesus, in this age of economic instability, we know that you are the rock we can rely on. Just as you feed the sparrows, that have no storeroom or barn, you will certainly provide for your people.
Imagine receiving a thousand dollars or more in your bank account each month, regardless of whether you are employed or not? This cash payment would arrive regularly, with "no strings attached." The amount of money you currently earn would not affect this payment, and you could spend it on anything you want or need. In addition, the money that's received would not be affected by your marital status, or the number of children you have.
Sound too good to be true? In the Covid pandemic era, this is an idea that's gained traction around the world. It's called UBI or Universal Basic Income. Investopedia describes it like this:
View Comments (34)
"Universal basic income (UBI) is a government program in which every adult citizen receives a set amount of money regularly. The goals of a basic income system are to alleviate poverty and replace other need-based social programs that potentially require greater bureaucratic involvement."
While proponents of a universal basic income say it would alleviate poverty, this program is engineered to include ALL adults, regardless of their employment status. Whether you're a married, employed stock broker on Wall Street, or an unmarried, unemployed chef, the money doled out by a basic income plan is designed to go into your bank account with no extra requirements. These payments would be provided for everyone, regardless of need, and would be paid to an individual, rather than a household. In addition, a person could earn as much money as he/she wanted at another job, and still receive the money allotted by the program. Of course, this is the program in its purest, most idealistic form.
While UBI optimists insist there would be no requirements to receiving a basic income, there is no way to guarantee this, and it's always possible for policies to change. Certainly, depending on the country, there could be "strings attached" such as immunization requirements, approved social behaviors, or compliance with certain rules and mandates. Any country implementing a program could design its own specifications according to its needs. Opponents of UBI warn that it can easily morph into a social credit system, mirroring the one currently in China.    
While the idea of receiving a basic income (or versions of it) have been discussed and promoted in the United States by politicians such as Hillary Clinton and 2020 Presidential candidate Andrew Yang, it's gaining the most support in Europe. The main reason is because of the impact of the Covid-19 pandemic. Businesses have been shut down, causing citizens to lose their sources of income. Poverty has risen around the world and income disparity is increasing. People are becoming more dependent on the government for their economic security.
Supporters of a universal basic income see it as a universal human right. The European Citizens' Initiative says, "As a human and legal right UBI shall not depend on any preconditions, whether an obligation to take paid employment, to demonstrate willingness-to-work, to be involved in community service, etc."
Since September 25, 2020, the European Union has been working on obtaining one million signatures to verify support of the European Citizens Initiative, known as 'Start Unconditional Basic Incomes (UBI) throughout the EU.' They have until June 25, 2022 to collect enough signatures and present them to the European Commission. They are hoping this will be the catalyst that makes UBI a reality for Europeans.
The World Economic Forum has quite a few opinions when it comes to a Universal Basic Income. An article posted just a few months into the pandemic says:
"It is time to add a new element to the policy packages that governments are introducing, one we know but have abandoned: Universal Basic Income (UBI). It is needed as part of the package that will help us to get out of this yawning pit."
The article further states that, "a new social contract needs to emerge from this crisis that rebalances deep inequalities that are prevalent across societies. To put it bluntly: the question should no longer be whether resources for effective social protection can be found – but how they can be found. UBI promises to be a useful element of such a framework."
Did you catch the wording at the beginning of that quote? It says a new social contract needs to emerge. Globalist organizations like the WEF are always promoting new ways of doing things, but they often involve more monitoring and control. Their plan for the Great Reset is just one example.
The World Economic Forum has been talking about UBI for a while. An article posted in 2017 lays out the case for UBI and emphasizes this point: "It's like a game of Monopoly where the winning teams have rewritten the rules so players no longer collect money for passing Go. The rule change functions to exclude people from markets. Basic income corrects this."
While some leaders and idealists tout the benefits of UBI, they also insist it will not require anything of those who receive it. But we must ask ourselves if we can take them at their word. After all, we have seen how the Covid pandemic has driven many leaders to declare themselves dictators, as they institute marching orders and mandates without batting an eye.
For example, on September 9, 2021, Joe Biden gave remarks that sounded more like a vaccine manifesto than a presidential speech. "The bottom line: We're going to protect vaccinated workers from unvaccinated co-workers…we've been patient, but our patience is wearing thin. And your refusal has cost us all." That same day Biden announced that all companies with 100 or more employees would be required to ensure their workers are vaccinated against Covid-19, or produce a negative test once a week. This was quite a different tune from just ten months earlier when Biden publicly stated, "No — I don't think it should be mandatory. I wouldn't demand it to be mandatory."
More examples abound in places like Austria, which now has some of the strictest vaccination policies in the world. Minister of Foreign Affairs for Austria, Alexander Schallenberg, stated: "We have too many political forces in this country that are fighting against this [vaccination] vehemently, massively and publicly. That is irresponsible. This is actually an attack on our health care system," he said. And even more shocking are the recent words of the President of France, Emmanuel Macron, who had this to say about the unvaccinated. "I really want to piss them off, and we'll carry on doing this–to the end," he told Le Parisien newspaper.
In a world where policies and promises seem to change like the wind, it is naïve to believe that a universal basic income would not require anything from recipients.  Also, one must wonder, where does the money to provide UBI come from? For most plans, taxes would increase substantially. How much could depend on your current income, as well as how much you consume. But other ideas include leasing government land to businesses in order to raise money. Carbon pricing, taxes on businesses, and financial transaction taxes are other ideas suggested by politicians.
It's not just the globalists who are excited about the prospect of giving everyone a basic income. Transhumanists are optimistic and believe it could be a game changer. Keep in mind that the overall goals of those who follow the transhumanist movement — to use technology, genetic engineering, robotics, and nanotechnology to enhance and extend life (even to the point of eternal life). The long-term goal is for the body to be connected to the digital realm where everything is tracked and monitored by artificial intelligence. This would include monetary transactions and of course, bank accounts. A basic income could be downloaded into your body and at your disposal whenever you need it. Currently in Sweden citizens may choose to be implanted with microchips containing personal information such as Covid vaccination records. They can even be used to pay for goods and services. Transhumanists consider the microchip a type of cyborg technology. Another reason many transhumanists support UBI is because they advocate artificial intelligence, robots, and other types of automation replacing the human worker. Therefore, UBI softens the blow by ensuring minimum income for the replaced workers.
You may not realize that a form of UBI has existed in Alaska since the early 1980's. Known as the Permanent Fund Dividend (or Alaska Permanent Fund), this yearly payment is generated from the state's oil revenues. According to Alaska's Department of Revenue website, in 2021, Alaska residents received $1,114 in dividends per individual. UBI has also been tested or strongly considered in places such as India, Brazil, Africa, Finland, the Netherlands, Latvia and Canada. The amounts each individual would receive, as well as how the program could be run, varies from one country to another. Some proponents envision every person (adult) being given enough money each month to pay for food, rent and other basic needs, regardless of their economic status.
Perhaps this sounds great on the surface. After all, don't we all want to have a secure income that has "no strings attached?" But herein lies many questions. First, when we are dealing with sinful people and sinful governments, can we really expect there will be no strings attached? Jeremiah 17:9 says, "The heart is deceitful above all things, and desperately wicked: who can know it?" Also, in the age of Covid, where we clearly see governments in places such as Austria, Germany, Italy, Canada, Greece, New Zealand, Australia and even America imposing their own will upon people, can we be confident that a basic income would be distributed fairly? Additionally, isn't it possible that there could be deliberate attempts to harm existing economies in order to institute a system that could usher in even more government control of our money and livelihoods? And of course, we must consider what a guaranteed income for all would do to individual work ethic.
The Bible warns about a future globalist ruler who will demand allegiance to a totalitarian system that requires a mark to buy or sell. Revelation 13:16-17 says, "He causes all, both small and great, rich and poor, free and slave, to receive a mark on their right hand or on their foreheads, and that no one may buy or sell except one who has the mark or the name of the beast, or the number of his name."
As this world becomes covered by the shadows of this future system, how should we respond as Christians? Certainly, we should always pray for discernment and wisdom about emerging technologies and any kind of governmental monetary program. We must seek the Lord and His Word so we can be like the Sons of Issachar, who understood the times and the seasons. We must also realize that UBI is a globalist idea that has a much broader goal than bringing people out of poverty.
Lord Jesus, we ask for your wisdom and discernment when it comes to our money and finances. We trust in your provision and not the programs of worldly leaders. Please help us navigate the ever-changing winds of the continual economic storms we face. With you as our compass and lighthouse, we will surely make it to stable ground.
What are your thoughts on receiving a universal basic income from the government?
Angela Rodriguez is an author, blogger and homeschooling Mom who studies the historical and biblical connections between Israel and the United States. You can visit her blogs at 67owls.com and 100trumpets.com. Her latest book, Psalm 91: Under the Wings of Jesus, was released in June 2021. Photo by Sharon McCutcheon on Unsplash.
Partner with Us
Intercessors for America is the trusted resource for millions of people across the United States committed to praying for our nation. If you have benefited from IFA's resources and community, please consider joining us as a monthly support partner. As a 501(c)3 organization, it's through your support that all this possible.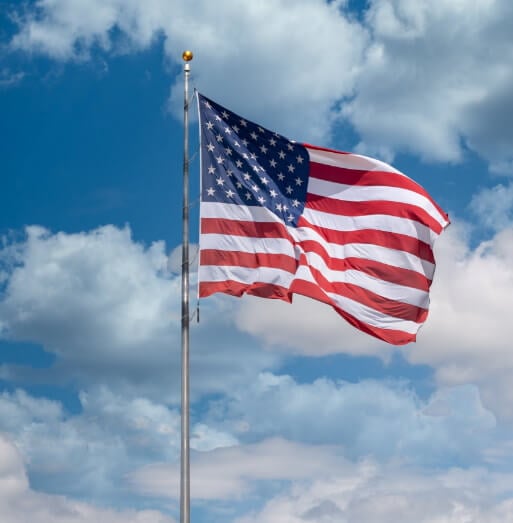 Become a Monthly Partner
You can post a prayer to share with others.
Patricia T
January 15, 2022, 1:46 pm
Lord Jesus, in this age of economic instability, we know that you are the rock we can rely on. Just as you feed the sparrows, that have no storeroom or barn, you will certainly provide for your people. Father we realize that the children of this age will grow wiser and wiser and weaker and weaker at the same time as they do not seek the counsel of your Word or those you have placed before them with godly wisdom. Father we ask that you would touched those that you have already sealed with the spirit of promise who are seeking to walk in your truth in our government and Christian leaders. Strengthen them to stand for righteousness and not their own righteousness. Let your Holy Spirit impart to them wisdom and discernment concerning every decision they have to make concerning your people and this nation. Give them a boldness to speak the truth in love even when they are in minority. Let your kingdom come and your will be done in their lives here on earth even as it is in heaven in Jesus Name, Amen
Alan V
January 15, 2022, 8:56 am
Lord Jesus, in this age of economic instability, we know that you are the rock we can rely on. Just as you feed the sparrows, that have no storeroom or barn, you will certainly provide for your people. The Lord will provide: Jehovah Jireh; government wants to replace that with its' provision. The price is slavery. Socialism means that people are the property of the state.
Zoraida D
January 15, 2022, 7:46 am
Lord let not the love of money rule over us. Teach us to understand how money can be lousy master but a great servant. Bless the work of our hands, soften our hearts towards others and teach us to be examples of your mercies. Give us wisdom to be good stewards of the daily bread that you provide and teach us not to worry about anything and how to pray about everything.