The Powerful Backstory of Praying Coach Kennedy
Rich Swingle, IFA Contributing Writer
|
July 23, 2022
The Powerful Backstory of Praying Coach Kennedy
Rich Swingle, IFA Contributing Writer
|
July 23, 2022
I Prayed
have prayed
Lord, thank You for the great work the Kendrick Brothers are doing through their films all over the globe! Thank You they inspired Joe Kennedy to become Coach Kennedy and pray at the 50-yard line. Thank You for validating his actions through this U.S. Supreme Court decision!
Does media shape our culture? Can a little indie film make a difference? One such movie did just that. The film Facing the Giants, produced by a couple of associate pastors, Alex and his brother Stephen Kendrick, using volunteer actors from their church, inspired Joe Kennedy to become "Coach Kennedy" and pray at the 50-yard line. That led to a victory for religious freedom and freedom of speech at the Supreme Court. The win blessed the Kendrick Brothers, whose film ultimately led to such a great victory for liberty.
View Comments (58)
Kennedy came back to his hometown of Bremerton, Washington, after serving in the military for two decades. He told Victoria Will of the NY Post:
I never intended to be a football coach, but maybe it was part of God's plan. In 2008, two years after leaving the Marines as a gunnery sergeant, I was jogging in Bremerton, where I live with my wife and five kids. A guy pulled up alongside me and asked if I ever thought of coaching football. At the time I was wearing a Bremerton football jersey, and it turns out he was the high school's athletic director. It was a little weird, but I said I would think about it.
Then he watched the Kendrick Brothers' film Facing the Giants, and in an interview you can see below Stephen Kendrick said,
…with every one of the films… we're praying as we're asking the Lord to give us clarity concerning what direction to go, what themes, what story lines, who to cast. We're praying as we're writing the scripts. We're praying every day on set as we're shooting because the Lord alone is the Head of the Body of Christ, and He's the One who knows what needs to happen. We, the members of the Body, just need to submit to Him and obey whatever He tells us to do. And so we look back and give God the glory for it. We had no idea he would be watching the film or that this issue would be at play…."
It was their second film, and Stephen said, "We were facing battles way back with Facing the Giants, trying to figure out how to make this movie, and we didn't have the resources or the people or the knowhow, and the Lord carried us through that storm…."
Perhaps the Lord had Kennedy in mind while enabling the Kendricks' film. Saturated with prayer, the film, which succeeded against all earthly odds, was a bullseye for Kennedy. In the film Alex Kendrick played Grant Taylor, a football coach who pledged to give God glory after every game, whether his team won or lost.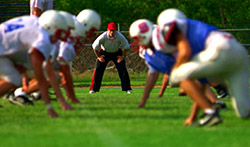 Kennedy told Michael A. Fletcher of ESPN that after watching the film:
I was crying my eyes out. It was a clear sign that God was calling me to coach. I had never experienced that kind of effect in my entire life. I said, "I'm all in, God. I will give you the glory after every game right there on the 50 where we fought our battles."
So he took the position at his alma mater and knelt at the 50-yard line after every game, win or lose. He told Will, "I got down on one knee and held a helmet to the heavens. I would silently say, 'God, that was amazing. Thank you for these guys.'" For a while it was just him, but then some of the team asked if they could join him. "I told them it's a free country and they can do what they want." Before long, members of the opposing team would join them. "On those occasions, I held up two helmets, one from each team, and thanked God for all of us."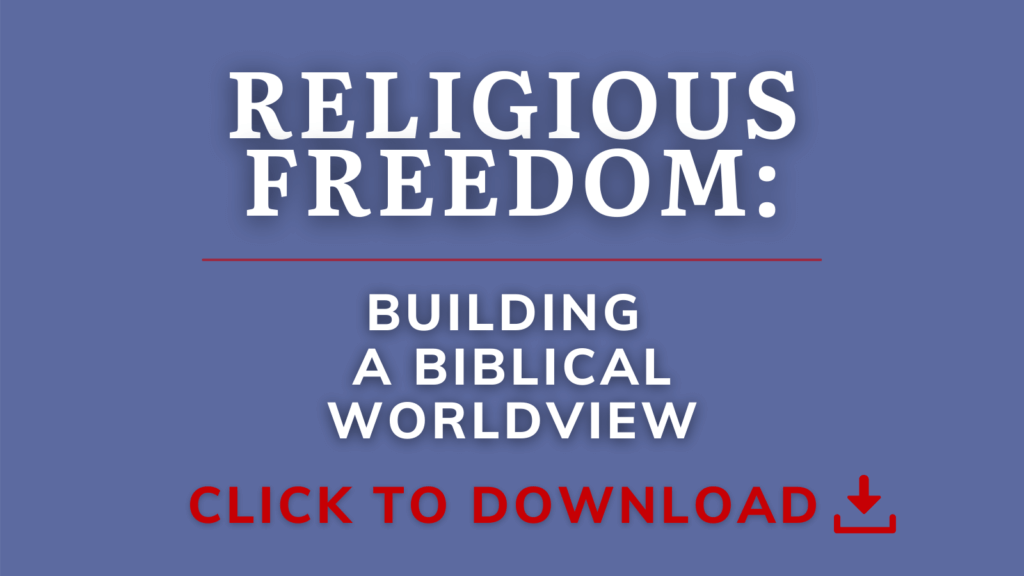 At a certain point someone from an opposing team called the school. Coach Kennedy said that person was "telling the principal that what we were doing was really awesome," but that led to an investigation, complaints from parents and from a satanic group demanding to hold ceremonies on the field after the games. Eventually Coach Kennedy was instructed to move his prayer someplace where he couldn't be seen. Fletcher described what happened next:
Kennedy said he stopped the public prayer for one game. But as he was driving home afterward, he regretted giving in to what he saw as "pressure to break his commitment to God," his lawyers said in their Supreme Court petition. He said he turned his car around, returned to the empty stadium and with tears running down his face, delivered a silent prayer from the 50-yard line.
He retained a lawyer through First Liberty Institute, who delivered a letter to the school, letting them know he was compelled to fulfill his commitment to the Lord and exercise his constitutional right to freedom of speech and freedom of religion. Coach Kennedy told Will, "As a Marine, I fought for our freedoms, including the First Amendment. I fought for us to have that right." Following the next game, after he and his team shook hands with the opposition, he went to the 50-yard line and knelt. By this point many knew about the school's opposition to what he was doing, and dozens of players, coaches and fans joined him at midfield.
About a week later, after praying at the 50-yard line again, the school put him on leave and did not rehire him for the next season. His legal fight to get his job back went all the way to the Supreme Court. On June 27, Coach Kennedy was in his lawyer's office when they heard the news that six of the nine justices ruled in his favor. He told Will, "I raised my arms in the air, as if I was calling a touchdown… great news for the entire nation."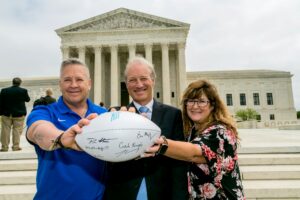 The Kendrick Brothers React
Coach Kennedy reached out to the Kendricks several years ago and told them their film inspired him and about the legal battle he was facing. Alex said:
We began praying, 'God, Your will be done. You see what this man is trying to do, and to the degree that it pleases You and honors You, would You watch out for him. Would you protect him, open the doors for him.' … We watched this at a distance of course, then he sent us a video update. We sent him back one.
The Kendricks were in a meeting when someone interrupted to let them know the Supreme Court decision, and the Kendricks were ecstatic. They celebrated and prayed together. "We were delighted to hear that," Alex said, "We are about what glorifies and honors the Lord, and so we're very grateful." Stephen said,
…it is very encouraging as we see the Lord lead us and then God use the movies as tools or weapons in His spiritual battle… tools of encouragement, exhortation to the Body of Christ, and so it's very fulfilling. And at the same time whatever battle we're currently fighting in our journey of seeking the Lord and trying to overcome evil with good it puts a little wind in your sails…."
They hadn't had time to reach out to Coach Kennedy when I interviewed them, but Alex said, "We're grateful and following it. And even if he sees this interview today: God bless you! Praise the Lord for what He has done." Stephen added, "Congratulations!"
Coach Kennedy watched our interview en route to Tucson to speak at a conference, and he messaged, "Those guys are so blessed by God. God spoke directly through them to me."
Alex said:
We want to remind people that as you walk with the Lord not every day is easy, but every day is worth walking with the Lord…. We are grateful that Coach Kennedy stuck with it as respectfully as he could, but he still fought the fight, and now has had the Supreme Court side with him, so we want to say don't be afraid of expressing your faith. You want to do it in love, but sometimes that takes tough love. So express your faith and honor the Lord in the process, and let the Lord watch out for you.
Stephen added:
We have to look beyond our current comfort zone into eternity and trust that a sovereign God knows what He's doing, and that He's placed us in those circumstances, and that by his grace and strength He's never going to leave us or abandon us, and we'll stand before Him one day. As long as He gives us an A plus it doesn't really matter what the world says.
Here's Part One of a three-part interview with the Kendrick Brothers:
Post your praises for this monumental victory for freedom of speech and freedom of religion, and post your prayers for many to express their love for our Lord without fear.
 Rich Swingle has taught and performed in 39 nations on six continents, mostly with his own one-man plays, including one about an Olympic champion who wasn't afraid to bring his faith into the public square, Eric Liddell. He and his bride, Joyce Swingle, another contributing writer for IFA, now have 37 screen children. The Swingles live in New York City. www.RichDrama.com. Photo Credit: Getty Images.
Partner with Us
Intercessors for America is the trusted resource for millions of people across the United States committed to praying for our nation. If you have benefited from IFA's resources and community, please consider joining us as a monthly support partner. As a 501(c)3 organization, it's through your support that all this possible.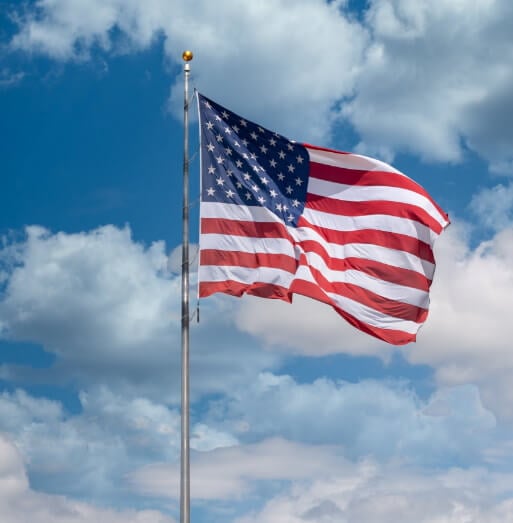 Become a Monthly Partner
You can post a prayer to share with others.
Alan V
July 23, 2022, 7:24 am
Lord, thank You for the great work the Kendrick Brothers are doing through their films all over the globe! Thank You they inspired Joe Kennedy to become Coach Kennedy whose post-game prayer at the 50-yard line was validated by the U.S. Supreme Court! Thank You for the victory, Lord!