THE MAKING OF AN INTERCESSORY CHAMPION
By Gloria Robles, IFA Contributing Writer
|
May 13, 2021
I Prayed
have prayed
Lord, thank You for everything You do. Thank You for using ordinary people like me to make a difference. Create in me clean hands and a pure heart.
"Not All Heroes Wear Capes." It's true. Some are IFA intercessors. The pandemic has really popularized this catchphrase as everyday people like cashiers, teachers, farmers, grocery workers, and stay at home parents; people who weren't usually bestowed with much honor, were finally recognized for all they do. Through IFA I have recently met intercessors who are impacting the world.
View Comments (16)
One is an intercessor who has faithfully stood in the gap for America for over 50 years and is still going. The other is a wife, mom, and honorary Mayor of her town where she helped pass an ordinance to declare her town a sanctuary city for the unborn. Both are ordinary women with great faith in an extraordinary God. 
One reminds me of a modern day Anna, who despite her age, is fasting and praying until she sees what God has promised. The other woman reminds me of a modern day Deborah, a mother and leader. They never asked for fame. All they wanted was to be obedient to the call on their lives, and because of that God has heard and honored their prayers. 
I was so moved by both of these stories. It has taken me by surprise and stirred my faith to believe and strive for greater. I often look for themes when I pray or when I read. Some articles by other intercessors have confirmed what I'm feeling. One example is Casey Harper's recent article, "God's Secret Weapons are Hidden in Washington D.C." 
Most of us have probably read Bible stories to our children or grandchildren about God's heroes. His choices were always unlikely candidates, even outcasts. He never chose by earthly qualifications. God always looks deeper into the heart of man. For instance, when wanting a king for his people, the prophet Samuel saw a tall, good looking, physically capable king in Eliab; however the Lord saw his heart was not fit to be the king they needed. 
When they arrived, Samuel saw Eliab and thought, "Surely the Lord's anointed stands here before the Lord." But the Lord said to Samuel, "Do not consider his appearance or his height, for I have rejected him. The Lord does not look at the things people look at. People look at the outward appearance, but the Lord looks at the heart." (1 Sam 16:6-7)
Let's look at some heroes of the faith named in Hebrews 11.
Abraham and Sarah were both well past child bearing years in their nineties and yet they received the son of promise. Your age doesn't disqualify you.
Rahab, a former prostitute, listed in the hall of faith is later listed in the genealogy of the Messiah Jesus (Mt 1:5). Your gender and your past do not disqualify you.
Gideon was from the weakest tribe and least in his family by his confession, but God saw a mighty warrior. Your opinion of yourself doesn't disqualify you.
Young David was probably most known for being a giant slayer. He was a shepherd and God found him out in the fields. Your youth or occupation do not disqualify you.
None of these five listed are what we call or consider qualified. Abraham and Sarah lived in tents as foreigners. Rahab was a prostitute which automatically made her an outcast. Gideon hid in fear while the enemy pillaged his town. David wasn't even invited by his own father to be considered as a king. He was rejected by his own family. Yet these are written as living reminders that God qualifies whom He calls and not the other way around.
God's champions are always unlikely heroes. He often found them in obscurity and called them out. He loves the nameless, faceless, and fameless. There's an old quote I read that says, "God has a habit of picking up nobodies and turning them into somebodies."
Instead, God chose things the world considers foolish in order to shame those who think they are wise. And he chose things that are powerless to shame those who are powerful. (1 Cor 1:27)
Maybe you've wondered, could I ever be a champion for God? Let's look at what qualifies a champion by God's standards.
The first qualifier is your heart. This is what God is after. He doesn't want a piece of it, or half, or even three quarters. He wants it all. Half-hearted devotion, won't do.
Teach me your way, Lord, that I may rely on your faithfulness; give me an undivided heart, that I may fear your name.  (Ps 86:11)
King David was chosen when the Lord said, "I have found a man after my own heart." If you love the Lord with all your heart, soul, mind, and strength (Mk 12:30), you are a man or woman who is in continual pursuit of God, and if you are willing to allow Him to examine your heart (Ps 139:23) and come clean before Him so He can purify you, then good news! You've got the makings of a champion in you!
The second qualifier is obedience.
Hebrews 11 is filled with ordinary people just like you and me. Their hearts led them to encounter the living God and then they moved in obedience. Each person listed above received a promise from God. They didn't stay stuck in encounter mode, they moved and did what God asked of them. If you want to see your promise manifested, if you want to be a giant slayer or want to be used by God in any way, obedience is the key! It's God's love language. (1 Sam 15:22, Jn 14:15)
The third qualifier is being a faithful servant.
Hebrews 11 is full of many names other than the ones I listed above. There are even some listed who are nameless. We don't know who they are, but they made the hall of faith alongside Moses, Daniel, Joseph, and others. This is important! Jesus is our example of the humble servant.
For even the Son of Man came not to be served but to serve others and to give his life as a ransom for many. (Mk 10:45) 
In whatever capacity we serve or use our gifts, it is never about us. God gives us gifts, that we may serve others just as Jesus did. We are called to be servants, not superstars. We are called to be faithful, not famous. We are called to build His kingdom and not our own.
Work willingly at whatever you do, as though you were working for the Lord rather than for people. (Col 3:23)
It all begins with our yes.
My former pastor said something I'll never forget, "The hardest part of teaching the people is getting them to understand that even the smallest acts of serving are equally as important as the one who preaches. We can't do it without them."
Everyone starts somewhere.
Remember Esther was an orphan before she was a queen. Deborah was a mother before she was a judge. Daniel was an intercessor before he was an advisor to four kings. Humble beginnings coupled with faithful service set them apart as champions. God invites us to do the same. When we stay faithful to serve in our spiritual gifting, or mountain of influence, it's God who gives us the favor and sets us apart. If you are new to Christianity and do not know where to start, try taking a free spiritual gifts test online. Pray and seek the Lord about where you can serve Him, and faithfully respond with a yes when He shows you.
Do not despise these small beginnings, for the LORD rejoices to see the work begin… (Zech 4:10a)
Lord, thank You for everything You do. Thank You for using ordinary people like me to make a difference. Create in me clean hands and a pure heart. Purify my mind, my heart, and especially my motives. Connect me to the right community and show me where I fit in. Your word says You've given us each gifts through Your Holy Spirit. Help me to steward my gift with faithfulness. Put people in my path who are in need and show me how I can serve them and lead them to You. Right now, I say yes to whatever You want to accomplish through me. I know my yes will be costly. I know there will be some trials, and even warfare, but I know that You will be with me. You said those who know their God shall do great exploits so here I am, use me Lord. In Jesus' name, amen.
How is this article speaking to you? Are you ready to see God do amazing things through ordinary people?
(Author Gloria Robles is a passionate intercessor with a prophetic voice for today. For more from Gloria, go to Spotify or Anchor to listen to her podcast Something To Share. Photo Credit: Canva.)
Partner with Us
Intercessors for America is the trusted resource for millions of people across the United States committed to praying for our nation. If you have benefited from IFA's resources and community, please consider joining us as a monthly support partner. As a 501(c)3 organization, it's through your support that all this possible.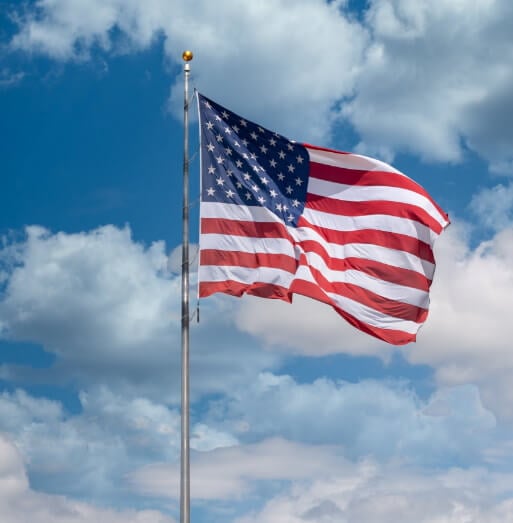 Become a Monthly Partner