A Christian Response to Tyranny
Rich Swingle, IFA Contributing Writer
|
June 14, 2022
A Christian Response to Tyranny
Rich Swingle, IFA Contributing Writer
|
June 14, 2022
I Prayed
have prayed
Lord, thank You that the story of Corrie ten Boom resonates freshly today as forces rise against freedom once again.
The story of how the ten Boom family hid Jewish people during the Holocaust has resonated with people since before World War II ended, and is growing more and more relevant as tyranny rises once again.  My mother read the book to our family when I was a boy, and it impacted me deeply, though I never dreamed it would seem possible for similar events to happen in the U.S.
View Comments (5)
Stephen Burke read The Hiding Place when he was fifteen and within the year he'd started work on a musical based on the book. Sixteen years later, while Production Director at Pensacola Christian College, Stephen first produced the show.
When Stephen's future wife, Alisha, first encountered the story as a teen she struggled with it: "I just kind of said, 'That's too much to process. I don't really want anything to do with this anymore.'" She continued:
Well, when we started dating, he told me, 'I have written a musical of  The Hiding Place,' and my first response was, 'Oh, no, no, no! I don't want anything to do with that. But as we got more serious and I knew we were going to get married, I thought I'm gonna have to cure this at some point. And when we went through the whole musical —we read through it, he sang the songs — I had such a different response. Because what he does so beautifully and what the Lord gave him to give us with this story is the hope, the picture of Jesus and how He is greater than all of that trouble and how we can find our way through any burden, any trouble any storm that we have, if we've got Jesus to hold on to.
So Alisha became the one to prompt Stephen to bring the script of his youth to the stage. Now she's played Corrie ten Boom in all 76 performances of his musical.
When the Burkes sensed the Lord calling them to leave a steady paycheck and establish Shining Light Players, they thought their first production would be A Consuming Fire, a five-person play about Jim and Elisabeth Elliot, but they were having a hard time filling the role of Nate Saint. One day it dawned on Stephen they were to launch their ministry with a stripped-down version of The Hiding Place. Alisha agreed it was the Lord leading them, and now they've performed it every year since 2013.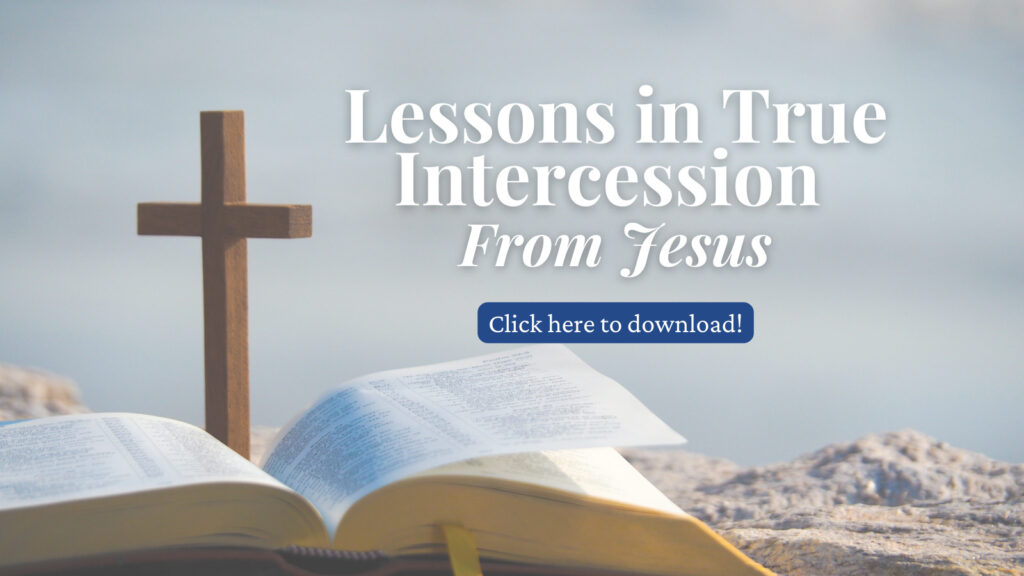 Taught By and Now Directing a Pro
In 2018 they brought Ray Gibbs, one of their former professors, on board to play Corrie's father. Leonard Bernstein was one of Gibbs' mentors, and Gibbs has performed with luminaries in the opera world, such as Plácido Domingo, Luciano Pavarotti, and a name famous at the Metropolitan Opera (The Met), if not a household name: Jerome Hines.   Singers at the Met called him Saint Jerome because he was such an outspoken Christian. At the time, Gibbs — not yet a Christian — thought Hines was "a little over the top," but he planted the seeds that sprang into a full life in the Kingdom for Gibbs. In 1983 he left the opera world to sing with his family in churches. He said, "It just kills me that just about everything that's coming out of Hollywood, just about everything that's coming out of musicals is somehow… demeaning."
Gibbs appreciates The Hiding Place because it can reach those who wouldn't listen to a sermon: "Drama is a very useful tool for the Lord…. People see that and say, 'Ah! The Word of God is true.'"
Tyranny Today
While going on a walk before today's rehearsal for a show about tyranny under the Nazis, I noticed a swastika on the pavement:
The left was often calling Donald Trump and his supporters Nazis, but, as the musical brings out, "Nazi" is short for "National Socialist," just right of communism. Marinating in the milieu as we prepare for performances, I realized the left is trying to apply the racist nature of the Nazis to the far right. But the basic idea of the political spectrum is how much control the government should have. The further right you are on the spectrum the less government you want. Right and left has nothing whatsoever to do with racism. The story of The Hiding Place and the swastikas 100 yards from where I'm staying warn us we must always be vigilant against racism, but today we must also be wary of the other element of the Nazi movement: big government tyranny.
Nazis used race and hatred to control people, and that's what the left is doing today in a similar fashion, fomenting a hatred of white people, even for themselves. Leftists also realize committed Christians will stand against them, and so we are becoming their targets as the World Economic Forum, the United Nations, the Bilderbergs and the World Health Organization are all trying to force a one world government upon us.
Prompted to Pray by a Musical
Because I was so moved by this story as a boy, being a part of a musical version is a real blessing. As always, when I take on new roles I make discoveries, and that's certainly the case with this project with three of the roles I play.
At a party Corrie asks "What does he want? This man in Germany, does he want war?" My blissfully ignorant character responds, "What does it matter? Let the big countries fight it out. It won't affect us." In the next scene we discover Germany did attack Holland, which surrendered after five days. Playing that role gives me a prayer burden for those who are missing the rise of a one-world government or comprehend how many of our freedoms would be stripped by such governance. I interviewed the Burkes on the 105th day of Ukrainian resistance against Russia's attack. I'm sure one of the factors empowering the Ukrainians to hold back the oppressor is the memory of Soviet rule. It was our African brothers and sisters who stopped the World Health Organization from taking control of all of our bodies, and investigative journalist Leo Hohmann thinks one of the reasons is they have a recent memory of living under the control of larger nations. No one in America has a memory of living here under someone else's rule.
Lord, help us learn from history the dangers of tyranny and take action against it.
In the musical, I also play Mr. Smit, the man who builds the hiding place in the ten Boom home. A theme throughout the production is following God supersedes following human leaders when they call us to dishonor God. Playing Smit inspires me to do more to protect the pre-born whose lives are in danger because leaders have exposed them to murder.
Finally, I play Lieutenant Rhams, a National Socialist officer who interrogates Corrie after her arrest for hiding Jewish people. Though he's steeped in the socialist propaganda, it's clear Corrie's witness to him has an impact. Playing him gives me a heart for those who are striving to build a one-world government. Please join me in praying for their salvation.
Stephen said:
The very first lines… of music… that I ever wrote… were (for) the song, "We do what we can": "We do what we can / It makes life worth living / Giving a hand to someone in need / We give what we have / And God just keeps giving / If I don't help you, then who would help me?" The idea is… they can't stop Hitler, these two women and their father in the clock shop. They can't! They're not soldiers. They're not military. What can they do? Well, they just do what they can. And that's all that we can do. We can do our small part.
Our part as intercessors can appear small, but our prayers can stop tyranny in its tracks!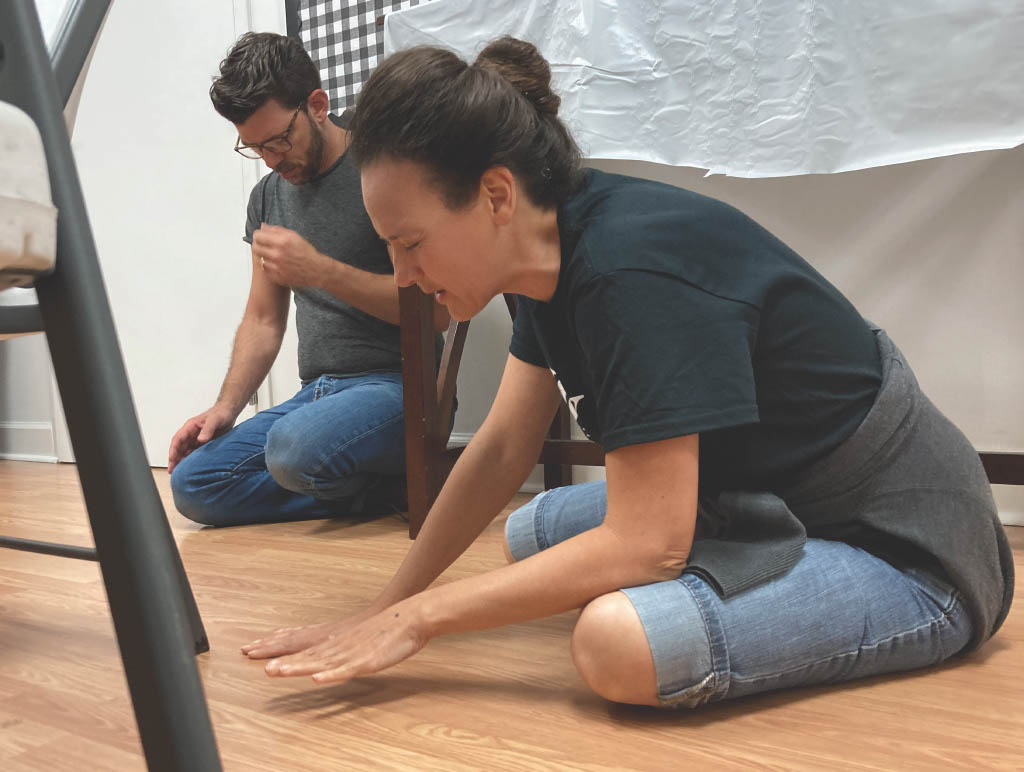 Prayer is a central part of this whole production, and Stephen and Alisha lead the way, dropping to their knees before every rehearsal and performance. Backstage everyone prays for those who are onstage. After our opening night Stephen mentioned that he felt the Lord's presence in the altar call, and someone in the audience said they sensed Him then, too. Our prayers are being answered!
Pray It Live
Corrie ten Boom's sister, Betsie, told her, "You must tell them; tell them there is no pit so deep that He is not deeper still. Tell them Corrie. They will listen to you because you have been here." Corrie traveled the world telling people, "Joy runs deeper than despair," and this musical extends her and Betsie's witness.
If you're in the Florida panhandle, Louisiana or Texas, check out our tour schedule: www.HidingPlaceMusical.com/tour_dates. If you're interested in hosting a performance next year, let the Burkes know: www.HidingPlaceMusical.com/contact
Post your prayer that this musical will inspire deep, unlocking prayers for freedom and courage when and where it is removed.
Rich Swingle has taught and performed in 39 nations on six continents, mostly with his own one-man plays and in several musicals. He and his bride, Joyce Swingle, another contributing writer for IFA, now have 37 screen children. The Swingles live in New York City. www.RichDrama.com. Photo Credit: The Hiding Place The Musical and Rich Swingle.
Partner with Us
Intercessors for America is the trusted resource for millions of people across the United States committed to praying for our nation. If you have benefited from IFA's resources and community, please consider joining us as a monthly support partner. As a 501(c)3 organization, it's through your support that all this possible.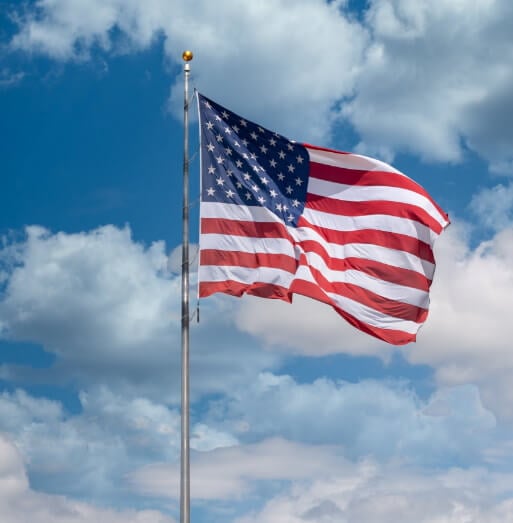 Become a Monthly Partner
You can post a prayer to share with others.
Mary D
June 14, 2022, 8:08 am
O Lord, This is so amazing and not coincidental that I felt compelled to watch the well done movie, "Hiding Place" just last week. I haven't seen the movie since it was released years back. Now, decades later, after life experience and the times we are in, I found it resonated deeply in my spirit. Corrie ten Boom , her sister, Father, and family all knew who they were and Whose they were before the Nazis overtook life in Holland. The Word of God was so deeply imbedded in their hearts they could walk by Faith with Love; reaching out to give others a lifeline of Hope! The Ten Booms knew their Heavenly Father and trusted Him. I Pray that your wonderful production draws many and opens the eyes of their understanding to the Hope of His calling! May God Bless every actor and every detail of the production!" In Christs Love, Mary Davis
Nancy R
June 14, 2022, 7:32 am
Lord, may the courageous story of Corrie ten Boom and her family to stand against the evils of Naziism and minister to the broken after its defeat inspire this new generation to stand up for our freedoms now.