The Enemy's Plan for Implementing Tyranny
Michael Guidera, IFA intercessor
|
August 13, 2022
The Enemy's Plan for Implementing Tyranny
Michael Guidera, IFA intercessor
|
August 13, 2022
I Prayed
have prayed
Father, we pray against any and all plans of the enemy to implement tyranny in our nation. Preserve our freedoms, God, as laid out in our founding documents.
While I was watching the following video, my mind went back to a time when I was interacting with people who had strayed into a religious cult. The behavior of the person in this video mimics what I remember seeing among some people very close to me. I was startled to observe the professor in the video using the very same tactics I had witnessed in the past. Even her mannerisms, smugness, and eye movements were eerily similar. She avoided the real issues; she turned the tables and used blame to target her opponent. Years ago, the Holy Spirit showed me three spirits that were behind the behavior of the aforementioned cult and its leader. Through intercessory prayer, that cult was destroyed and its leader was exiled, though, unfortunately, many lives were shattered. I survived the ordeal by the grace of God and learned much about evil spirits and their ability to infiltrate and control people.
View Comments (94)
As I observe our nation today, I see similar behavior patterns among many in society and in government, which leads me to believe that they are under the oppression of those same sorts of evil spirits. I want to look further at this cultish behavior that has swept over the country. I will also discuss the plans of the enemy to take down our great nation. First, let's take a look at this short video.
Sen. Josh Hawley had an exchange with a professor from the University of California, Berkeley during a Senate hearing about transgender issues. Watch the exchange here:
In the video, the senator asks if the term "people with a capacity to become pregnant" refers to women. The professor answers by saying that many groups of people besides women can become pregnant, and she lists them. The entire trans movement is a perversion of the simple truth that God created man and woman. There are only two genders. Notice how smug she is when "educating" the senator concerning her beliefs. She is absolutely certain that what she says is true. But she is deceived. Notice her eyes and the condescending way she speaks to the senator. There is no way this woman can have a rational conversation with anyone who disagrees with her. The demonic stronghold that is over her will not let her understand. The senator asks her to explain what is at the core of the rights she defends. Her response is so typical: She turns the tables and calls the senator "transphobic" for even asking the question. She sets him up by asking if he believes men can get pregnant. When he says no, she replies: "You're denying that trans people exist," even as she links that "denial" to high suicide rates among these sorts of people. She accuses the senator of being the problem. The rest of the video displays the woman's arrogance and the utter depravity of her beliefs.

The following patterns of behavior and belief are a sign that spiritual forces of darkness are involved:
The issues being supported are destructive and extreme in nature;
The false beliefs spread quickly and target certain groups of people;
The people affected believe adamantly that they are on the right side of truth;
They learn to twist conversations so as to place the blame on those who disagree;
They never recognize the problems that their ideologies or policies are causing;
When in disagreement, they attack the messenger rather than discuss the message.
Have you noticed that productive dialogue has been almost completely removed from the spheres of our government? Listen to a typical congressional hearing, and all you see is one side presenting an agenda, and the other side opposing that agenda. We do not see any sort of discussion concerning the policies and their merits. It has become acceptable to simply ignore the other person whenever valid criticism is brought to the table. The dismissive party simple refuses to answer the question. The ability to even analyze a policy critically has been lost. People just believe for no apparent logical reason. It is this behavior that leads me to believe that demonic forces are at work.
I believe that three spirits are involved in oppressing people and influencing them to support destructive policies that are so obviously dangerous. These three are perversion, deception, and witchcraft. Let me explain. Perversion is used to take something that is true and normal and twist it into what is misguided, wicked, and distorted. Deception persuades people to believe a lie. Witchcraft allows the powers of perversion and deception to spread and to control large groups of people.
This UC Berkeley professor has taken the straightforward creation of man and woman and, under the influence of perversion, twisted the narrative into the misguided, wicked, and distorted ideology that there are many genders and that you can choose which gender you want to be. She condemns those who simply question her position, and then she attacks them with false accusations. Deception has allowed her to believe the lie. Witchcraft was used to allow the false doctrine to be spread to the masses and set her up as a victim.
The process used on this professor is being used by these same spirits on our entire nation. In particular, many in government and other places of authority have been targeted and brought under its control. We see government officials enforcing terrible policy and trying to pass it off as the correct thing to do. How could any rational person make such destructive decisions? It's not just the nature of the policies, but also the inability to reach these people through any sort of persuasion that leads me to believe they are controlled by these evil spirits. They are quick to blame others rather than looking at themselves. They are accusatory. It is as if they are in a cult. It may be that some know exactly what they are doing, though our struggle is not against flesh and blood, but against the rulers, against the authorities, against the powers of this dark world and against the spiritual forces of evil in the heavenly realms (Eph 6:12).
Nearly two years ago, I had a vision of a demon, identified as a spirit of tyranny. This spirit was given control of a massive network of demonic forces used to pervert our nation from a democratic republic to a domain of tyranny. We have been seeing tyrannical control increase in our nation in the form of mandates, lockdowns, censorship, persecution, and restrictions. What are the enemy's plans for implementing tyranny in our nation? People under the influence of perversion and deception must be put in places of high authority in government, education, business, entertainment, media, and even the church. This placement has already begun. The enemy is still working his plan to place his people in all the key positions before he pulls the trigger on a large scale. It is easy to see people behaving just like this professor to implement tyrannical policies, because they believe in them. Their brainwashed minds, under the influence of perversion, deception, and witchcraft, make it possible for them to employ tyrannical policies while believing they are making the right choices. This nation cannot be transformed from a democratic republic into a realm of tyranny simply through one bad choice of president. Our entire government and society must be infiltrated with enough people who have come under the authority of a demonic agenda and have the proclivity to follow tyrannical orders and implement them. This sort of grooming is done in stages; it has been going on for decades, and the policies have become more and more bizarre. As the perversion and deception get increasingly convoluted, it is possible to see how a government controlled by such individuals could punish people on the mere basis of what those people believe.
Tyranny is the goal, because that allows a government to limit free speech, to outlaw the spreading of the gospel, and to abolish the God-given individual rights upon which this country was founded. A nation governed by tyranny gives the enemy a free hand to bring destruction, sorrow, and suffering. The enemy comes to steal, kill, and destroy — and what better environment in which to carry out his evil?
We have hope that this attack on our nation can be thwarted. I believe that the entire scheme of the enemy can be defeated through prayer and action. I believe God has called many of us to continue to pray. We cannot defeat the enemy without knowing his plan. But the enemy has revealed his cards; let us capitalize on this understanding. I want to pray now, but before I do, let me make clear that the battle belongs to the Lord. We are simply vessels of the Holy Spirit who are praying for His will to be done. We pray, not focused on the desired outcome, but from the perspective of what Christ Himself has already done on the cross for us: He defeated Satan through His sacrifice and crucifixion. A sentence near the end of the Lord's prayer guides us to pray that God would "deliver us from evil." If there was ever a time in our history for that specific petition, it is now.
Father, deliver those in our nation who are under the oppressive power of the evil spirits of perversion, deception, and witchcraft. Rid us of the power and control of these spirits in Congress; the executive branch; the Supreme Court and all the lower courts; our ambassadors to other countries; the FBI, CIA, and DOJ; the Pentagon; our military; our high-tech and business arenas; the media; our educational system; our governors; elected state officials; the leaders of our churches; and those in the entertainment industry. May the network of evil be dismantled by the power of Your mighty angels from top to bottom. Restore to this nation what the enemy has stolen. And give us the strength to never give up. In Jesus' name.
Share any of your own prayers that the Lord gives you for our nation below!
Michael Guidera is an IFA intercessor, retired from a 35 year career developing implantable medical devices that have brought help and relief to thousands of people. Photo Credit: Markus Spiske on Unsplash.
Partner with Us
Intercessors for America is the trusted resource for millions of people across the United States committed to praying for our nation. If you have benefited from IFA's resources and community, please consider joining us as a monthly support partner. As a 501(c)3 organization, it's through your support that all this possible.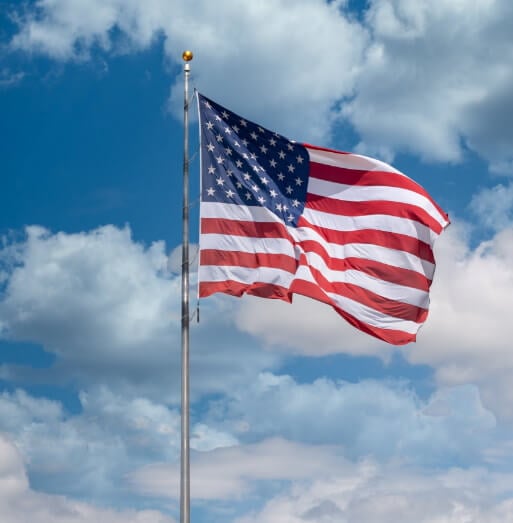 Become a Monthly Partner
You can post a prayer to share with others.
christine s
August 13, 2022, 1:28 pm
Heavenly Father God and Lord Jesus Christ You are The God of Order , You are The God of Peace, You are The God of Righteousness , please restore order , peace, righteousness, and Joy To America, please do not allow the enemy to succeed.
Donna P
August 13, 2022, 1:27 pm
God of wonders, You who dwell in inapproachable light, but have made Yourself known to Your servants through Your word, through Your mighty Spirit, the Spirit of holiness, the Spirit who intercedes for us with groans too deep for words, and through Christ and the beauty of his suffering that he might bring many sons and daughters to God. We appeal to You for the sake of Your great name, the God of covenant mercies, who sacrificed Your one and only Son on our behalf! Lord, you told the father who brought his son with the mute spirit that was throwing him into the fire and water to destroy him "If you can believe, all things are possible to him who believes." I believe in this dark hour, where demonic forces have seized this nation by the throat, to throw it down and destroy it, You are still mighty to save, deliver and heal this people from our brokenness, our backsliding ways, our unbelief and our addiction to fame. Show Yourself strong in those whose hearts are fully Yours, and throw down the principalities and powers over our governing institutions, our churches, our businesses and our educational system. Your word says, Oh God, that the reason the Son of God appeared was to "destroy the work of the devil." (1 John 3:8) Destroy now, the work of Beelzebub in this great land, the land that You have so greatly blessed and prospered. The land that was dedicated to Your name and Your purpose. Forgive us our sins, and cleanse us from all unrighteousness. Your word says in Isaiah 59:19b "When the enemy comes in like a flood, the Spirit of the Lord will lift up a standard against him." You have never lost a battle, You Jesus, never compromised with the enemy of our souls, You never ran in fear, and those empowered by the Spirit of Truth, and have the spirit of prophesy, which is the testimony of Jesus, are not a cowardly sort. Raise up the Jehu's and Elijah's of our day! Raise up the mighty reformers needed now, out of the most unlikely places. You need no majority, You alone are sufficient. We know historically, that those who throw off Your yoke, which your word says is easy, and Your "burden" which is light, end up in slavery or bondage. to cruel taskmasters for forsaking the Lord their God. For the sake of Your remnant, whom You have preserved and have not bowed the knee the baals of our culture - deliver the whole nation out of the grips of tyrannical govenment, and give to us a leader after Your own heart. Forgive those who persecute and hate us and deliver them from the delusion and grip of Satan they have fallen into, and restore them to serve Your purpose. In the mighty name of Jesus, our Messiah!
DOUGLAS N
August 13, 2022, 11:44 am
Father, we pray against any and all plans of the enemy to implement tyranny in our nation. Preserve our freedoms, God, as laid out in our founding documents.
Alan V
August 13, 2022, 7:57 am
Father, we pray against any and all plans of the enemy to implement tyranny in our nation. Preserve our freedoms, God, as laid out in our founding documents. We often tyrannize ourselves by the lusts of our flesh. Dark powers greatest ally is our sin. Repent!
Nora W
August 13, 2022, 6:29 am
Father, may your righteous right hand, come down like a gravel and declare Judgement has come. Like a house of cards, like a house of Usher your whirlwind will cause a fissure to open and swallow up the evil spirits and the entire house. The wheels of Justice in heaven is crossing our land; changing the landscape back to GOD'S DOMINION. Praise be Our GOD of Justice. 'O Lord, "A land once again, will be One Nation Under GOD."
Stacy H
August 13, 2022, 6:21 am
Father God! We pray in unity according to Psalm 149 Let the saints be joyful in glory; Let them sing aloud on their beds. Let the high praises of God be in their mouth, and a two edged sword in their hand, to execute vengeance on the nations and punishments upon the peoples; to bind their kings with chains, and their nobles with fetters of iron; To execute on them the written judgment— This honor have all His saints. Praise the Lord!