THE DANGER OF WISHING THIS TO BE OVER
Karen Hardin, IFA Contributing Writer
|
October 29, 2020
THE DANGER OF WISHING THIS TO BE OVER
Karen Hardin, IFA Contributing Writer
|
October 29, 2020
I Prayed
have prayed
Father, do not let us live in fear. Help us to make no provision for the enemy to attack and give our nation wisdom and discernment.
How many times have you said, thought or heard, "I just want this to be over!" referring to the November 3 election, the chaos of COVID, the riots and protests, etc.? But in reality, that is one of the most dangerous comments we can make. Here's why.
View Comments (59)
Let's go back in history to another volatile season found in 2 Chronicles 20. As you may remember, the Israelites found themselves under attack from not just one, but THREE different armies. It kind of feels like where we are today doesn't it? We aren't getting hit from just one place, but from a multitude, all simultaneously. Mail-in ballot fraud, media lies, big tech censorship, FBI coverup, Deep State sabotage. Plus, the threat to remove the president by force on January 20 if he is still in office—which I believe he will be.
Those intent on takeover have said they refuse any outcome except for the removal of President Trump from the White House, even if it is by force. This has been their goal from the moment he took office. It has consumed them.
Many times over the last few weeks and months it has felt as if victory would be impossible—just like Jehoshaphat felt when attack was certain back in his day. Their future looked bleak. And the armies were headed their way to remove them by violence.
Fear was as great an enemy as the army charging toward them. Yet, I'm certain not a single one said, "I just want this to be over!" For in doing so, they would have sealed their own demise. Instead they had to take action. They had to stand their ground.
As we head closer and closer to November 3, may our prayer today be no different than the Israelites long ago as they faced the vast army intent on taking over their land:
"Lord, the God of our ancestors, are you not the God who is in heaven? You rule over all the kingdoms of the nations. Power and might are in Your hand, and no one can withstand You. Our God, did you not establish this nation? We have lived in it and have built in it a sanctuary for your Name, saying, 'If calamity comes upon us, whether the sword of judgment, or plague or famine, we will stand in your Presence and will cry out to you in our distress, and you will hear us and save us.'

"But now, O God, here are men and women, who are coming to drive us out of the possession you gave us. Our God, will you not judge them? For we have no power to face this vast army that is attacking us. We do not know what to do, but our eyes are on You."
After the Israelites prayed a very similar prayer as above, the Bible tells us, "all the men of Judah, with their wives and children and little ones, stood there before the Lord" (2 Chr 20:13).
And that is what we must continue to do now. We have prayed. We have fasted. We have cried out to the Lord and we have sent the worshippers before us to declare His praise across America. So what is left?
We have a final instruction in order to see the salvation of the Lord.
They were told, "You will not have to fight this battle. Take up your positions; stand firm and see the deliverance the Lord will give you. Do not be afraid; do not be discouraged. Go out to face them tomorrow, and the Lord will be with you."
Although they were told they would not have to fight (physically) in that battle, they were still instructed to take up their positions and stand firm for the Lord would be with them.
We stand on the precipice of history. The result of this election will determine the future—whether we remain America or become communist Amerika. We are not to hide in fear, hoping it will all be over soon. Remember His instruction was then and now "Do not be afraid; do not be discouraged."
We have been given our instructions as we remember who God is and what He has done in the past. We are reminded what He will do for us now. How do we know this? Because God is true to Himself. He never changes. When His people cry out to Him, as we have done, He hears. He never ignores the cries of the Remnant.
So, saints, take up your positions; stand firm and see the deliverance of the Lord not only for America, but for every other country who is watching our election. They are praying for us and with us and calling out not only for our deliverance from evil but for theirs as well. This isn't just about us.
So let me encourage you and remind you. Do not be afraid. Do not be discouraged. Let's go out and face this coming day knowing the Lord will be with us! And He will give us the victory.
Karen Hardin is a literary agent, author, and intercessor. Her work has appeared in USA Today, World Net Daily, Intercessors For America, Charisma, CBN.com, The Elijah List, etc. To order her new book: "INFECTED: How to Stop the Global Spread of Rage, Deception and Insanity" click here. To join the city-by-city prayer movement to save our nation go to: www.city-by-city.org. For additional information on her ministry, business or to sign up for her prophetic blog go to: www.karenhardin.com or you can contact her at www.prioritypr.org. (Photo Credit: Getty Images.)
Share your prayer for one another so that we will be encouraged in these times we are living in. . .
Partner with Us
Intercessors for America is the trusted resource for millions of people across the United States committed to praying for our nation. If you have benefited from IFA's resources and community, please consider joining us as a monthly support partner. As a 501(c)3 organization, it's through your support that all this possible.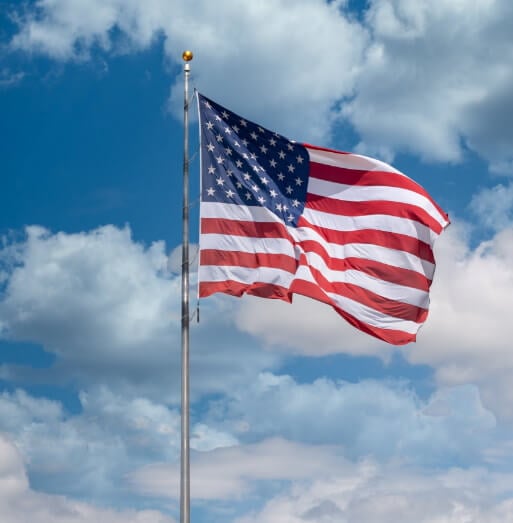 Become a Monthly Partner