GOD DIRECTED US TO PRAY IN DIFFERENT WAYS, TOGETHER
Kris Kubal, IFA Staff
|
October 29, 2020
GOD DIRECTED US TO PRAY IN DIFFERENT WAYS, TOGETHER
Kris Kubal, IFA Staff
|
October 29, 2020
I Prayed
have prayed
Father God, we are so thankful for the leading of Your Holy Spirit who guided us perfectly as we all prayed individually, but together on Vote Your Values. We pray our prayers honored and glorified You!
We received so many calls from intercessors who wanted to share how their prayer time on the Vote Your Values map had impacted them. As we started sharing the calls and emails we were receiving with one another here at the IFA office, the one thing we noticed was that God was directing people to pray in so many different ways using the Vote Your Values map.  Some people felt led to cover wide areas of the map, praying for many people at once, praying for cities, regions, and states. Paula Dozier, IFA intercessor from Hawaii, shared how she felt led to "till the soil" by praying for wide areas, preparing the "soil" for people who will be praying after her for the individual voters.
Another intercessor, Gayle in Arkansas, wrote me an email about her experience. "I have been so committed and impassioned to pray and intercede these many months online, on a map, clicking on blue dots, and speaking out loud names of believers I don't know personally, asking God to soften and speak to these believers' hearts (that He knows intimately), that they would vote their Biblical values in the 2020 election. But, I can tell you, Kris, that I have never felt closer to my Lord than during my times clicking on that map. I also felt so confident that these precious believers could feel the presence of the Lord too as soon as I spoke their names.
View Comments (18)
When I first began this prayer campaign, I would download the map, and immediately, the webpage would crash. Sometimes it would take hours for the map to download and I could begin praying. I was seriously thinking about purchasing a new larger computer. After days of this crashing webpage, God reminded me that Satan didn't want me praying for these nonvoters!! I immediately began praying Scripture and shouting in my office for the devil to flee! Immediately, my prayer was answered! I have not had that problem again until last night…webpage crashed, I shouted, I prayed, tried again and the map downloaded!"
Another intercessor called in to share how she had been praying for people on the map by name, but as she did, she was also reminded of other people to pray for–some elected officials, some public figures, and some acquaintances. God used her faithful time of prayer on the map, to inject the names of others that needed her intercession. It was a springboard for more intercession beyond Vote Your Values 2020.
Dorothy from Georgia shared that she prayed this prayer as she began her prayer time on the Vote Your Values map: "I am committed with all my heart to lift each name up to Your throne room, Jesus, for salvation, deliverance from demonic bondages and influences, breaking of generational curses all the way back to Adam, for physical, mental and spiritual healings, for love of Jesus and others to claim hearts, and for them to vote their Christian values.  I pray that the Holy Spirit will craft each prayer for the specific needs of each person, as You sit at the right hand of God interceding on my behalf.  Thank you, my Lord and Savior." She reported that God did just that–directed her additional needs beyond just the fact that they needed to vote godly values in the election. The Holy Spirit brought to mind individual prayer needs for her to pray about–for people that she has never even met or knew!
God is so good, and we are thankful for the many ways that IFA intercessors have individualized their prayer time for the Vote Your Values map. We will never know the ways in which God answered prayers, delivered people from strongholds, opened eyes, and even brought healing for those we prayed for. Let's continue to pray for the people on the map who have not yet been covered in prayer, as well as the direction to pray over the vote. There may be ballot fraud that is stopped, evil plans that fizzle, and protection from wrongdoing that will happen with the power of our prayer.
Thank you, each one of you, for praying faithfully for the election.
Share below in the comments how God directed YOU to pray during Vote Your Values 2020.
Partner with Us
Intercessors for America is the trusted resource for millions of people across the United States committed to praying for our nation. If you have benefited from IFA's resources and community, please consider joining us as a monthly support partner. As a 501(c)3 organization, it's through your support that all this possible.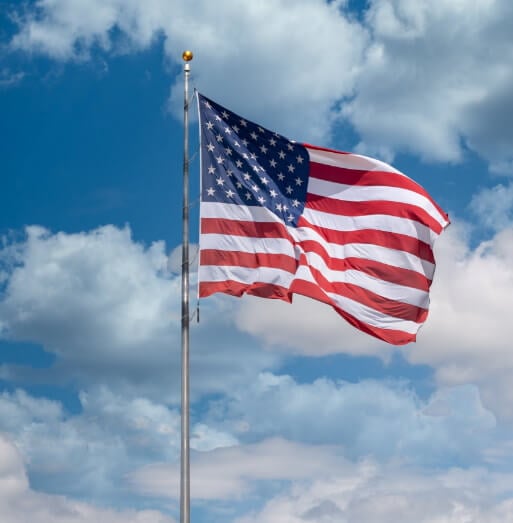 Become a Monthly Partner