SUPREME COURT REDEFINES SEX DISCRIMINATION TO INCLUDE LGBTQ
IFA Staff
|
June 16, 2020
I Prayed
have prayed
Lord, we know You are in control and we are so thankful.
The opinions handed down by the Supreme Court yesterday in the Bostock et al case about sexual orientation and gender identity discrimination are 172 pages. IFA staff briefly reviewed the opinions. This case that our excerpt below calls "a big win to the LGBT community," may cause grievous harm to faith-based organizations and churches, not to mention women's sports and many other things Justice Alito outlines in his dissent. Justice Gorsuch wrote the opinion for the majority, calling it "textualism." However, dissenting justices Kavanaugh, Alito, and Thomas clearly disagree.  Justice Kavanaugh wrote this:
[M]any Americans will not buy the novel interpretation unearthed and advanced by the Court today. Many will no doubt believe that the Court has unilaterally rewritten American vocabulary and American law—a "statutory amendment courtesy of unelected judges." Hively, 853 F. 3d, at 360 (Sykes, J., dissenting). Some will surmise that the Court succumbed to "the natural desire that beguiles judges along with other human beings into imposing their own views of goodness, truth, and justice upon others." Furman v. Georgia, 408 U. S. 238, 467 (1972) (Rehnquist, J., dissenting).

View Comments (57)

I have the greatest, and unyielding, respect for my colleagues and for their good faith. But when this Court usurps the role of Congress, as it does today, the public understandably becomes confused about who the policymakers really are in our system of separated powers, and inevitably becomes cynical about the oft-repeated aspiration that judges base their decisions on law rather than on personal preference. The best way for judges to demonstrate that we are deciding cases based on the ordinary meaning of the law is to walk the walk, even in the hard cases when we might prefer a different policy outcome. . . .

And the implications of this Court's usurpation of the legislative process will likely reverberate in unpredictable ways for years to come.
It is critical that we pray for our Supreme Court justices by name. Click the image to download our prayer guide with the names of the leaders of each branch of our government.
Here is what Philip Juaregui of Judicial Action Group had to say about the decision:
For clarity, I have removed Alito's  internal citations and parentheticals, yet added my own emphasis of some of his greatest points. Please give it a short read and you will be very well informed. The full original version with citations can be viewed at page 38 (page 1 of Alito's opinion) of the full PDF here.
Alito's opinion begins:
There is only one word for what the Court has done today: legislation. The document that the Court releases is in the form of a judicial opinion interpreting a statute, but that is deceptive.

Title VII of the Civil Rights Act of 1964 prohibits employment discrimination on any of five specified grounds: "race, color, religion, sex, [and] national origin." Neither "sexual orientation" nor "gender identity" appears on that list. For the past 45 years, bills have been introduced in Congress to add "sexual orientation" to the list, and in recent years, bills have included "gender identity" as well. But to date, none has passed both Houses.

Last year, the House of Representatives passed a bill that would amend Title VII by defining sex discrimination to include both "sexual orientation" and "gender identity,", but the bill has stalled in the Senate. An alternative bill would add similar prohibitions but contains provisions to protect religious liberty. This bill remains before a House Subcommittee.

Because no such amendment of Title VII has been enacted in accordance with the requirements in the Constitution, Title VII's prohibition of discrimination because of "sex" still means what it has always meant. But the Court is not deterred by these constitutional niceties. Usurping the constitutional authority of the other branches, the Court has essentially taken H. R. 5's provision on employment discrimination and issued it under the guise of statutory interpretation. A more brazen abuse of our authority to interpret statutes is hard to recall.

The Court tries to convince readers that it is merely enforcing the terms of the statute, but that is preposterous. Even as understood today, the concept of discrimination because of "sex" is different from discrimination because of "sexual orientation" or "gender identity." And in any event, our duty is to interpret statutory terms [as Justice Scalia wrote] to "mean what they conveyed to reasonable people at the time they were written." If every single living American had been surveyed in 1964, it would have been hard to find any who thought that discrimination because of sex meant discrimination because of sexual orientation – not to mention gender identity, a concept that was essentially unknown at the time.

The Court attempts to pass off its decision as the inevitable product of the textualist school of statutory interpretation championed by our late colleague Justice Scalia, but no one should be fooled. The Court's opinion is like a pirate ship. It sails under a textualist flag, but what it actually represents is a theory of statutory interpretation that Justice Scalia excoriated – the theory that courts should "update" old statutes so that they better reflect the current values of society. If the Court finds it appropriate to adopt this theory, it should own up to what it is doing.

Many will applaud today's decision because they agree on policy grounds with the Court's updating of Title VII. But the question in these cases is not whether discrimination because of sexual orientation or gender identity should be outlawed. The question is whether Congress did that in 1964.

It indisputably did not.
Here is a helpful excerpt from Fox News as well:
The Supreme Court handed a big win to the LGBT community Monday, ruling in a 6-3 decision that an employer who fires a worker for being gay or transgender violates Title VII of the Civil Rights Act — which already protected people from employer sex discrimination, as well as discrimination based on race, color, religion or national origin.
The decision dealt with three cases. In one, Clayton County, Georgia employee Gerald Bostock was fired from his job as a child welfare advocate for conduct "unbecoming" a county employee soon after he joined a gay softball league. In another, New York skydiving instructor Donald Zarda was fired days after mentioning he was gay, and in a third, Michigan funeral home worker Aimee Stephens was fired after she told her employer that she would be identifying as a woman six years into her employment.
"Ours is a society of written laws. Judges are not free to overlook plain statutory commands on the strength of nothing more than suppositions about intentions or guesswork about expectations. In Title VII, Congress adopted broad language making it illegal for an employer to rely on an employee's sex when deciding to fire that employee," said the court's opinion, written by Justice Neil Gorsuch.
"We do not hesitate to recognize today a necessary consequence of that legislative choice: An employer who fires an individual merely for being gay or transgender defies the law."
In all three situations, the employers admitted that they fired the workers for being gay or transgender, but they argued that this did not violate Title VII. The Eleventh Circuit Court of Appeals, which heard Bostock's case, agreed with this view. The Second and Sixth Circuits, which heard Varda's and Stephens' cases, respectively, ruled differently. . .
The court justified their inclusion of sexual orientation and gender identity under Title VII by focusing on the law's language, which prohibits discrimination "because of" sex, stating that as long as sex is a factor the discrimination, that is enough to trigger Title VII. . .
"[T]he individual employee's sex plays an unmistakable and impermissible role in the discharge decision," the court said about such situations.
Justice Samuel Alito said the majority went too far, calling the decision "legislation," in a dissent joined by Justice Clarence Thomas.
"There is only one word for what the Court has done today: legislation. The document that the Court releases is in the form of a judicial opinion interpreting a statute, but that is deceptive," Alito wrote.
Alito noted that the majority opinion "no doubt arises from humane and generous impulses," acknowledging the desire to treat gay, lesbian, and transgender people "with the dignity, consideration, and fairness that everyone deserves," but said the court's role "is limited to saying what the law is," not adding to it.
Justice Brett Kavanaugh made a similar argument in a dissent of his own.
"Under the Constitution's separation of powers, the responsibility to amend Title VII belongs to Congress and the President in the legislative process, not to this Court," he wrote.
At the same time, Kavanaugh recognized the significance of the court's ruling for LGBT rights.
"Notwithstanding my concern about the Court's transgression of the Constitution's separation of powers, it is appropriate to acknowledge the important victory achieved today by gay and lesbian Americans," Kavanaugh wrote. "Millions of gay and lesbian Americans have worked hard for many decades to achieve equal treatment in fact and in law. They have exhibited extraordinary vision, tenacity, and grit—battling often steep odds in the legislative and judicial arenas, not to mention in their daily lives. They have advanced powerful policy arguments and can take pride in today's result."
(Excerpt from Fox News. Article by Ronn Blitzer and Bill Mears.)
Read more about this issue: https://staging.ifapray.org/blog/supreme-court-decision-unimaginable-consequences/
Partner with Us
Intercessors for America is the trusted resource for millions of people across the United States committed to praying for our nation. If you have benefited from IFA's resources and community, please consider joining us as a monthly support partner. As a 501(c)3 organization, it's through your support that all this possible.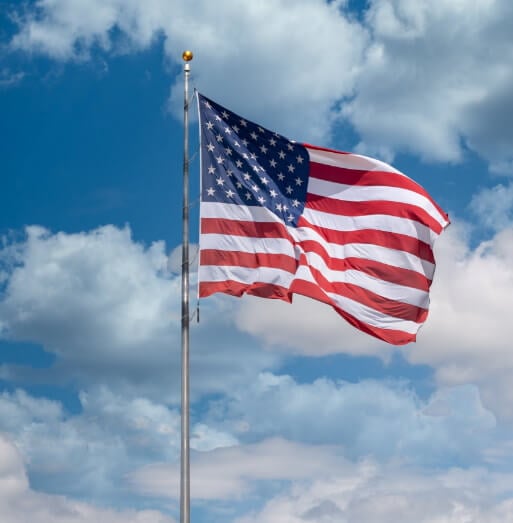 Become a Monthly Partner