SOW A SEED OF PRAYER–YOUR ASSIGNMENT TODAY
Nancy Huff
|
April 25, 2020
SOW A SEED OF PRAYER–YOUR ASSIGNMENT TODAY
Nancy Huff
|
April 25, 2020
I Prayed
have prayed
Lord, we ask You to send help to the people of the world who face hunger, starvation, war, and national instability. We ask for peace and safety for the aid workers. May the food arrive on time and safely to its destination that it may give life to those who are in need.
"We could be facing multiple famines of biblical proportions within a short few months," said Executive Director of the World Food Program (WFP) David Beasley, in an address to the UN Security Council on March 21, 2020. He added, "If we don't prepare and act now – to secure access, avoid funding shortfalls and disruptions to trade." Every day in our world, 135 million people face starvation. Due to COVID-19 and subsequent loss of income due to social distancing, that number recently jumped another 130 million. The total people on the verge of starvation could exceed 265 million.
Mr. Beasley predicted the number of deaths could skyrocket by the end of the year, to 300,000 people a day dying from starvation, plus a significant number will die from COVID-19. It's impossible to imagine such a horrific catastrophe. These are the ramifications that face the world if help is not forthcoming.
View Comments (15)
With a plethora of problems, America's economy teeters on the brink of collapse due to massive business shutdowns to lessen COVID-19 cases. Unemployment is at an all-time high in our nation. It's so bad; economists tell us it may take years to recover. Due to no fault of our own, America's oil-industry collapsed as oil prices currently hover at $10 a barrel. Our nation has suffered almost  900,000  infections and 50,000 deaths due to COVID-19. We have enough problems at home. How can we, as Christians, respond to Mr. Beasley's plea for help?
Our first response is to realize that government is not the answer. We should not expect our government to do everything.
God's people are the answer to a crisis.
While the World Food Program needs resources, they also need our prayers to be able to reach out to people in some of the most desolate, war-torn, and famine prone places in the world. Mr. Beasley needs our prayers as he delivers aid to the hungry amid warlords that steal because food is power. As believers, we can pray for peace in areas racked by chronic war. We can pray for peace and stability in the nations.
We stand at a golden prayer opportunity. In the middle of our nation's crisis, we will declare God's faithfulness to hurting people across the globe.
In Matthew 25, Jesus says, "All the nations will be gathered before him, and he will separate the people one from another as a shepherd separates the sheep from the goats." The criteria for determining who is a sheep nation and a goat nation is the nation's treatment of the poor. As we embrace Director Beasley's plea for help and pray for the poorest of the poor in our world, God calls our nation a sheep nation.
Executive Director David Beasley, asked for three things to help stave off a world-wide catastrophic famine. Let's believe for his three requests to avert this crisis.
First, Director Beasley asked for peace in the world. More than 40 armed conflicts are happening in the world today, with Syria, Afghanistan, Iraq, and Yemen the most prominent. The 2020 Global Report on Food Crises links conflict to rising levels of acute food insecurity.
Pray: Lord, we ask for the Prince of Peace who died for every man, woman, and child to calm wars and bring reconciliation so those in need can receive the life-saving aid they need.   
Second, Director Beasley asked that all parties involved in armed-conflict allow aid workers access to the most vulnerable people – the children and the elderly. Often food and medical supplies are available, but because of corrupt evil governments, the aid is unable to get to the people.
Pray: Lord, we ask that all roads, ports, borders, and drop points open to facilitate the delivery of aid to those who need help.
Third, lastly, Director Beasley requested for the establishment of strategically located stations where food can be stored, allowing easy access in times of crisis.
Pray: Lord, we ask for the establishment of secure locations to store food. We ask that these places be free from theft and destruction.
America has a chance to come out of impending economic destruction, as we sow seeds of prayer for the lives of others who not only struggle at this current time, but who have struggled for years under the threat of war, repressive governments, and famine.
While we don't pray for others to find blessing for ourselves, there is an element of faith that brings blessing as we take our eyes off personal problems to pray for others. The best example is that of Job, who lost everything, his family, his fortune, his health. His friends taunted him to turn from trusting God. But God redeemed Job because he prayed for his friends: And the Lord restored the fortunes of Job, when he had prayed for his friends. And the Lord gave Job twice as much as he had before. (Job 42:10). We have a chance right now to follow Job's example and pray for our friends.
Jesus separated the sheep from the goats according to how they treated the poor. Let us declare America a sheep nation as we give life-giving prayer to those in need.
About the Author: Nancy Huff is an educator with a mission to equip believers to pray strategically for the Cultural Mountain of Education. She has authored Taking the Mountain of Education: A Strategic Prayer Guide to Transform America's Schools. She leads prayer groups to pray at key educational locations across the US. Currently, Nancy serves as the Heartland Apostolic Prayer Network (HAPN) Lead Prayer Coordinator for the Mountain of Education. For additional information go to: https://takingthemountainofeducation.com/author/nancyahuff/
(Image from ABCNews.)
Partner with Us
Intercessors for America is the trusted resource for millions of people across the United States committed to praying for our nation. If you have benefited from IFA's resources and community, please consider joining us as a monthly support partner. As a 501(c)3 organization, it's through your support that all this possible.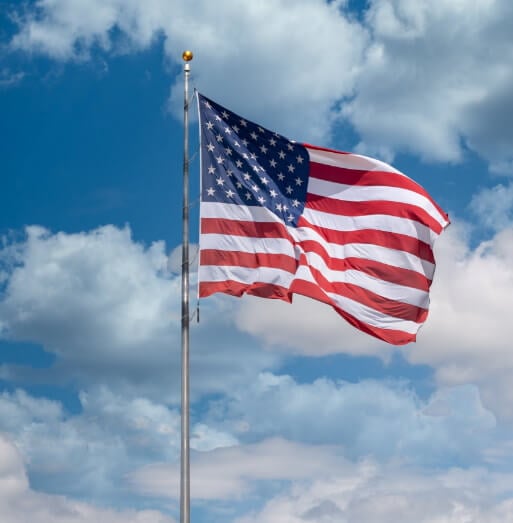 Become a Monthly Partner