GRACE EXTENDED: THINGS ARE GETTING EASIER
Kim Potter, IFA Contributing Writer
|
October 26, 2021
GRACE EXTENDED: THINGS ARE GETTING EASIER
Kim Potter, IFA Contributing Writer
|
October 26, 2021
I Prayed
have prayed
A few weeks ago, God gave me a dream.  In it He spoke to me and said, "Things are going to get easier."  I wrote an article, Prophetic Word: Things Are Going to Be Easier, detailing this vivid dream from the Lord, which published on IFApray.org.
I didn't presume to know exactly what He meant. I simply took Him at His word.  But by all outward appearances, things haven't gotten easier, in fact, they seem to have become more challenging.
View Comments (14)
Since that word:
I watched my aunt, who was COVID positive slip away. I watched her take her last breath. Days later I officiated at her funeral.
One week later, my son-in-law tested positive for COVID. A day later, my granddaughter tested positive. Three days later, my daughter and I were tested and getting medical treatment.
However, despite what has happened in the natural, in my heart, I have kept those precious words near—"Things are going to get easier."
Isaiah 55:8 says, "For My thoughts are not your thoughts, nor are your ways My ways," says the Lord."
Although things seemed to have become tremendously more difficult, I have experienced something remarkable. Although I have faced extremely challenging circumstances, one after another, they have not affected me the way they once did.
They have actually become easier.
I was not distraught as I watched my aunt leave this world.  I had the privilege to sit by her, pray, and watch God take her home, peacefully and without struggle.
I was not afraid when my family members and I received positive COVID results.  While these challenges were coming, one after another, I had peace through all of it.
Actually, something far beyond peace.
I now realize what God meant when He said, "Things are going to get easier."
He released a grace into my life that was literally carrying me through. As long as I have leaned into Him, I have been at peace.
When COVID symptoms tried to take over, I spoke the Word and declared it was life to my flesh. I also listened to an audio Bible until the symptoms subsided.
The only time peace left  was when I took my eyes off God.
From the day I had that dream that "things are going to get easier," I knew it was not only for me, but for many. I want to encourage you, if you are ready for things to get easier, they can. The key is to lean into God and His Word. It is greater than any challenge that comes our way and it is what makes the road easier.
2 Corinthians 12:9 says, "And He said to me, "My grace is sufficient for you, for My strength is made perfect in weakness." Therefore, most gladly I will rather boast in my infirmities, that the power of Christ may rest upon me."
The Amplified Bible says it like this; "But He said to me, My grace (My favor and loving-kindness and mercy) is enough for you [sufficient against any danger and enables you to bear the trouble manfully]; for My strength and power are made perfect (fulfilled and completed) and show themselves most effective in [your] weakness. Therefore, I will all the more gladly glory in my weaknesses and infirmities, that the strength and power of Christ (the Messiah) may rest (yes, may pitch a tent over and dwell) upon me!"
Jesus said in Matthew 11:29, "Take My yoke upon you and learn from Me, for I am gentle and lowly in heart, and you will find rest for your souls."
When we make a firm decision to link arms with Jesus, difficult seasons become less so. His strength is ONLY made perfect in our weakness. Not only His strength, but also His power becomes perfect, fulfilled and completed, when we are at our weakest moments.
God gave me that dream to show me one precious thing.
He has extended a grace, an empowerment, to enable us to walk through the season that lays before us. In my situation, He provided  that word before I even knew I needed it or before I could see what was coming. How great is our God!
That same grace is extended to you today. Will you receive it?  Will you lean into it?
God says His grace is enough. I have found that to be true in my own life. I believe you will find the same in yours as you receive His grace for this season.
His word to us that things are going to get easier doesn't mean challenging times won't come. It means God's grace is extended to empower us to walk through them in peace, faith and patience. Will we reach out and take it?  That's the real question.
Do you know someone who needs an encouraging word? Please share this article with them and leave a comment with your thoughts.
Author Kim Potter is a writer and the founder of A New Thing Ministries, which sends a daily teaching to thousands of people all around the world. Her articles have appeared on The Elijah List, Charisma, Spirit Fuel and iBelieve.com. Kim's message is one of hope. She speaks to the heart of those who have grown discouraged or disappointed by the circumstances of life, imparting hope. For daily inspirational writings, go to www.anewthingministries.com and sign up for our daily writings.
Partner with Us
Intercessors for America is the trusted resource for millions of people across the United States committed to praying for our nation. If you have benefited from IFA's resources and community, please consider joining us as a monthly support partner. As a 501(c)3 organization, it's through your support that all this possible.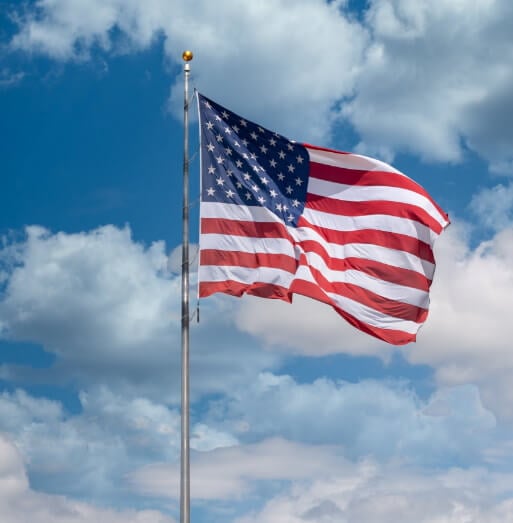 Become a Monthly Partner