Religious Liberty Under Attack, But There Is a Silver Lining
Casey Harper, IFA Contributing Writer
|
December 10, 2022
Religious Liberty Under Attack, But There Is a Silver Lining
Casey Harper, IFA Contributing Writer
|
December 10, 2022
I Prayed
have prayed
Father, we pray that You would protect our religious freedom. Enable us to stand strong for You, and help us not to waver in the face of persecution.
Analysis. For decades, our brothers and sisters in Christ around the globe have faced deadly persecution for their faith.
View Comments (1)
More recently, we in the U.S. have felt increasing pressure, being forbidden to speak biblical truth about sexuality, gender, abortion, and other things, on pain of the threat of losing our jobs, or at least having to endure ridicule.
Soon, speaking this truth may be made illegal in the U.S. — "hate speech," as it is often called.
Refusing to bake a cake for a gay "wedding" can land you in court. Sharing truth on social media can cost you your job. Standing for life can get your clinic vandalized.
Will we stand in this hour, risking everything for Jesus? And can we do anything to hold back the persecution?
Insider Intercessory Information
For this article, I interviewed a D.C.-area lawyer who works on religious-freedom issues. I asked him what God is doing in this field.
"I think that our culture is … in one sense more spiritual than it has ever been, but also more secular, and we see that playing out in studies," he said. "[Studies] are showing people in general are more into religious pluralism. In other words, willing for people to have the ability and right to determine who God is and what they think about Him, but they are also less religious personally, in that they don't practice their faith actively and outwardly. Studies also show that people are not necessarily pro other people acting out their faith."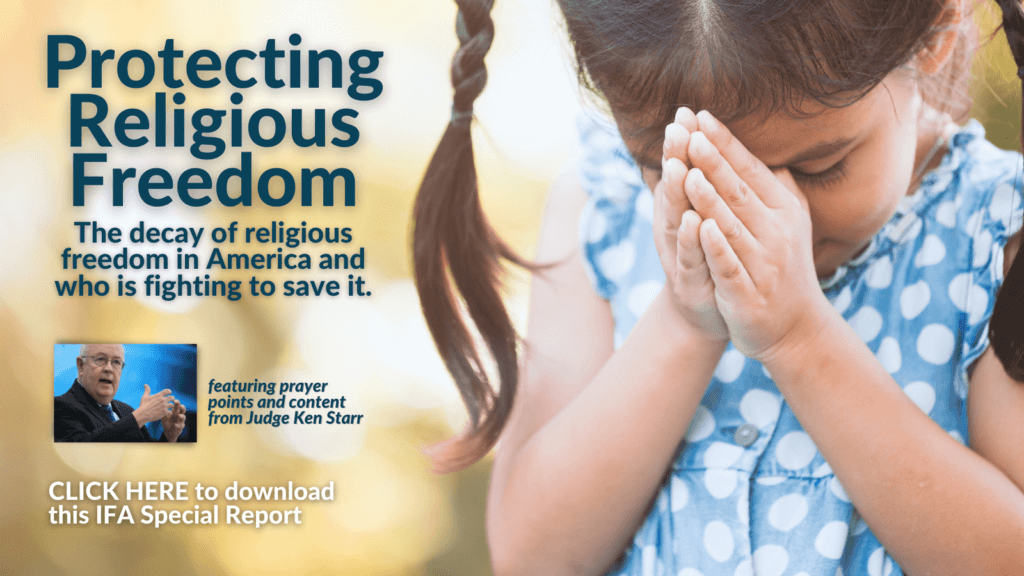 My source says there are many who want people to be able to choose their own faith, but not to be able to share that faith with others. The Supreme Court heard a case this week involving a Christian businesswoman in trouble for being unwilling to design a website for a same-sex wedding. This case fairly sums up the feelings of many, according to my source: You can believe whatever you want, but your beliefs must not influence other people.
"Long story short, we see a culture where people want to determine who God is for themselves — and, quite frankly, with the use of horoscopes and stuff, they want to interact with a 'greater power,' but they don't want people to have the freedom to impose their views, or [to] have someone else's views affect their life in any way. They also don't actively practice their faith."
There are reasons to be thankful, though, he says. "You are still seeing a ton of favor. In the last decade, I don't think religious freedom has lost a case that has been argued before the Supreme Court of the United States. They lose a lot in the lower courts before they get there. … I think you are also seeing deep unity among people of faith, especially among the church. It's a very ecumenical movement. You are seeing so many different people of faith all having unity on this topic.
"Another thing God is doing in this area is clarity. As we see the Church become unified, we are also seeing the Church become clear on what it believes and how it needs to live out those practices. People are recognizing what they believe. They are becoming unified on it, and therefore they are willing to stand on it."
Wow! Lord do it!
I asked how we can be praying about this issue, and my source cited three prayer points: revival, boldness, and discernment.
"Pray for revival! Religious liberty is a rear-guard action, and it helps keep the way clear for revival, because it helps … people to keep sharing the gospel more, praying publicly. But in and of itself, it doesn't accomplish anything unless the people of God actually seek revival.
"Also pray for boldness. We are fighting a cultural battle. … We have got to make the things of God normal. Pray for boldness, that people would be sharing the gospel … that that would become so normal in our culture that opponents — and, really, the enemy — won't be able to convince people that it's abnormal or weird for those things to be part of our society.
"Most specific and practical for religious liberty, just pray for discernment. The Supreme Court is really pro–religious liberty right now, but it only takes one out of every 100 cases, so it's really important that the religious-liberty cases that come before it are the ones that make the most sense for the kingdom of God, to make sure the kingdom of God is being moved forward — so, just being prayerful that … we are really fighting the battles that are important and we need to fight."
With that in mind, let us pray:
–Father, thank You for the unity You have brought to the Church on this issue. Unify us more, Lord, that we may work well together!
-Father, we pray for revival and boldness! Make us courageous, Lord, and pour out revival in our nation. Remove our fear, and get us out there sharing the gospel, moving in power, and seeing Your Kingdom come!
-Father, we ask for discernment for the lawmakers, lawyers, activists, donors, organizations, judges, and everyone involved in this issue. Give them Your wisdom, Your mind, and Your conviction to do the right thing.
Verses to press into as you pray on this issue:
First of all, then, I urge that entreaties and prayers, petitions and thanksgivings, be made on behalf of all men, for kings and all who are in authority, so that we may lead a tranquil and quiet life in all godliness and dignity (1 Timothy 2:1–2 NASB 1995).
"Be on your guard; you will be handed over to the local councils and be flogged in the synagogues. On my account you will be brought before governors and kings as witnesses to them and to the Gentiles. But when they arrest you, do not worry about what to say or how to say it. At that time you will be given what to say, for it will not be you speaking, but the Spirit of your Father speaking through you" (Matthew 10:17–20 NIV 2011).
How are you praying for religious liberty in America and beyond? Share your prayers and scriptures below.
Casey Harper is a writer in the Washington, D.C., area who covers national politics. He has worked for The Daily Caller, The Hill, and Sinclair Broadcast Group. Casey's work has appeared also on Fox News and Fox Business, and in Washington Examiner and USA Today. He is a graduate of Hillsdale College. Follow him on Twitter: @CaseyHarper33. Photo Credit: Ben White on Unsplash.
Partner with Us
Intercessors for America is the trusted resource for millions of people across the United States committed to praying for our nation. If you have benefited from IFA's resources and community, please consider joining us as a monthly support partner. As a 501(c)3 organization, it's through your support that all this possible.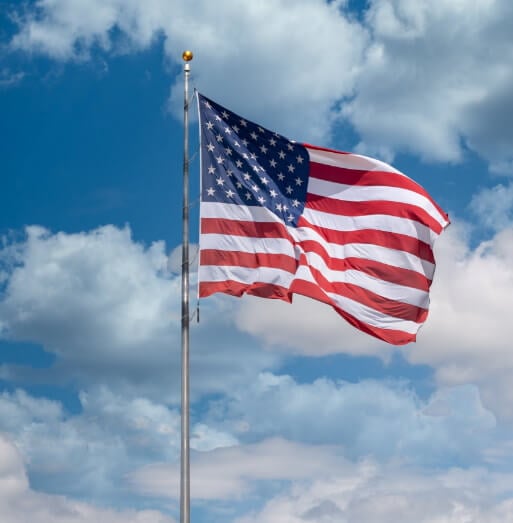 Become a Monthly Partner
You can post a prayer to share with others.
C f
December 10, 2022, 7:10 am
Father, we pray that You would protect our religious freedom. Enable us to stand strong for You, and help us not to waver in the face of persecution.