REDEEMING THE TIME
Gloria Robles, IFA Contributing Writer
|
December 19, 2020
I Prayed
have prayed
Father, help us to remember our days are numbered and each one is a gift from You. We pray that You would bring revival to our nation in Your name.
Some time ago I was in prayer over the future of this nation, weeping before God. All I could plead was "more time, Lord." My heart's cry in that moment was literally that. Lord, more time to see the end of the bloodshed of innocent babies. More time to see child trafficking abolished from this land. More time to see racial healing in this land. More time to see justice for all the corruption and wickedness. More time until this nation and the nations see another great awakening. More time to see loved ones and people come to accept Jesus as Lord and Savior. More time, Lord!
View Comments (20)
As I prayed, I couldn't help but think of King Hezekiah.
Hezekiah became deathly sick, and Isaiah the prophet went to visit him.
"Set your affairs in order and prepare to die," Isaiah told him. "The Lord says you won't recover."
Hezekiah turned his face to the wall.
"O Lord," he pleaded, "remember how I've always tried to obey you and to please you in everything I do . . . ." Then he broke down and cried.
Before Isaiah had left the courtyard, the Lord spoke to him again.
"Go back to Hezekiah, the leader of my people, and tell him that the Lord God of his ancestor David has heard his prayer and seen his tears. I will heal him, and three days from now he will be out of bed and at the Temple! I will add fifteen years to his life and save him and this city from the king of Assyria. And it will all be done for the glory of my own name and for the sake of my servant David." ( 2 Kgs 20:1-6 TLB)
God honored Hezekiah's prayer. He even sealed it with a miracle. The shadow of the sundial went back ten steps. How did Hezekiah respond? He unfortunately did not use wisdom shortly after this. He allowed the enemies of God's people, the Babylonians, into the palace and showed them everything—silver, gold, and the royal treasuries. This cost him greatly as a dire word came from the prophet Isaiah. Everything would be carried away by the Babylonians, including his offspring. It would not be in Hezekiah's time though.
This seems to be a warning we Christians should heed as we pray and live.
See then that ye walk circumspectly, not as fools, but as wise, Redeeming the time, because the days are evil. (Eph 5:15,16 KJV)
I have been thinking on this verse quite a bit, with the current state of this nation and the battle we face before us. Redeeming the time really stood out to me. The word redeem itself is a Greek word, exagorazo, composed of two words: ek (come out of) and agorazo (to purchase). The picture of this word is to purchase someone out of slavery. Jesus Christ demonstrated this when He redeemed us from the curse of the law. The Greek word for time is kairos. This means the right or opportune time. It is a time that must be taken or the opportunity may pass you by. It may be now, or it may be a later time; it is God who decides that and not man. So what does it mean for us to redeem the time?
Before the mountains were brought forth, or ever you had formed the earth and the world, from everlasting to everlasting you are God. (Ps 90:2)
God is not bound by time because he is eternal. Humans, on the other hand, have our days numbered, and that makes time a precious commodity.
Help us to remember that our days are numbered, and help us to interpret our lives correctly. Set your wisdom deeply in our hearts so that we may accept your correction. (Ps 90:12 TPT)
Ephesians 5:15,16 in the Amplified Bible makes the message very clear: Look carefully then how you walk! Live purposefully and worthily and accurately, not as the unwise and witless, but as wise (sensible, intelligent people), making the very most of the time [buying up each opportunity], because the days are evil.
We see the key to redeeming the time here: . . .making the very most of the time (buying up each opportunity) because the days are evil. Though this was written so long ago, we can definitely see the parallels here. The days we are in are evil. We are seeing those who celebrate evil as good and those who call good evil.
These were his (Jesus) instructions to them: "Plead with the Lord of the harvest to send out more laborers to help you, for the harvest is so plentiful and the workers so few.
(Lk 10:2 TLB)
What if God answers our prayers for America and redeems the time, as he did for Hezekiah? How will we respond? Will we become haughty and lifted up in pride? Will we lighten up on our intercession?  We must use wisdom and not grow comfortable as Hezekiah did. Let's make the most of the time that God has given us.
We are not to see all the problems we are facing as merely problems, rather as opportunities. An opportunity to be a witness for Jesus and a shining light in the darkness. An opportunity to really be the church. An opportunity to strengthen those who have tired hands, and encourage those who have weak knees. (Is 35:3)
Like Moses needed Aaron and Hur to lift his hands in the battle, we intercessors are joined as one, lifting one another up. While we are believing for a move of God, instead of waiting, let's make the most of this opportunity and be the move of God. This could be the greatest opportunity for the harvest that we've ever seen.
Times of chaos and darkness are often catalysts for revival. People are afraid, hurting, needing answers, and we can use this time to hunker down in fear and hide or we can be the hands and feet of Jesus Christ. I'll end with the words of the Apostle Peter. In Acts 3, at three o'clock, he and John were headed to the temple to pray. They saw a lame man who had been carried there. This man, as he was accustomed to, expected people to have compassion and give him money. But this was Peter's reply, "I don't have any silver or gold for you. But I'll give you what I have. In the name of Jesus Christ of Nazareth, get up and walk!" (Acts 3:1-8)
Brothers and sisters, let give the lost not just what we have, but Who we have.
Author Gloria Robles is a passionate intercessor with a prophetic voice for today. For more from Gloria, go to Spotify or Anchor to listen to her podcast Something To Share. (Photo Credit: Getty Images.)
Share your prayers for redemption for these times we are living in!
Partner with Us
Intercessors for America is the trusted resource for millions of people across the United States committed to praying for our nation. If you have benefited from IFA's resources and community, please consider joining us as a monthly support partner. As a 501(c)3 organization, it's through your support that all this possible.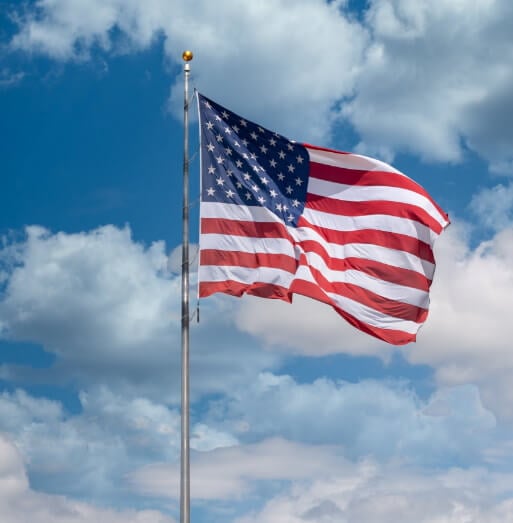 Become a Monthly Partner