RECLAIM OCTOBER FROM THE SPIRIT OF DEATH
Joyce Swingle, IFA Contributing Writer
|
October 12, 2021
RECLAIM OCTOBER FROM THE SPIRIT OF DEATH
Joyce Swingle, IFA Contributing Writer
|
October 12, 2021
I Prayed
have prayed
Father, in the Name of Your Holy Son, we reclaim October for You. We decree that the judgment of heaven rest upon the evil associated with Halloween. Take back the harvest and the harvest months, O Lord.
I used to love October. A month filled with fresh, cooling winds and lovely, swirling colors. A school year still new with promise and the delights of hot cocoa, mulled cider, and crisp apples.
View Comments (35)
But once I became a Believer and began to develop a gift of discerning of spirits, October became oppressive. One October 31 several years ago, I walked home from my office work in mid-town Manhattan. Dusk had fully fallen, and lights were popping on along the townhouse-lined streets. I felt uneasy, my spirit was heavy, whirling with a sense of dark spirits at work. As I rushed home, I felt beset by the presence of the enemy in increasing measure. In a moment of foreboding, I looked down at my shirt and saw a little red dot. Someone from a nearby apartment was pointing a laser at me! I was literally a target!
That year, I hurried home and locked myself into my apartment, praying and trembling with fear. In the years since, I've been on hyper-alert during the month of October — still beautiful, still filled with the spirit of death.
But I'm sick of this hijacking — aren't you? Isn't it time to reclaim this lovely harvest season for the Lord's purpose? Isn't it time to take control and command the enemy to vacate our streets, our homes, our communities?
So how do we do that? Well, the Biblical grant of authority is clear. And Jesus came and said to them, "All authority in heaven and on earth has been given to me. Go therefore and make disciples of all nations, baptizing them in the name of the Father and of the Son and of the Holy Spirit, teaching them to observe all that I have commanded you. And behold, I am with you always, to the end of the age." (Matt. 28: 18-20, ESV)
What an interesting word — authority. Simply put, it means the right to exercise power. Power, of course, is also an interesting word; it means the ability to take effective action. So, I'm proposing a reclaiming of October from the forces of evil. A taking up of the authority of heaven and an exercise of the Lord's power. A modest proposal.
If you're up for it, let's get serious — instead of a gory costume, get dressed in the full armor of God. Stand therefore, having fastened on the belt of truth, and having put on the breastplate of righteousness, and, as shoes for your feet, having put on the readiness given by the gospel of peace. In all circumstances take up the shield of faith, with which you can extinguish all the flaming darts of the evil one; and take the helmet of salvation, and the sword of the Spirit, which is the word of God, praying at all times in the Spirit, with all prayer and supplication. (Eph. 6: 14-18a, ESV)
Going into this battle also requires emotional and spiritual preparation. We need to get honest about our feelings. If you are like me, you've been afraid (as I was in the story above), angry (as I am too often these days), and generally fed-up (ditto). Let's lay our emotional selves before the Lord for Holy Spirit to reveal our feelings to us. Feelings, like all things, have been damaged by the fall into sin and can be redeemed by the Lord. We need to confess any unhelpful, ungodly feelings so the Blood can heal them. Spiritually, too, we need confess any known or unknown sin so the Lord can close any doors to evil or mischief. Confession — good for the soul and the battlefield, too!
Now, let's consider our authority. All Godly spiritual authority is derived from Jesus. Though Adam and Eve abdicated their authority to the enemy when they sinned, Jesus won the earth back by the Cross. But it is up to us to take the ground. We take that ground by claiming it by the Blood of Jesus. We apply the Blood by forgiving those who have brought evil upon the land (even from the long ago) and those who are bringing evil today. We release the debt against them and ask the Lord to cover by the Blood of Jesus the ground these people have given to evil. In effect we are stripping permission given to Satan to own and operate on that land. We take it back by the Blood!
Many intercessors have gifts like 'discerning of spirits' that I describe above. The Lord shows us where and which demons are lurking so we can target them by name or function. This kind of gifting is a sharing of Holy Spirit Himself to enable us to exercise His authority over evil. The dislodging of those spirits is by the Name of the Lord Jesus Christ. In His Name we bind, gag, cripple, blind, and render evil spirits unable to operate and cast them — and any and all sent to replace them — into the abyss or wherever the Lord wants to send them. Ask Holy Spirit to fill all the spaces vacated (Luke 11: 24-26).
All of us — regardless of spiritual gifts — can enjoy the authority born from intimacy with Jesus. We can choose to sit with Him in worship, praise, prayer, and adoration. We receive His Love. The Love that spilled His Blood for our lives. The Love that defeated evil permanently. We can move in that Love and dislodge evil as directed by Holy Spirit.
I experienced the power of that Love in action. In 1994, I was a baby Christian just learning how to wage war, and I was drawn into prayer over the civil war in Rwanda. That short-lived conflict was a bloody, intense, and horrifying war between two ethnic tribes inflamed with lust for power and vengeance. As I was falling asleep one night, I felt a strong compulsion to command Satan out of Rwanda in the Name of the Lord Jesus Christ. This prayer had not been in my thoughts or my words before this moment. As this prayer completed, I recall feeling two certainties: Satan was stripped of his power in Rwanda, and he was angry about it. As that second certainty formed, my fear arose, and extreme oppression came upon me. But I cried out the Name of Jesus and He lifted the oppression. Even more encouraging, not long afterward, the war began to end in Rwanda.
Jesus wins, you see. And it is time for Him to win back October, His harvest fields, and His harvest time.
We cover ourselves with the full armor of God. The belt of truth. Let Truth be our guide. The breastplate of righteousness. We want right relationships with You and the creation. Convict us of any sin and any unrighteousness in our thoughts, words, or actions; forgive and change us. Grant us nimbleness that flows from the Gospel of peace as we strap on those sandals. We take up the shield of faith, the sword of Your Word, the helmet of salvation, and the hope of the Gospel firmly upon our heads. We forgive those who have and are celebrating evil and death. Forgive them, release the debt against them; cover the ground with the Blood of Jesus. We take this ground back and strip away all permissions given to the enemy. All the earth is the Lord's! In the Name of the Lord Jesus Christ, bind, gag, cripple, blind and render unable to act or replicate all spirits whose name or whose function is to promote death, evil, horror, hate, terror, witchcraft, Jezebel, pharmacia, Baal, and Halloween and all assigned to hijack the harvest, corrupt children, or own the autumn. Cast all such into the abyss or wherever you want, Lord of All. Send Holy Spirit to fill all vacated spots with Your Life and Your Love. We worship You, Lord of Life, Light of the World, Love of the Ages. And we decree: October belongs to the Lord! The rod of the wicked will NOT rest upon the land of the righteous and witchcraft will NOT thrive over a people born free! Lord Jesus, take back October! Take back Your harvest days!
Does this encourage you? Share in the comments below!
Author Joyce Swingle is an intercessor and contributing writer for Intercessors for America. With her husband Drama Evangelist Rich, Joyce shares the Gospel of Jesus Christ around the world through theatre and speaking. Joyce also has performed on screen. Prior to going into full-time ministry, Joyce worked for about 20 major magazines and now works in pastoral ministry and Christian counseling. She and Rich live in New York City.
(Photo Credit: Annie Spratt/Unsplash).
Partner with Us
Intercessors for America is the trusted resource for millions of people across the United States committed to praying for our nation. If you have benefited from IFA's resources and community, please consider joining us as a monthly support partner. As a 501(c)3 organization, it's through your support that all this possible.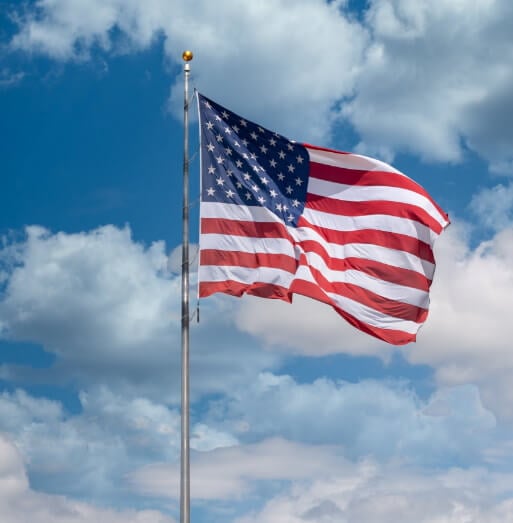 Become a Monthly Partner