PROPHETIC WORD: GOD IS RISING AGAINST THE WICKED
Jamie Rohrbaugh, IFA Contributing Writer
|
September 16, 2021
PROPHETIC WORD: GOD IS RISING AGAINST THE WICKED
Jamie Rohrbaugh, IFA Contributing Writer
|
September 16, 2021
I Prayed
have prayed
Father God, You are in Your holy temple. Your Word says that the cup of Your wrath will be turned against the wicked, and You will defend the righteous. We wait on You; we look to You; let all the earth keep silence before You. In Jesus' name, amen.
Beloved intercessor, have you been wondering when or if justice will ever come to the wicked? Have you been watching recent events with agony, dismay, or even despair—all the while asking yourself, "Where is God?"
If so, I want to encourage you today from the book of Habakkuk.
View Comments (59)
Just a few days ago, while studying Habakkuk, I felt strongly led of the Lord that the words of this book are extremely timely for America right now. In fact, I believe this is a strong prophetic word for our nation. Let's look together at what Habakkuk says that could be applied to the United States of America today.
First, the prophet Habakkuk cries out to the Lord in indignation after the Lord shows him injustice and iniquity prevailing in a nation.
Habakkuk 1:1-4 says:
The burden which the prophet Habakkuk saw.
O Lord, how long shall I cry, and You will not hear? Even cry out to You, "Violence!" and You will not save. Why do You show me iniquity, and cause me to see trouble?
For plundering and violence are before me; there is strife, and contention arises. Therefore the law is powerless, and justice never goes forth. For the wicked surround the righteous; therefore perverse judgment proceeds" (emphasis mine).
Note that Habakkuk was seeing in the Spirit for the entirety of this prophecy. He was not necessarily looking at the state of the Jewish people at that time, and he was not using his natural, physical vision. He "saw" a burden; the Lord showed him and caused him to see the things before him.
What did the Lord show him? Well, it was a time when:
It felt like the prayers of the righteous were not being answered.
The righteous' cries against violence did not produce a cessation of the violence.
Iniquity and trouble were visible.
Plundering and violence were happening.
Strife and contention were in the land.
The law was powerless, and justice never went forth.
The wicked surrounded the righteous.
Perverse judgments and rulings were being made.
Sound familiar? Could the Lord have been showing Habakkuk a glimpse of a future time—perhaps our time? I believe it's certainly possible. And, even if this book of prophecy has more than one application, I do believe the entire book—and the answers the Lord gave to Habakkuk's complaints—are a rhema word for us in the United States of America today.
The Lord replied and reassured Habakkuk that the wicked would be judged.
Habakkuk 1:5 gives us the Lord's Word of hope:
Look among the nations and watch—be utterly astounded! For I will work a work in your days which you would not believe, though it were told you. (Habakkuk 1:5 NKJV)
Beloved, take this word to heart today. Even though looking among the nations right now tends to bring heartbreak, anger, and sometimes even hopelessness if we don't keep our eyes on Jesus, this passage urges us to both look at the nations AND know that GOD Himself "will work a work in your days which you would not believe, though it were told you." I take that in faith for our nation today; don't you?
Let's continue to see what else the Lord has for us today through His conversation with Habakkuk.
Look at God and know that we shall not die.
Habakkuk 1:12 shows faith beginning to rise up in the prophet's heart:
Are You not from everlasting, O Lord my God, my Holy One? We shall not die. O Lord, You have appointed them for judgment; O Rock, You have marked them for correction. (Habakkuk 1:12 NKJV)
My friend, even though things look dire and bleak, let God's Word rise up in you today. Stir up your most holy faith and strengthen yourself in the Lord. Let faith arise! Look at God; see that He is from everlasting; that He is our Holy One and our Rock.
The Lord has marked the wicked to receive His correction. He has appointed them to be judged, and He will ensure that they do not miss their appointment before His judgment seat, whenever and however that may be. God is in control, and we MUST keep our eyes on JESUS, the Author and Finisher of our faith!
The Lord is pronouncing judgment on the proud.
If there's ever a time to humble ourselves, pray, seek God's face, and TURN from OUR (the Church's) wicked ways, that time is now—because just look at the judgment that the Lord is pronouncing even now upon the proud in our nation:
Because you have plundered many nations, all the remnant of the people shall plunder you, because of men's blood and the violence of the land and the city, and of all who dwell in it.
Woe to him who covets evil gain for his house, that he may set his nest on high, that he may be delivered from the power of disaster! You give shameful counsel to your house, cutting off many peoples, and sin against your soul.
For the stone will cry out from the wall, and the beam from the timbers will answer it. Woe to him who builds a town with bloodshed, who establishes a city by iniquity! (Habakkuk 2:8-12 NKJV)
WOW.
Intercessors, do you read in those verses any descriptions of wicked people in power in America today?
Do you see anyone in our nation who has plundered many nations? Who has shed innocent blood and instigated violence? Who has coveted evil gain for his or her house? Who has cut off many peoples? Who has built a town with bloodshed or established a city by iniquity?
Let's also look at another description of those upon whom the Lord will cast judgment:
Woe to him who gives drink to his neighbor, pressing him to your bottle, even to make him drunk, that you may look on his nakedness! You are filled with shame instead of glory.
You also—drink! And be exposed as uncircumcised! The cup of the Lord's right hand will be turned against you, and utter shame will be on your glory. (Habakkuk 2:15-16 NKJV)
What does it mean to give drink to your neighbor, pressing him to your bottle even to make him drunk, that you may look on his nakedness? It means pressing your agenda, your propaganda, your lies, and untruths to someone else's lips and forcing them to drink it, so that you may afterward take advantage of them.
God, have mercy.
But God IS going to have mercy on the righteous, and He IS bringing revival. He is also bringing judgment against the wicked.
I know it seems to be taking a long time, and that it appears lawlessness is only increasing. However, the Word of God says that God Himself will force the wicked to drink—not drinking propaganda, but drinking straight from the cup of the Lord. In other words, they will be forced to swallow whatever retribution THE LORD has for them. And "what the Lord has for them" is against them—not for them. It is going to bring shame to all their plans; shame to all the things they gloried in.
And beloved, revival is coming.
Some say revival is here, but more revival is certainly coming.
Look at Habakkuk 2:14:
For the earth will be filled with the knowledge of the glory of the Lord, as the waters cover the sea.
Despite all the amazing things the Lord is doing in our nation and around the world, we have not yet arrived at the point where the entire earth is "filled with the knowledge of the glory of the Lord, as the waters cover the sea." Not all men know of Jesus. Many who know about Him have yet to truly experience His glory or give their lives to Him. And while I do not expect that we will see a manifest Kingdom "utopia" on earth before Christ returns, there is a degree of revival promised to us in the Scriptures that we have not yet experienced.
I do believe the current pandemic is a sign of the imminent outpouring of revival.
I do not believe the pandemic is in any way from the Lord, but look at Habakkuk 3:5:
Before Him went pestilence, and fever followed at His feet.
This portion of Habakkuk shows God rising up off His throne in response to Habakkuk's prayer. Habakkuk's prayer was simple, yet profound:
A prayer of Habakkuk the prophet, on Shigionoth.
O Lord, I have heard Your speech and was afraid; O Lord, revive Your work in the midst of the years! In the midst of the years make it known; in wrath remember mercy. (Habakkuk 3:1-2 NKJV).
If the Lord was showing Habakkuk a vision of our time, then I believe Habakkuk was interceding for our time. But even if this is only one application of the visions Habakkuk saw, the prayer is still relevant. We also cry out to the Lord today, "Revive Your work in the midst of the years! In the midst of the years make Your work known; in wrath remember mercy!"
And beloved, when the prophet prayed that prayer, God got up. He got off His throne and came to the rescue of His people. And while the rest of the chapter describes God coming to avenge His people, take special note again of Habakkuk 3:5:
Before Him went pestilence, and fever followed at His feet.
I do not believe this pestilence/pandemic is from the Lord, but I do believe that the enemy sends pestilence when he knows the Lord is coming. He sends it to try to shake God's people out of their place of faith. He sends fever nipping at God's heels like a pack of rabid dogs trying to stop the working of One who is in every way their Superior.
But the pestilence and fever cannot stop our God.
God still rides in on wings of His wrath. He still sends out His arrows, flashing like lightning from east to west. He still upsets the rivers, the mountains, and the waters. He does these things on our behalf while He is coming to OUR rescue, for His Word says:
You went forth for the salvation of Your people, for salvation with Your Anointed. You struck the head from the house of the wicked, by laying bare from foundation to neck. (Habakkuk 3:13-14 NKJV)
Beloved, "the Lord is in His holy temple. Let all the earth keep silence before Him." (Habakkuk 2:20)
I believe His Word to you and to me today—and to all the righteous in the land—is this: hold fast. Hang on. Though the fig tree may not blossom, nor fruit be on the vines; though the labor of the olive may fail, and the fields yield no food; though the flock may be cut off from the fold, and there be no herd in the stalls. (Habakkuk 3:17 NKJV) …
… We are to remember our "YET," and praise the Lord. Yet I will rejoice in the Lord, I will joy in the God of my salvation. (Habakkuk 3:18 NKJV).
And we are to pray, believe, and speak the Word of God: The Lord God is my strength; He will make my feet like deer's feet, and He will make me walk on my high hills … (Habakkuk 3:19 NKJV)
Beloved, God has not forgotten us. He has not forgotten this nation, which was founded to be in covenant with Him. He has not forgotten the injustices wrought upon the nations of the earth, and He is coming on His chariot to help.
Hang on.
Does this word resonate in your spirit today? If so, will you join in praying through these passages in Habakkuk for the United States of America, and for all the nations of the world? Leave a comment below and let us know what Holy Spirit impresses upon YOUR heart about this!
Jamie Rohrbaugh equips people to walk in the manifest presence of God. She blogs for a global readership at FromHisPresence.com, where she writes about prayer, the prophetic word, living supernaturally, inner healing, and Kingdom wealth. She is a frequent contributor to Charisma Magazine, The Elijah List, Spirit Fuel, and various other ministry outlets. Her podcast, Take Your Territory with Jamie Rohrbaugh, can be found on iTunes and Spotify. Download her newest FREE study guide, 80 Confessions of Your Supernatural Identity in Christ, here.
(Photo Credit: Diana Simumpande).
Partner with Us
Intercessors for America is the trusted resource for millions of people across the United States committed to praying for our nation. If you have benefited from IFA's resources and community, please consider joining us as a monthly support partner. As a 501(c)3 organization, it's through your support that all this possible.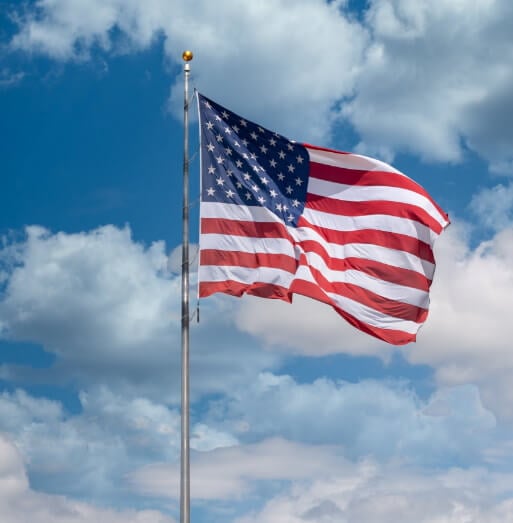 Become a Monthly Partner