Praise Report from Pennsylvania
Betsy West, IFA State Leader
|
September 22, 2022
Praise Report from Pennsylvania
Betsy West, IFA State Leader
|
September 22, 2022
I Prayed
have prayed
Father, we thank You for the success of Pennsylvania's March for Life. Continue to fuel this pro-life fire, God, and eradicate abortion nationwide!
The first March for Life since Roe v. Wade was overturned took place at the Capitol in Harrisburg, Pennsylvania, on Monday, Sept. 19, 2022. Thousands gathered, calling for the "Seed of a Nation" to make history once again in the defense of life.
View Comments (36)
Ephesians 6 defines the various pieces of the full armor of God. One piece in particular stands out at this time in our history: Stand firm therefore, having girded your loins with truth … (Ephesians 6:14 NASB 1995).
This day was also a first among the recently launched IFA State Prayer groups. PA Pray, established on July 5, attended the march in Harrisburg. Several of our faithful prayer-call intercessors came together there, meeting face-to-face for the very first time, and friendships were quickly established and "the army" began mobilizing. (Every weekly prayer call includes intercession for the life of the unborn, with a focus on interceding for legislation and decisions that will protect life and abolish abortion on U.S. soil.)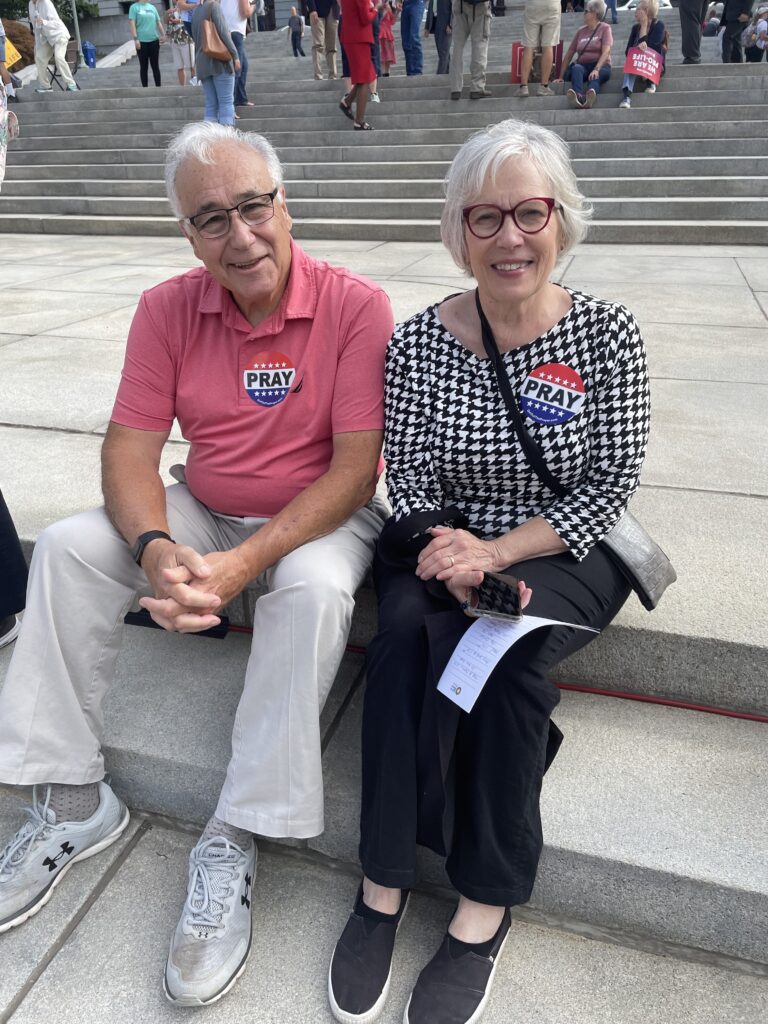 Prayer ahead of the event for weather, travel, and safety, among other things, was answered on all fronts. The day began with the paying of tribute to our Almighty God. At 9:30 a.m. a Roman Catholic Mass was held at St. Patrick's Cathedral, and there was a prayer-and-praise rally at 10 a.m. at the steps of the Capitol. As the crowd began drifting in, we started to wonder how many had been called to attend. The praise music wafted through the crowd and the worship went up like a pleasing aroma. Hands were lifted, heads were bowed, and tears were flowing in this miracle of the Church standing as one, with no divisions, but only as a visible answer to Jesus' prayer: " … that they may all be one; even as Thou, Father, art in Me and I in Thee … " (John 17:21 NASB 1977).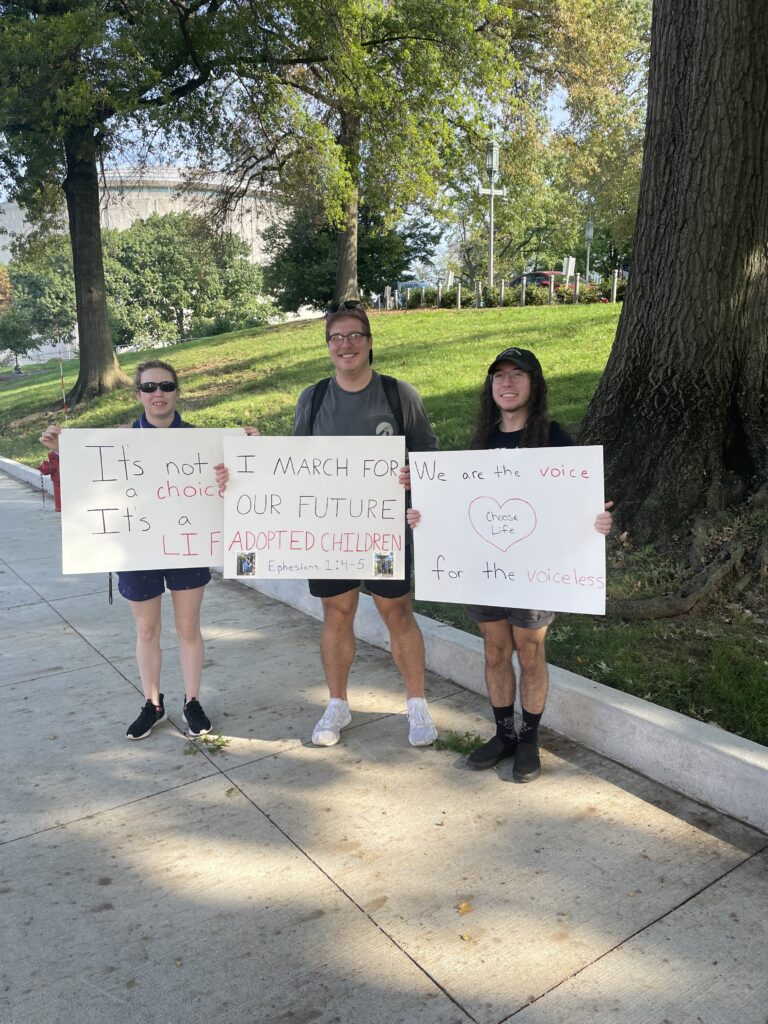 People of all denominations and from among both Jews and Gentiles gathered on the Capitol grounds to cry out for the voices that were never heard.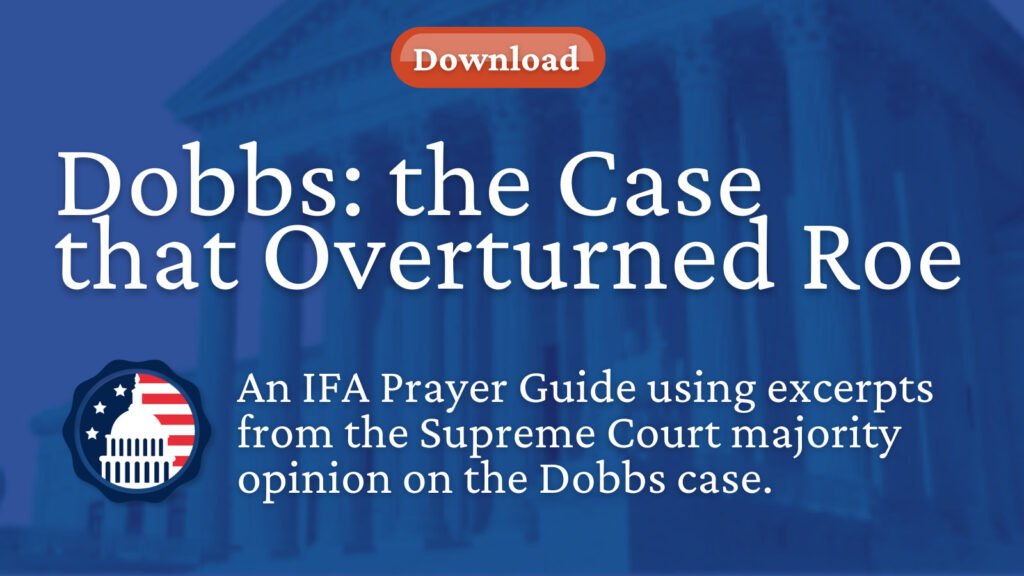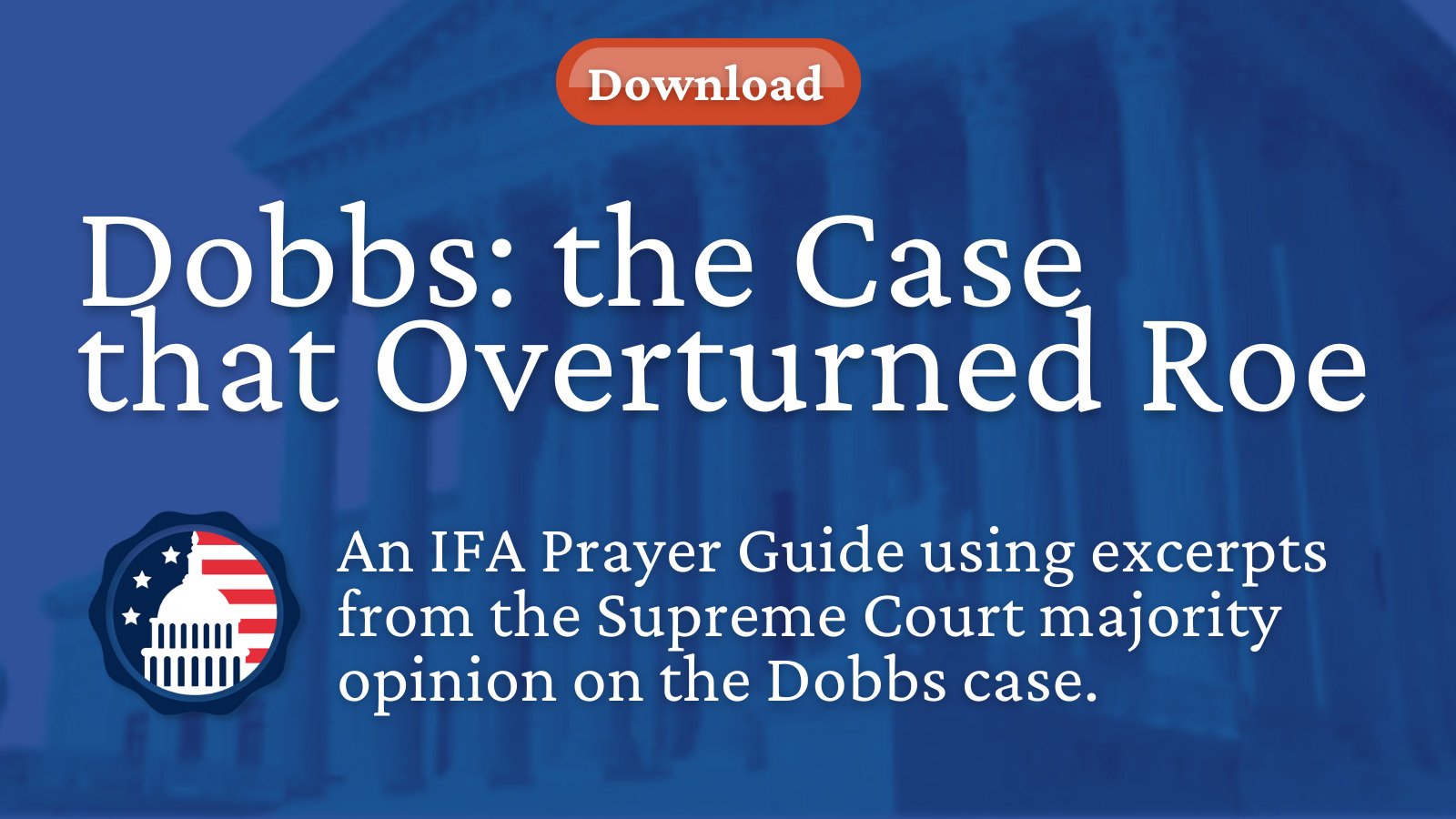 The speakers were strong in their messages — and they took no soft approach to the hideous reality of the abortion practices that have spiraled to even greater depths through the selling of tissues and organs from our unborn babies in the name of "science." We heard from Ann McElhinney, co-author of Gosnell: The Untold Story of America's Most Prolific Serial Killer. The details were presented to a grimly sober audience. These atrocities occurred in our state and in our city of Philadelphia. God have mercy on all who turned a blind eye.
Another standout speaker was Kathy Barnette, who ran in the Republican primary for U.S. senator but lost to Mehmet Oz. She is a U.S. military veteran and an author and has an amazing testimony. A 21-year-old man raped Barnette's mother when she was just 11 years old — and Barnette stressed the crucial point that responsible adults chose life for the pregnant girl. Barnette's grandmother could have taken the abortion road for her young daughter, but instead the family chose life! Barnette's story was delivered with such power and strength that the crowd erupted in cheers.
By the time the march began, at noon, some 6,000 people had gathered across the front of the Capitol, extending into the shade of the trees and into the surrounding streets in every direction. Capitol caretakers confirmed that this was the largest rally ever held in Harrisburg. A refreshing mist of rain began to fall, just enough to provide some relief from the heat.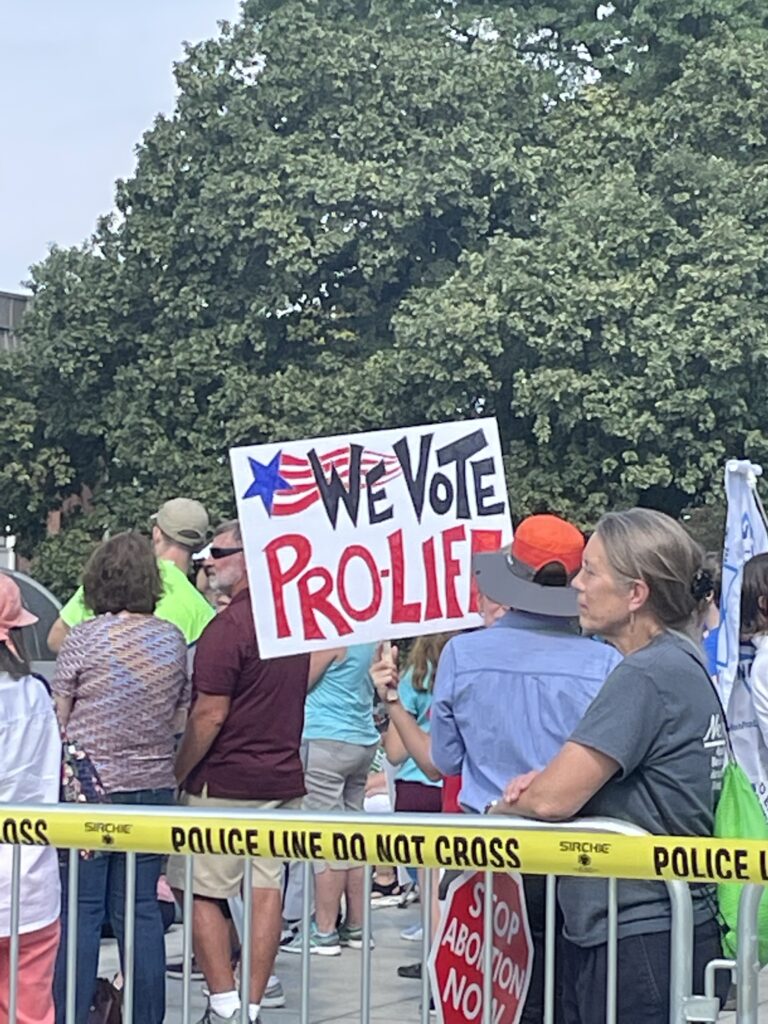 On the Tuesday Prayer call for Pennsylvania, participants shared testimonies. Among those, some observers said they were amazed at the blending of the generations: Older people marched alongside young couples with children and babies. We saw this as a great sign of hope for the nation.
Others noted that there were no counterprotesters; there was no screaming, no protest signage, and no interference — only a 6,000-person march around the Capitol building punctuated with joyful singing, praying, and the meeting of new friends in this fight for the unborn.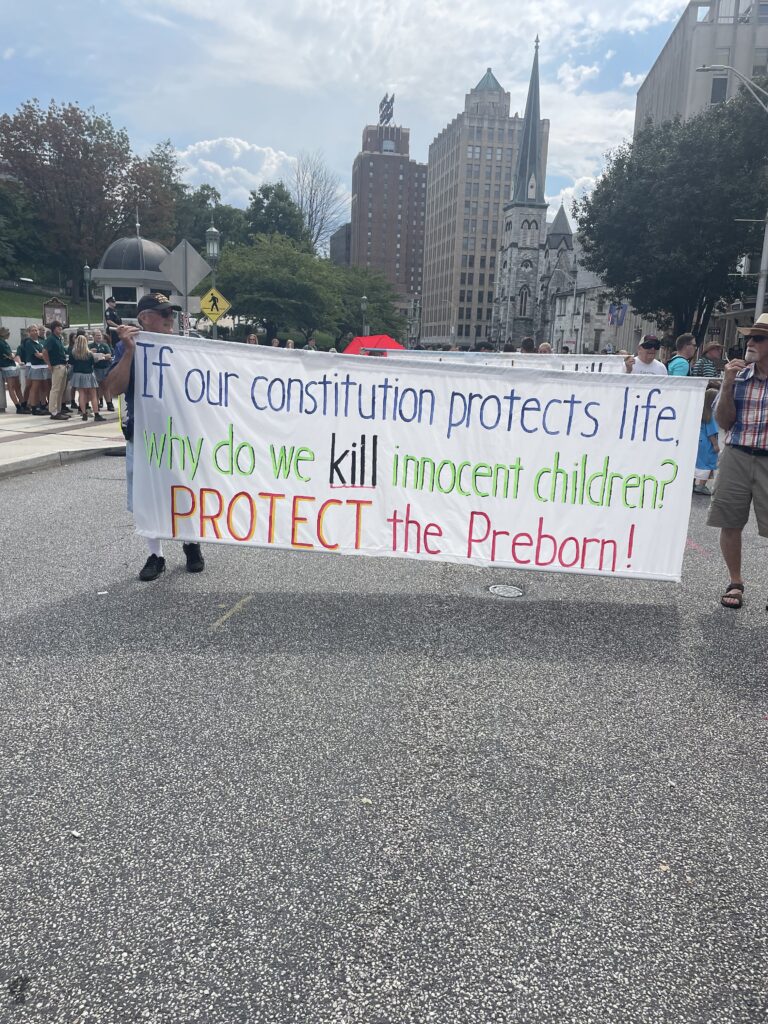 The only (natural!) distraction was the presence of bees. From the start of the gathering until the mist arrived, the area was covered with them. Although they were quite annoying, this never deterred those gathered. Thankfully, the bees weren't aggressive (although I did get a sting), and most people just swatted them away and continued to focus on the mission.
Thanks to Mary Ellen from Lancaster County, the IFA Pennsylvania prayer group and Amy Sabat from IFA headquarters were able to tour the Capitol building. We experienced the beauty and the grandeur inside, with nearly every room in the building and the grand dome being filled with Scripture and images of Biblical scenes, all of it reminding us that we are "one nation under God."
In my final reflection of this day, I could not help but sense the enormous privilege and responsibility that go hand in hand in representing IFA in the state of Pennsylvania. As I marched, I sensed the great cloud of witnesses (in the words of Hebrews 12:1) of the founding fathers of this timely ministry. Derek Prince — who boldly answered the call in 1973 and formed Intercessors for America along with John Talcott, John Beckett, Jay Fesperman, John Heard, George Gillies, and Warren Black — blazed the trail we now follow.
The same year that Roe v. Wade became law in our nation, the call to intercession was sounded for us to take a stand in prayer for our government, and especially for the sanctity of life. Those men established this ministry for the purpose of seeing this day when intercessors would be walking as one. Over these 50 years, this great cloud of intercessory witnesses has been effectively "shaping history through prayer and fasting."
Following the Supreme Court's overturn of Roe v. Wade this past June, the torch got passed down to the 50 states. It is now our turn to wage war for the state-by-state abolishment of this dreadful act of violence against and murder of innocent lives yet unborn. We in Pennsylvania view this as Scripture teaches in the book of Nehemiah: We see that our state is one among 50 "builders" of a wall of protection. Our goal is to work and fight side by side — with a tool in one hand and a sword in the other (Nehemiah 4). Together with all the other states, we labor to see God's Kingdom come and His will be done on earth as it is in heaven.
So, it is time. Gird up your loins, as was the biblical directive to those going into battle. Grab the back panel of the flowing robe, draw it to the front, tuck it firmly beneath the belt of truth, and RUN! Run as though all lives depend upon it. Run for the 63 million who never had a chance. Run so that within our own lifetime we will see an end to this diabolical practice. Let God ARISE!
Are you encouraged by the story of Pennsylvania's March for Life? If so, share this article with your friends and family to encourage them!
(Photo Credit: Intercessors for America)
Partner with Us
Intercessors for America is the trusted resource for millions of people across the United States committed to praying for our nation. If you have benefited from IFA's resources and community, please consider joining us as a monthly support partner. As a 501(c)3 organization, it's through your support that all this possible.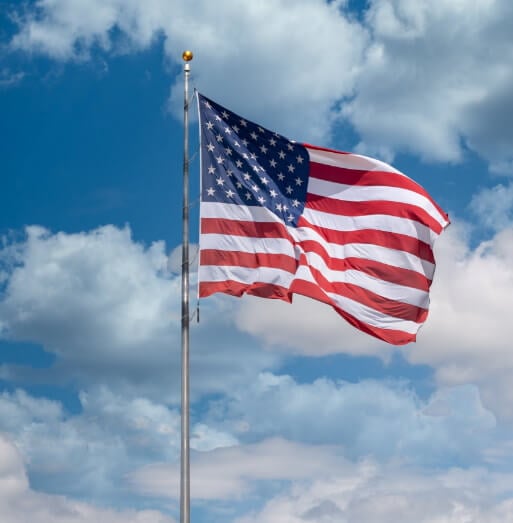 Become a Monthly Partner
You can post a prayer to share with others.
Christine S
September 25, 2022, 1:49 pm
Father, we thank You for the success of Pennsylvania's March for Life. Continue to fuel this pro-life fire, God, and eradicate abortion nationwide!
Vicki R
September 23, 2022, 12:24 pm
O Lord, You are the God of grace and mercy; full of wisdom, long suffering and holiness. We thank You, Father for Pennsylvania's successful March for Life. Father, may this be the norm around the country, that more people will stand up for the voiceless infants and not fear because You do not give a spirit of fear, but of power, and of love and of a sound mind. Only You can change hearts and minds; and we thank and praise You for all You're doing.
Zoe E
September 22, 2022, 11:39 am
Father, we thank You for the success of Pennsylvania's March for Life. Continue to fuel this pro-life fire, God, and eradicate abortion nationwide! Please also eradicate violence in general - not only in abortion, but in euthanasia, war, capital punishment, bullying and the like. Change hearts and minds to loving kindness and respect towards one another.