Pennsylvania
State Prayer Call:
Every Tuesday at 7:00pm EST
(605) 313-5986
Access Code: 2377509
State Leader(s):
Betsy West
State Motto:
Virtue, Liberty and Independence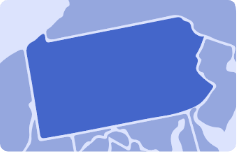 Download State Prayer Guide
Post Your Prayers For Pennsylvania
Submitted Prayers For Pennsylvania
Betsy W
June 26, 2022, 10:25 am
Father in Heaven, we are blessed to live in this Holy Experiment and be the Seed of A Nation! History lessons may not carry this story but it is being retold on July 1st on the steps of our Capitol in Harrisburg, PA. From 10 to 11:30 am be sure to join in listening and rejoicing as the Proclamation is read and received! Praise the living God!
Jodi P
June 24, 2022, 1:29 pm
I praise YOU, Father, for the victory in the overturning of Roe. Bless Justice Alito for giving us understanding of the times and knowing just what to do in the days to come for changing the abortion law in Pennsylvania. I pray now that the Life Amendment Bill will be immediately voted on and passed in both the PA senate and house, so that we, the citizens of Pennsylvania, will be able to vote on the constitutional amendment to protect the life of the preborn in the November 2023 election.
Betsy W
June 22, 2022, 4:03 pm
I thank God for all the "hidden treasures" that are scattered across the state of Pennsylvania. Intercessors are like the watchman on the wall and there are many who have "ears to hear". God bless each one of them richly.
David Esteban O
June 17, 2022, 12:11 am
Almighty LORD, I pray in the holy name of the Lord Jesus against the darkness that is advancing in Pennsylvania — especially in the Lehigh Valley.
Leigh H
June 13, 2022, 5:50 am
Dear Heavenly Father, thank you for your kindness, goodness and faithfulness. Please have the truth come out regarding the 2020 election results in PA, and please help those working on voting integrity to have it succeed for future elections. Protect all who are working for the truth, Tear down the demonic strongholds trying to stop the truth. Thank you father, in the name of Jesus Christ, Amen.
alberta s
June 12, 2022, 3:47 am
LORD JESUS CHRIST please show us your wisdom in how to elect Godly officials to run our state
Melvin W
June 11, 2022, 12:50 pm
Thank you Holy Spirit for Ps. 46:11 with the assurance that "The Lord of hosts is with us; the God of Jacob is our refuge."
Barbara W
June 11, 2022, 7:57 am
In Jesus name I bind any demonic interference in the upcoming 2022 election. I declare that the enemy shall not Iinterfere with this election coming up in Pennsylvania.. I pray holy father that no 3rd party interference would block my prayer. I thank you Lord that you have given us that authority to overthrow the enemy and and we use our power through the Holy Spirit to overthrow him today.
Lori M
June 11, 2022, 6:07 am
Father, I thank you for this state which began as William Penns Holy Experiment! Thank You for roots of righteousness and for Philadelphia - the womb of our nation. Return us, oh Lord, to these righteous roots! We know that we are the KEYSTONE STATE - the key to unlocking revival in the nation. Where the nation is born is where the nation will be born again! The righteous seeds of the nation are not dead! Breath on them again! We water them with our prayers. Forgive us for embracing secularism, for promoting the murder of babies and for idolatry. We and our fathers have sinned. Remember Your covenant of love with us and revive us again. Grant us righteous leaders and judges as at first. Grow is again from our righteous root!
Brian l
June 8, 2022, 10:20 am
Dear Lord, I lift up the state of Pennsylvania. I pray for our leaders , for healing, restoration, and honest, Godly governing in our state. I pray that our elections will be fair and honest, reflecting Your will as to who our leaders should be, for such a time as this. Please, guide and direct our leaders to be listening to the still, small voice of Holy Spirit, not the evil spirits of this age. In Jesus' holy name.
Pray For Pennsylvania Leaders