How God Is Preparing Us for Revival
Remco Brommet, IFA Contributing Writer
|
September 22, 2022
How God Is Preparing Us for Revival
Remco Brommet, IFA Contributing Writer
|
September 22, 2022
I Prayed
have prayed
Father, we hunger and thirst for revival in our nation; call back those who have left the Church to turn to other gods, or to no god at all. Pour out Your Spirit and bring multitudes in every state to repentance and to a vibrant faith in Jesus Christ.
Analysis. Right on the heels of last week's headline about the growing American clergy crisis, we are confronted with another disconcerting news report. A Fox News article published on Sept. 15 highlights a study by the Pew Research Center suggesting that Christianity in the U.S. is declining rapidly and that, if the trend continues, Christianity could become a minority religion by 2045. The study found that the number of Americans who identified as Christians fell from 90% in 1990 to 64% by 2020, while the number of people considering themselves unaffiliated or nonreligious (called nones by some who follow the trend) jumped from 16% in 2007 to 29% in 2020. The majority of those switching from Christianity to the "none" category or to other religions are under 30 years of age.
View Comments (56)
That should concern us, of course, but not to the point of worry. Nationally known pastor and author Max Lucado wrote an opinion piece for Fox News in response to this report a few days later. He cited similar disconcerting circumstances and trends in the late 1700s, when Methodist Episcopal Bishop Francis Asbury filed a less-than-rosy report of the American frontier which said that "not one in a hundred came here to get religion, but rather to get plenty of good land." Visiting Scottish Presbyterian missionary Andrew Fulton, for his part, observed that in "all the newly formed towns in this western colony, there are few religious people."
According to Lucado, the same spiritual condition seen back then is reflected in America today. This is seen in how the Church formulates its presentation of the gospel and also in what is socially popular and unpopular: "The Christian faith is in decline. Spiritual indifference is everywhere. Addiction is up. Church attendance is down. Even with the population booming as much as 300 percent in some areas over the last ten years, the largest religious denomination is reporting a decline in membership. On the rare occasion that spirituality is discussed, the Gospel is often under attack. The authority of the Bible is questioned. Universalism is suddenly in vogue. No one is a sinner. No one will be lost. Everyone will somehow be saved. There is no eternal punishment. The idea of judgment is archaic and barbaric."
If that tempts you to believe that the Christian faith is no longer worth adhering to, think again.
God broke into the spiritual decline of the 1700s with a sweeping revival that began at Cane Ridge Church, in Kentucky, in 1801, after a handful of local pastors had been crying out for revival. From there the revival swept out to every corner of America in what became known as the Second Great Awakening. This brought about societal reforms, influenced the abolition of slavery, and caused church attendance to soar.
That can happen again. Perhaps it won't happen in exactly that same way, but it does appear that declines of the Christian faith are followed by times of revival and that this tends to occur in cycles. And this is true not just in the present day, because people have been turning away from God and then being brought back by spiritual awakenings since Old Testament times: "But after they had rest they did evil again before you, and you abandoned them to the hand of their enemies, so that they had dominion over them. Yet when they turned and cried to you, you heard from heaven, and many times you delivered them according to your mercies"( Nehemiah 9:28).
Spiritual decline puts the Church under pressure. This causes the Church to examine its ways. The exodus of its younger members exposes a lack of spiritual impact on the generations. I think God allows this to happen when we have gotten too comfortable, become ingrown and reluctant to embrace healthy change, and forgotten to rely on the work and power of the Holy Spirit in our congregations.
We have known about this decline for some time. But perhaps we have lulled ourselves into a false sense of security through the growth of the megachurches, not realizing that in the meantime some 1,500 more churches have closed each year than were started.
The COVID pandemic jarred us awake to some degree. In many cases, we couldn't attend church in person anymore. While at first, online attendance for many churches reached record highs, those numbers did not hold up once restrictions were lifted and congregations returned to gathering on their campuses again.
All this suggests that we are seeing seismic shifts in the landscape of the American Church. Arousal from a sleepy sense of security is leading to new movements of prayer for revival. Uncertainty and decline are hard. They bring us to the end of our comfort zones and to a place where our hearts start to thirst again for a move of God. That, of course, is a good thing. A rude awakening is never pleasant, but it is often necessary to bring us to our spiritual senses and to show us that things are not okay in the eyes of God and that we need to pray earnestly for His intervention.
God responds to thirsty hearts that cry out to Him, because such hearts are receptive to the change and renewal He wants to bring. Comfortable hearts, on the other hand, are not receptive, because they perceive change as a threat to the status quo they are trying to maintain.
For that reason, we should see this alarming spiritual decline as an incentive to pray and as a sign of hope that our land is once again being readied for revival. The decline may signal a societal transition into a post-Christian condition, as has been the case in Western Europe since the 1960s. But even that alarming trend is now producing a spiritual harvest among young people as never before. According to Dutch website , there is more interest in the gospel of Jesus in the Netherlands now than there has been in decades, the gospel is being preached on city streets and in small towns, and people are being baptized in lakes and streams as they profess Christ. These occurrences, a mere trickle at first, are beginning to show signs of rapidly growing into a flood. And this in a country where less than 7% of the population regularly attends church.
Following four spiritual awakenings in the history of America, promises of a fifth, starting with the Native American nations, have been cropping up with increasing frequency over the past few months.
These reports of a clergy in crisis and of steep declines in church attendance notwithstanding, we have fresh hope through the promise that God desires to bring about another outpouring of His Spirit. This should incentivize us to turn our concerns about the religious landscape into fervent prayer. We can entreat Him to humble us, to change us, and to set us ablaze with unquenchable desire for His moving. And let us not let up until He does so.
Father in heaven, we thank You for Your compassion. You keep waking us up after we have fallen asleep, and You keep bringing us back whenever we go astray. We take all these alarming signs of church decline, clergy burnout, and uncertain shifts in the way we worship as an incentive to pray harder and longer for You to revive us yet again. Call Your Church to prayerfully and urgently invite You to move, and call our nation to return to a repentant faith in Christ. We believe that, once again, the time for a great awakening and for a mighty ingathering of lost souls into Your kingdom has come. You have been announcing it, and we are welcoming and longing for it. Come, Lord, revive us again! In Jesus' name. Amen.
Are you encouraged? Inspired? Directed to pray and act in a particular way? Please share in the comments.
Remco Brommet is a pastor, spiritual-growth teacher, and prayer leader with over 40 years' experience in Europe, Southeast Asia, Africa, and the U.S. Born and raised in the Netherlands and having pastored his first church in Amsterdam, he moved to the U.S. in 1986. He and his wife, Jennifer, live north of Atlanta. When not writing books, he blogs and assists his wife as content developer and prayer coordinator for True Identity Ministries. Jennifer and Remco are passionate about bringing people into a deeper relationship with Christ. Photo Credit: Canva.
Partner with Us
Intercessors for America is the trusted resource for millions of people across the United States committed to praying for our nation. If you have benefited from IFA's resources and community, please consider joining us as a monthly support partner. As a 501(c)3 organization, it's through your support that all this possible.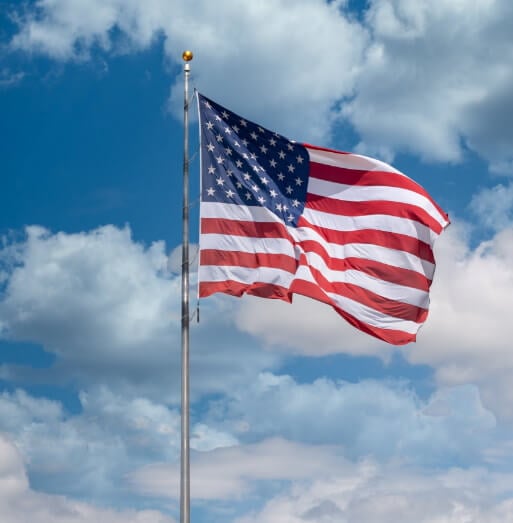 Become a Monthly Partner
You can post a prayer to share with others.
Christine S
September 25, 2022, 1:48 pm
Father, we hunger and thirst for revival in our nation; call back those who have left the Church to turn to other gods, or to no god at all. Pour out Your Spirit and bring multitudes in every state to repentance and to a vibrant faith in Jesus Christ.
Victoria C
September 22, 2022, 11:02 am
Righteous Father accept our prayers & petitions. The Modern Church is Impotent, Fat, rich, full of "Programs" while widows are poor, your children are sick, homeless, full of deadly wounds. A form of Righteousness but CLEARLY Denying The POWER OF GOD, A Nicolatian Cloak of Respectability or Religious Spirit has Dominion over it. There is NO Isaiah 58. NO Charity, NO self sacrifice. NO power to Heal. There is MORE FAITH in Pharmakeia than in Jesus' Power to Heal. Bring Your Spirit in the buildings CALLED church and revive & resurrect Your True Children by Faith in Jesus of Nazareth. Bring multitudes in every state to repentance and to a vibrant faith in Jesus Christ.
Victoria C
September 22, 2022, 10:53 am
Father, we hunger and thirst for revival in our nation; call back those who have left the Church to turn to other gods, or to no god at all. Pour out Your Spirit and bring multitudes in every state to repentance and to a vibrant faith in Jesus Christ.