Overcoming Barriers to Effective Intercession
Patsy Taylor, IFA Intercessor
|
October 23, 2022
Overcoming Barriers to Effective Intercession
Patsy Taylor, IFA Intercessor
|
October 23, 2022
I Prayed
have prayed
"Search me, O God…and see if there is any wicked way in me, and lead me in the way everlasting." (Psalm 139:23,24)
Would you like to grow as an intercessor? This excerpt is from a daily devotional series available only from IFA. To sign up for the series, click HERE.
No one needs the evening news to be reminded that our country is in a serious downward spiral – socially, economically, politically, and spiritually. While people shake their heads, wring their hands, and postulate possible solutions, Bible-believing people know that God alone is the answer to this dilemma. Thus, there is a call for intercessors. Any number of people may occasionally or casually pray for the country, but God is looking for those who will "stand in the  gap between Me on behalf of the land, that I should not destroy it." (Ezekiel 22:30)
View Comments (4)
Committing to real intercession is a serious endeavor. Intercessors beseech Almighty God to intervene in situations beyond mankind's control. We may be clear about the "what" for intercession, but what about the "who" – the intercessors? Are there qualifications? Are there deterrents? Though IFA has produced a number of devotionals that highlight God's guidelines for those who approach His throne with their requests, it's always helpful to have reminders, because we are so prone to forget.
A basic instruction about prayer to all of God's children (intercessor or not) is found in Psalm 66:18. "If I regard iniquity in my heart, the LORD will not hear me." What is this "iniquity" that prevents my prayers being heard? Because we read a lot about iniquity in the Old Testament, we may assume it refers to something unspeakably wicked, such as the Israelites' often-embracing idolatry, but the NIV gives us clarification. "If I had cherished sin in my heart, the LORD would not have listened." Iniquity is simply "sin" of any kind.
When we look to the New Testament, we read, "Let everyone who names the name of Christ depart from iniquity." (2 Timothy 2:19) But since 1 John 1:8 clearly states that "If we say that we have no sin, we deceive ourselves, and the truth is not in us," what are we to do?  Another look at the NIV reveals that it's not referring to the "sin" that is common to us all, but to "cherishing" sin.
"Cherishing" sin implies "clinging to or coddling something we hold dear." We may think we would never do that with sin, but it's possible to become so comfortable with our thoughts, attitudes, and actions that we don't consider how far removed they may be from God's standard of truth and righteousness, as revealed in His Word. Respectable Sins: Confronting the Sins We Tolerate, by Jerry Bridges, is a wonderful resource to unearth sins that might be unrecognized in our lives.
In our flesh, there will always be the pull of "the sin [iniquity] which so easily ensnares us," (Hebrews 12:1) so we must be on the alert for anything that attacks or weakens our longing to live a godly life. When we falter or fail in our quest, we have this promise. "If we confess our sins, He is faithful and just to forgive us our sins and to cleanse us from all unrighteousness." (1 John 1:9)  But since we need to be aware of those sins, in the days ahead we will explore some of the iniquities/deterrents that must be dealt with, in order that our intercession will not be hindered.
Sign up HERE for this helpful devotional series.
Patsy Taylor is a graduate of Moody Bible Institute and the wife of George Taylor, a retired pastor who is an IFA contributing editor. She formerly served their churches in the music ministry, leading worship and an interpretive worship dance group. She now spends her time writing (unpublished) articles about Biblical themes, "Reflections" to the many songs she has written, and a "Family History." They have been married 60 years, have two adult children, and six grandchildren.
Partner with Us
Intercessors for America is the trusted resource for millions of people across the United States committed to praying for our nation. If you have benefited from IFA's resources and community, please consider joining us as a monthly support partner. As a 501(c)3 organization, it's through your support that all this possible.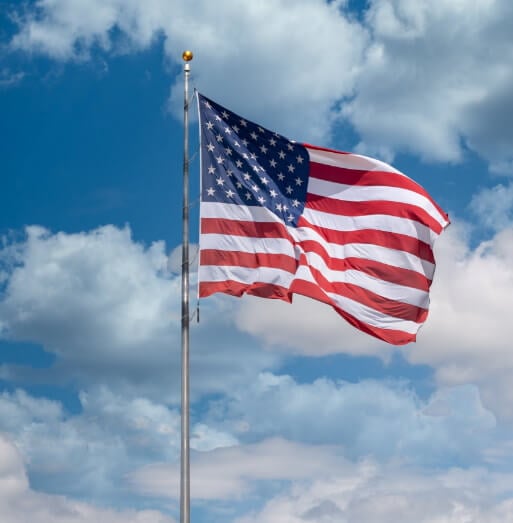 Become a Monthly Partner
You can post a prayer to share with others.
Alan V
October 24, 2022, 9:42 am
"Search me, O God…and see if there is any wicked way in me, and lead me in the way everlasting." (Psalm 139:23,24) Remove our sin O Lord that we may be without spot or blemish. Search us that we may confess our sin, be forgiven and cleansed from all unrighteousness.
Dianna P
October 23, 2022, 8:24 pm
"Search me, O God…and see if there is any wicked way in me, and lead me in the way everlasting." (Psalm 139:23,24)