Elijah's Ravens Speak to Us Today
Angela Rodriguez, IFA Contributing Writer
|
October 23, 2022
Elijah's Ravens Speak to Us Today
Angela Rodriguez, IFA Contributing Writer
|
October 23, 2022
I Prayed
have prayed
Lord Jesus, as we witness a world that needs You, remind us that You are our secure hope and source of provision.
"Once upon a midnight dreary, while I pondered, weak and weary … while I nodded, nearly napping, suddenly there came a tapping, as of some one gently rapping, rapping at my chamber door." These are the first lines of Edgar Allan Poe's famous poem titled The Raven. Poe uses the dark, mysterious bird as a harbinger of misfortune, regret and sorrow, describing it as "grim, ungainly, ghastly, gaunt and ominous." Legends, myths and cultures depict the raven in similar ways, leaving many to label the bird as nothing more than an evil omen.
I never thought about ravens until recently. In fact, I can't say I knew much about them. But the Lord used this misunderstood bird to show me so many wonderful and surprising things. In fact, now I see the raven in a new light.
View Comments (31)
Since the pandemic began in 2020, the Lord has been encouraging me to kick fear to the curb, so I can trust Him completely. This has not always been easy, but I've tried to be obedient. But when vaccine mandates became a daily reality, I found myself worrying about all my friends and family who were affected by them. Every day someone I knew was being threatened by these mandates, including my own husband. I began losing sleep. In the middle of the night, I would ask the Lord, "What will happen to my friends and family if they lose their jobs? How will they provide for their families?"
The Lord gave me one word: ravens. At first I thought that was a strange answer to my question, but then I remembered that there is an amazing story in 1 Kings 17, where God uses ravens to provide food for the prophet Elijah.
Then the word of the Lord came to Elijah: "Leave here, turn eastward and hide in the Kerith Ravine, east of the Jordan. You will drink from the brook, and I have directed the ravens to supply you with food there" (1 Kings 17:2–4 NIV 2011).
After I read the story, many lightbulbs went off in my brain. Firstly, I realized that God chose the most unlikely bird to provide for Elijah. Ravens were considered unclean because they are scavengers that eat the flesh of dead, rotting animals. Elijah, who was an observant Jew, would never think of deliberately coming into close contact with this kind of bird, much less receive food from one. Ravens are not kosher! But God knew what He was doing. In a way, God was saying, "Elijah, I know you would never associate with these dirty birds, but I need you to completely trust Me. Do not worry — just let them feed you."
Of course, God could have used a nice, clean goat or lamb to provide for Elijah. Or He could've used a person to supply a buffet of food. But that's not what He did. By using an unclean bird, God forced Elijah to put full faith in His plan. Likely, Elijah realized that provision can come from anywhere God chooses. Nothing is impossible for Him. Being fed not once but twice a day by these birds that were considered "hands off" was surely a stretch for one of Israel's greatest prophets.
God was providing not only food, but also a refuge from danger. In that same Bible chapter, Elijah delivers a not-so-popular message to the king: " … As surely as the LORD, the God of Israel, lives — the God I serve — there will be no dew or rain during the next few years until I give the word!" (1 Kings 17:1 NLT). This did not sit well with King Ahab and Queen Jezebel, who did great evil in the eyes of the Lord.
Truly, Elijah could have decided that telling the king this message was too great a risk. But he was obedient and carried out the Lord's plans. This brought the wrath of Ahab and Jezebel down upon Elijah. Yet God had a plan that carried great symbolism and meaning not only for Elijah, but for our own lives as well.
The location to which God sent Elijah is a detail that must not be glossed over. He was sent to the Kerith Ravine (also known as the Brook Cherith), which is east of the Jordan River. The word kerith means a "separation" or "cutting off." In this way, Elijah was being cut off from evil rulers, as well as their evil system of idolatry. In addition, God cut off the rain in the land of Ahab to prove a point. This was a blatant mockery of the pagan and fake god Baal, known as the storm god who brings rain. By sending a drought, God was saying: "Your god is nothing. I am the only one who can provide rain."
Elijah was used to pronounce judgment on Ahab and Jezebel for their worship of Baal, which involved ritualistic prostitution, child sacrifice and even self-inflicted injury. Their system spread throughout the kingdom, polluting everything around them. Interestingly enough, the word kerith can also be used to describe divorce. God sent Elijah to hide in the Kerith Ravine as a way of divorcing him from the evil rulers and agendas of that day. God's prophet would be separated and concealed by the Almighty.
So, what does this have to do with us as followers of Christ? There are so many parallels, but let me point out a few.
Firstly, as believers we are facing an evil agenda that has spanned not only our nation, but the entire globe. Child sacrifice (abortion) is just one battle we face. We are also being hammered with heavy censorship, election fraud, and the infringement of our constitutional rights. If that's not enough, our medical and religious freedoms have been trampled through injection mandates.
At this point, many of us are confronted with what seems like a no-win situation. Stories like that of Elijah and the ravens remind us that sometimes we may be "cut off" from our jobs, or even our friends and family. Yet, to our surprise, we may be taken to the desert, where we are given access to a brook of water and an unlikely source of provision. God is certainly creative, and I truly believe that no matter what happens, He will sustain us, whether it be through providing another source of income, or perhaps by using an unusual opportunity that will place us on a new path. The Kerith Ravine became a hiding place for Elijah. We can be comforted knowing God will provide a refuge for us as well.
As with Elijah, this is not a time for us to be silent. I understand that many of us are afraid of speaking out for fear of retribution. But like Elijah, we must be bold and call out evil where it stands. It's fascinating to me that God used ravens, which are often referred to as "symbols of death," to care for and bring life to Elijah. Truly, the real agents of death were Ahab and Jezebel, and it seems quite symbolic that these unlikely birds were used to sustain the persecuted prophet.
Jezebel and Ahab pursued Elijah, just as evil leaders pursue us. But as Psalm 37 says: Be still before the Lord and wait patiently for him; do not fret when people succeed in their ways, when they carry out their wicked schemes. Refrain from anger and turn from wrath; do not fret—it leads only to evil. For those who are evil will be destroyed, but those who hope in the Lord will inherit the land.  A little while, and the wicked will be no more; though you look for them, they will not be found. But the meek will inherit the land and enjoy peace and prosperity (Psalm 37:7–11 NIV).
Now here comes the amazing part of this article: Recently, I was vacationing in Wyoming, visiting Grand Teton National Park, as well as Yellowstone. While there, I noticed many ravens flying through the mountains and valleys. Watching them, I felt a quickening in my spirit as I thought of Elijah and the ravens.
Before going on vacation, I had felt much anxiety about the news. But when I saw these large, beautiful birds, I felt the Lord reminding me that He is the great provider. As I watched the ravens glide seamlessly through the air, I said a small prayer: "Lord Jesus, I would love to get a close-up picture of a raven to remind me that, no matter what happens, You will provide." Then I added: "And I will also share the picture with everyone I know, so I can encourage them."
Little did I know that Jesus would answer that request quicker than I could say the word raven. After the prayer, I walked back to the car, and there before my very eyes was the most stunning sight: a raven perched next to my vehicle! I couldn't believe it. My husband began taking pictures as the raven stayed in one spot and "posed" for over 20 minutes. Honestly, I think that raven would have let me pick him up if I had tried. He cawed happily and stretched his wings like it was one big party. I couldn't help but feel overjoyed, even jumping up and down. Several people walked over to marvel at this majestic raven who seemed to love having his picture taken. In that moment, I realized Jesus answered what I considered a small prayer. Yet, He answered in a BIG way! I knew He was showing me that if He can provide a raven for us to photograph, then He can also provide whatever else I needed! To the left of where the raven was perched, I could see the Jackson Lake Dam, which holds thousands of gallons of water. Seeing this reminded me that the Living Water (Jesus) can sustain my family and friends with resources beyond anything I could ever hope or imagine.
When life is dry — when our resources are empty — God will provide enough water to fill a dam.
Below are some pictures of that wonderful raven God provided during my time of worry and anxiety. Can you guess what I named him? I don't think I have to tell you. Jesus used a bird labeled as a scavenger to remind me of the abundant provision found in Him. Whatever circumstance or mandate you are facing, just give it to Jesus. He will provide a brook, as well as ravens, to supply your needs.

Prayer Point:
Lord Jesus, please help us trust You fully in our time of need. Remind us that You are the great provider, and we do not have to worry about mandates that may "cut us off." After all, You can use unusual and surprising ways to build our faith and fill our stomachs.
If this article encouraged you, please share!
Angela Rodriguez is an author, blogger and homeschooling mom who studies the historical and biblical connections between Israel and the United States. You can visit her blogs at 67owls.com and 100trumpets.com. Her latest book, Psalm 91: Under the Wings of Jesus, was released in June 2021. Photo by Matthias Müllner on Unsplash.
Partner with Us
Intercessors for America is the trusted resource for millions of people across the United States committed to praying for our nation. If you have benefited from IFA's resources and community, please consider joining us as a monthly support partner. As a 501(c)3 organization, it's through your support that all this possible.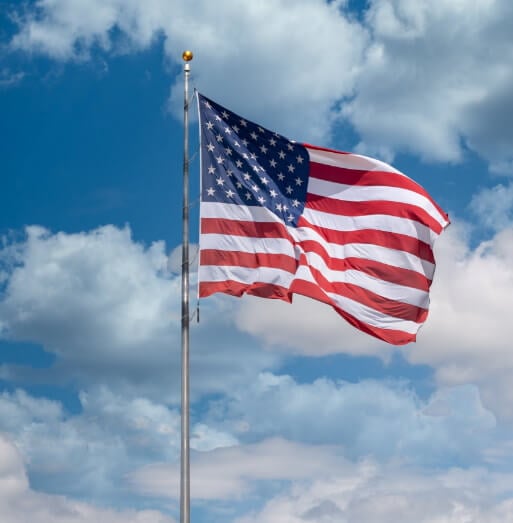 Become a Monthly Partner
You can post a prayer to share with others.
Dianna P
October 23, 2022, 9:00 pm
Lord Jesus, as we witness a world that needs You, remind us that You are our secure hope and source of provision.