LORD OF THE LIES
Karen Quiroz, IFA Intercessor
|
June 22, 2021
I Prayed
have prayed
Father God, please prompt believers in our country to rise up with your love, truth, power and authority – set us free to be the people you made us to be!
Summer is here, and with it, an increase in flies.  Political agendas are in full swing, and with them, an increase in lies. There are remarkable parallels between flies and lies, as well as guidance for our actions.
When you find a fly in your home, you probably wonder, "How did it get in? Who left the door open -again?!"  While politicians, religious leaders, and activists leading us away from biblical values may seem like the root of America's decay, they are simply doorkeepers who embrace lies from Satan – the father of lies. After he spawns lies, they don't wait for an invitation to invade, and his lies are as numerous as flies.  They share many similarities with these annoying insects that poop and vomit wherever they land. Demonic lies have the same effect on our lives. Interestingly, in the New Testament the Pharisees referred to Satan as Beelzebub, the Greek form of the pagan Philistine god Baalzebub, also known as "the lord of the flies."  How fitting that lies and flies are both linked to Satan and associated with filth. If flies or lies are left unchecked, they can spread disease and eventually lead to death.
View Comments (10)
With either one, are we going to just sit on the couch and do nothing? When it comes to flies, I often leave the dirty work to others.  My kids are eager bounty hunters with a piece of candy being the price on a fly's head. "Kill'em for Candy" is the offer and reward.  In the spiritual arena, wouldn't it be nice if someone else would address all the lies that inundate our world and deal with the demonic? Jesus already did! He is the way, THE TRUTH, and the life  and He came to destroy the works of the devil.  So how do we defeat the lies of the enemy now? After atoning for our sins and conquering death, Jesus ascended into heaven but He did not leave us to fight alone.  Believers are now filled with the Holy Spirit who is the Spirit of Truth.  God is truth and His truth – the Holy Bible, is a powerful weapon.
Just the other day one of my sons decided to pull a plastic sword off our school room wall to go after a fly.  Obviously he likes a challenge and The Lord used it to get my attention.  This toy weapon was part of a  1 Timothy 6:12 "Fight The Good Fight" theme for a previous school year. It served as a reminder for the Sword of the Spirit, which we know is the word of God.  It is the 6th piece of armor mentioned in Galatians Ch. 6 where we read detailed directions for defeating Satan's schemes.  When it comes to spiritual warfare, a literal sword would never cut it. The Bible is what we need for this battle. "For though we walk in the flesh, we are not waging war according to the flesh. For the weapons of our warfare are not of the flesh but have divine power to destroy strongholds. We destroy arguments and every lofty opinion raised against the knowledge of God, and take every thought captive to obey Christ, being ready to punish every disobedience, when your obedience is complete " (2 Corinthians 10:5 ESV).
Why must we take every thought captive? – to determine if it is based on truth or lies which lead to some form of death. Satan tempted Jesus to sin in the desert using doubt, desire, and the distorted use of scripture (which is a subtle lie).  And how did Jesus defeat his sly attacks? He used the truth of God's word to cut to the heart of the enemy's deceit.  If Satan had the audacity to assault Jesus with lies then we must seem like easy prey. But thankfully we have scripture and the name of Jesus to pray!  We can never let our guards down because after tempting Jesus, Luke 4:13 reports, "The devil left him UNTIL THE NEXT OPPORTUNITY CAME," and for us it's the same.
IFA helps keep us alert and informed about the many battles and lies swarming our nation, and shares the sources promoting the acceptance of these deadly ideologies.
Most Christians intellectually agree that demonic entities exist, but too often we don't live like it.  God has a plan for our lives (life abundantly) … and so does Satan (kill, steal and destroy). Jesus' words in John 10:10 provide 20/20 spiritual vision. For additional insight, watch "How Demons Cause Negative Thinking" by IFA founder Derek Prince. In this 15 minute video, you will hear real life examples of the enemy's tactics used against people, including believers. Many of our spiritual, emotional, and even some physical problems can be instigated by the demonic delivery of annoying lies that buzz in our ears and get all up in our heads. Talk about biological warfare!  Are we doing any better than the world at dealing with the infestation of lies in our lives? If you are continually struggling with victory in any area, I highly recommend watching the video above which begins Derek Prince's  3-part teaching on deliverance.
Every believer needs to rise up, making a conscious decision to engage in the spiritual battle daily – both against our flesh and the enemy –  aware and armed with the word of God. Because lies share so many similarities with annoying flies, a fly swatter, or should I say a LIE swatter, makes a great visual of how we can destroy words and thoughts that come against the truth of God. SWAT those lies –SPEAK WORDS ADVANCING TRUTH through prayer and intercession for our hearts, homes, and nation! Think of the Bible on a stick – like a fly swatter, only more powerful. There may be times when we are called to speak the truth in love to people as well, but we should never beat them down with scripture because they are not the real enemy.
SPEAK WORDS ADVANCING TRUTH is the action we need to take– minute by minute– both in our own lives and in our country.  Doesn't it take just as much time and energy to think or speak negative words of worry or complaint as it does to pray?  We know that ultimately the enemy is already defeated but we want to reduce his casualties.  Satan's lies can cover our nation with filth and cause disease in our heads and hearts if not dealt with swiftly.  Like the common housefly, the devil and his minions are often stealthy and underestimated.  For this reason, too often our responses to the lies of the enemy include entertaining them, ignoring them, denying, or downplaying their ability to cause destruction, or despairing because of their persistence.  But one lie is too many, just like one fly.
Recently I noticed not one, but two flies, at my local donut shop.  As I watched the employee shoo them away from the pastries, I thought, "No big deal – what can this poor worker do to defend these delicious donuts anyway?  Besides, she's outnumbered.  And who am I to judge since this past week I had a similar problem in my house and was often apathetic about it?" Even still, it is a big deal (refer back to the article on fly poop and vomit).  At the very least the shop could cover the doughnuts, just like we can cover our lives with prayer – right where we are – the moment we hear them, whether they be in our head, or in the headlines.
When reading the June 1st IFA article about Blue's Clues cartoon pride parade video for preschoolers, I found the attempt to immorally indoctrinate such young children disturbing.  How low can our society go?  Sadly, even many churches accept Satan's lies in all areas of sexuality instead of believing God's word. I prayed that the Lord would use the Body to protect our precious children, to which he replied – "So do it!"  Prayerfully sharing  the information with all of the neighbors in my subdivision was the Holy Spirit's leading. But before doing so, I had those donut shop thoughts that I had to swat down.  My post on the neighborhood Facebook page only included the basic details without any position on the issue because the goal was to make parents and grandparents aware, not discuss our views and God's design (this is something I would do one on one, in love, if The Lord opens the door). You can't kill every lie everywhere, but you can SWAT with prayer, all that The Lord brings to your attention and path.
Spotting a swarm of flies is easy, but 1 or 2 flying around can be a little more elusive.  Before we head off to reign on the picnic of the enemy and be the lie exterminator in his camps, we need to take care of our hearts and homes and see where our problems with lies exist.  Have you heard the buzz? "What you're doing (it may be good or bad) doesn't really matter/isn't a big deal/doesn't make a difference.  God can't use you/you have nothing to offer/you can't do what he has called you to do (serve, forgive, etc.).  Lies influence us to doubt or dismiss God's love, authority and power.  Some of the deadliest lies we believe are that we know better than God in a certain area and/or are entitled to whatever we want. right. now. None of us are exempt – ask him where you are letting these lies land in your life.  Lord please show us if we have any open doors to the enemy and help us to close them.
Here's a lie that often invades the heart of intercessors, "Your prayers don't make a difference."  But GOD SAYS that the prayers of a righteous person are powerful and effective. In a 15 minute interview titled "How Christians Can Overcome Fear", a former Satanic high priest  reveals  that he could astral-project and release spirits of poverty, crime, prostitution, etc. into neighborhoods,  EXCEPT where Christians were praying.  Also, on June 9th, IFA writer Michael Guidera  shared an encouraging article about an experience with prayer and God's very personal involvement in our lives. From these accounts alone, we can rest assured that the Lord is fighting for us and uses our intercession in a mighty way! So let's fill the atmosphere with Jesus' praise, which chases those nasty lies away. By God's power and grace we will SWAT the enemy's lies down, and remain ready, as more lies are guaranteed to come around.   Satan may be the lord of the lies, but  through Jesus  we can take authority because he has overcome the world, and is LORD OVER ALL!
Karen Quiroz is an intercessor, homeschooling mom, and past coordinator of the Bible Read-A-Thon. 
Partner with Us
Intercessors for America is the trusted resource for millions of people across the United States committed to praying for our nation. If you have benefited from IFA's resources and community, please consider joining us as a monthly support partner. As a 501(c)3 organization, it's through your support that all this possible.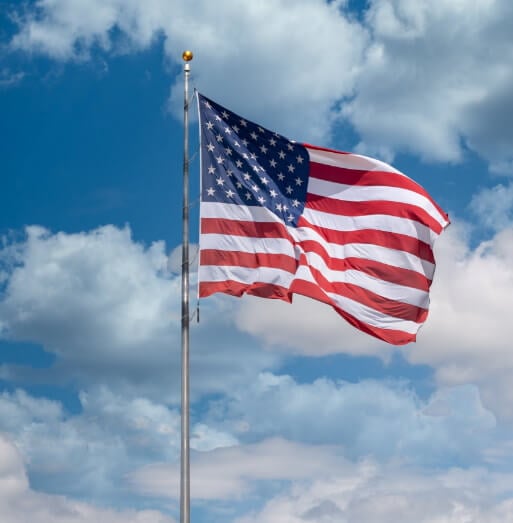 Become a Monthly Partner