IN MY FATHER'S HOUSE
Angela Rodriguez, IFA Contributing Writer
|
June 21, 2021
I Prayed
have prayed
Thank you, heavenly Father, for keeping watch over your children and for providing an earthly and eternal dwelling place with you. Your unfailing love and compassion never cease for those who abide in your shelter.
It's been said that, "the value of a loving father has no price." This is certainly true. But when it comes to the price of salvation, our loving Father in heaven spared no expense–he offered his own precious Son as the payment–Jesus Christ. Is there anything more valuable that a father could offer? Even the orphan finds a home in the loving arms of the Savior.
Yesterday was Father's Day and some of us were able to spend time with their earthly fathers. If you're like me, you are missing your Dad and longing for the day when you will see him again. Each year on the holiday I feel a wave of sadness wash over me. But then I remember what the truth of Scripture tells me, and I cling to it like the warm hugs I used to receive from my earthly father.
View Comments (1)
Last year, I read an amazing book by Kathie Lee Gifford and Messianic Rabbi Jason Sobel called The Rock, the Road and the Rabbi. It takes you on a journey through the land of Israel, where each chapter travels to a different place where the feet of Jesus once walked. Through connections to the Hebrew language and the culture of biblical times, you gain a new perspective on the scriptures.
One particular chapter that offered rich meaning in the area of family and fathers is called Bet Av. These Hebrew words mean The Father's House. The concept of Bet Av is woven throughout the entire Bible from Genesis to Revelation. The story of the Bible is one of a loving Father who desires to bring as many children into his home as possible. Located in heaven, the Father's House is an entire kingdom that God wishes to share with his family. In his home there is peace, joy, freedom and salvation.
In ancient biblical times, a Jewish home was always headed by the father, who was also known as the Patriarch. His authority gave him "supreme rights" over his family. He could arrange marriages for his sons and daughters, or divorce his wife. In addition, he could sell his own children if he deemed it necessary.
At first glance it may seem this is too much power for one person to hold. Imagine your own father being able to choose your husband or wife. Actually, this is still traditional in some cultures, but it's not a common practice in many countries like the United States. So, why would the father be given so much power in biblical times? What's the point?
God had a plan in mind when he designed the family. The father's main role was to be the protector and provider. His scope of protection didn't just apply to his wife and children, but encompassed his extended family as well. The Father's House or Bet Av, included mothers, fathers, aunts, uncles, sisters, brothers, and cousins. The father was responsible for the provision, security and well-being of his large family. Essentially, they dwelled under his shelter.
In her book, Kathie Lee Gifford explains, "To lose your Bet Av is to lose everything. God, in His wisdom, created the Bet Av as a paradigm of His kingdom, for He is our heavenly Father and our sovereign protector."
The father (Patriarch) was a protector and provider, but his most important role involved redemption. For example, if any member of the Father's House were to lose their property, become bankrupt, or end up in a situation where he/she could not rescue themselves, the father would step in. Restoring safety and security were his top priorities.
This idea of Bet Av is seen in our Heavenly Father. God wants to bring us under his shelter and protection, becoming our provider, security, and hope.  He longs to redeem us from the sin that keeps us in bondage. In essence, he wants to save us. The Bet Av of God is located in heaven, and our place with him is eternal. We receive this grand residence through a relationship with Jesus. While we live on earth, we also have a Bet Av with him, if we choose to dwell under his mighty wings of refuge.
Psalm 91, verse 1 and 2 says, "Whoever dwells in the shelter of the Most High, will rest under the shadow of the Almighty. I will say of the Lord, 'He is my refuge and my fortress, my God in whom I trust.'" This describes what Christians receive in the Bet Av–the Father's House. When we receive Jesus as our Lord and Savior, we become full-fledged members of the family of God. We enter his dwelling place and rest under his shadow. Imagine a beautiful, mighty shade tree and you are sitting under it. The shade protects you from the sun and keeps you cool and covered. Better yet, picture yourself as a bird under its mother's wings. The soft fluffy feathers keep you warm and protected.
"He will cover you with his feathers, and under his wings you will find refuge," Psalm 91:4.
Being in the Bet Av of God means living under the protection of his wings. In a previous article for IFA, I wrote about my son's beautiful white cockatiel named Casper. I described the unusual obsession he has with feet. He will spread out his wings and hover over my feet, as if he's protecting them like babies. He sings songs and even tries to feed them! (I'll spare you those particular details.) Guarding my feet, however, is his favorite thing to do. Pacing back and forth, he keeps a watchful eye as he sings and flaps his wings. If someone tries to get in Casper's way when he's in "guard mode" he will move in with a swift bite!
Casper's actions remind me of my Heavenly Father. God provides and cares for his children in a loving way, and he constantly watches over them. We are always welcome to dwell under our Father's wings, where he provides a protective place, as Psalm 91 declares.
John 14:1-4 reminds us of the Bet Av–the Father's House.  "Do not let your hearts be troubled. You believe in God; believe also in me. My Father's house has many rooms; if that were not so, would I have told you that I am going there to prepare a place for you? And if I go and prepare a place for you, I will come back and take you to be with me that you also may be where I am. You know the way to the place where I am going."
These verses refer to the rooms of the Father's House. The homes of biblical times were different than today because they were designed so rooms could be added on as needed.  Unlike today's homes, which are built to contain a specified number of rooms, the Father's House (Bet Av) was created so that when sons were married, a special room could be given to the bride and groom. In this way, the father's family would continue to grow as sons were married and children were born.
The Father's House is also a reference to our marriage with Christ. The Father has a home in heaven. Right now, his Son Jesus continues choosing his Bride. Those who say yes to Christ have accepted his marriage proposal and are officially betrothed. One day, at the appointed time, Jesus will return to fetch his bride. This time is determined by the Father in heaven. The bride has a place (room) prepared on the Father's property. Our wedding ring is the Holy Spirit, which seals our betrothal to Jesus. We have an eternal Bet Av awaiting us.
On earth, God blesses some of us with fathers who provide a home, security, love and wisdom. One of my favorite examples of a loving earthly Patriarch is Casper ten Boom, who was the father of Corrie ten Boom. In her book The Hiding Place, Corrie describes his generous, loving nature. "Somehow, out of the watch shop that never made money, he fed and dressed eleven more children after his own four were grown."
Casper ten Boom saw everyone as part his Bet Av, and his compassion knew no bounds. "Young and old, poor and rich, scholarly gentlemen and illiterate servant girls–only to Father did it seem that they were all alike. That was Father's secret: not that he overlooked the differences in people; that he didn't know they were there."
Our heavenly Father is the same in that he does not care how much money or prestige we have–he loves us, regardless of our faults or accomplishments. He wants everyone to be part of his family.
When it came to losing his own life for the sake of another, Casper ten Boom did not flinch in expressing his belief in this area. "You say we could lose our lives for this child? I would consider that the greatest honor that could come to my family."
Our Father in heaven did not hesitate in sending his Son to die for us on the cross. To him, it was worth every drop of blood so he could bring us into his family. Imagine how many rooms he has already added to his Bet Av since Jesus' death and resurrection.
Ephesians 1:4-5 says, "Even before he made the world, God loved us and chose us in Christ to be holy and without fault in his eyes. God decided in advance to adopt us into his own family by bringing us to himself through Jesus Christ." 
"See what great love the Father has lavished on us, that we should be called children of God! And that is what we are!.." 1 John 3:1.
"For God so loved the world that he gave his one and only Son, that whoever believes in him shall not perish but have eternal life," John 3:16.
Let us abide in our Father's House!
Share some wonderful memories of your father. How does your earthly father remind you of your heavenly father? If you don't have wonderful memories, how has your Heavenly Father brought healing to your life?
Angela Rodriguez is an author, blogger and homeschooling Mom who studies the historical and biblical connections between Israel and the United States. You can visit her blogs at 67owls.com and 100trumpets.com. Her latest book, Psalm 91: Under the Wings of Jesus, was just released on June 16, 2021. Photo by Sebastián León Prado on Unsplash.
Partner with Us
Intercessors for America is the trusted resource for millions of people across the United States committed to praying for our nation. If you have benefited from IFA's resources and community, please consider joining us as a monthly support partner. As a 501(c)3 organization, it's through your support that all this possible.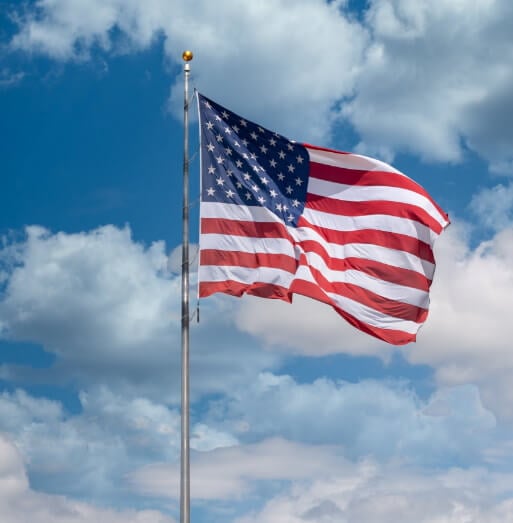 Become a Monthly Partner