INTERCESSORS, PREPARE TO COME OUT OF THE CAVE
From The D.C. Insider
|
August 24, 2021
I Prayed
have prayed
Father, strengthen Your people to pray as You lead. Encourage us with the knowledge that You hear and answer our prayers. Give us Your wisdom to understand the times and seasons.
The tragic situation in Afghanistan, the ongoing pandemic, the fight over election integrity, and the economic uncertainty in the U.S. right now are an array of challenges that face the U.S.
Intercessors are very sensitive people when it comes to challenges like these, and I fear many have been weighed down and discouraged by the problems all around us.
View Comments (19)
Many of you may be feeling weary, weighed down, and ready to give up.
Don't.
The country needs you.
If you don't pray, who will?
But My righteous one will live by faith; and if he shrinks back, I will take no pleasure in him.

(Hebrews 10:38)
Insider Intercessory Information
To understand what is happening in D.C. right now, you have to understand August recess.
August Recess is a favorite time of the year for the swamp.
It explains what is happening in the White House and Capitol Hill right now.
Many don't know it, but August is practically a religious holiday for the D.C. swamp where everyone, from members of Congress to lobbyists to staff take the month off, or at least slow their work to a crawl.
Some have been very critical of White House Press Secretary Jen Psaki because she took a week of vacation right after the Afghanistan crisis. Why? It's August!
You may also be wondering why the infrastructure bill and $3.5 trillion reconciliation bill haven't had any updates. Again, it's August!
This doesn't forgive everything that is happening in D.C. right now, but as intercessors we have to understand the times and seasons. The Sons of Isachar were blessed to know the times and seasons they lived in. So if you are fasting and praying about a certain piece of legislation or are confused by why members seem particularly inactive right now, remember August recess is an annual tradition that is almost never broken. More importantly, don't be lulled to sleep by this momentary drop in activity out of Washington. We will soon have to return to the battle.
Prepare to Come Out of the Cave
You may think recess will be the time to rest, and that's true. However, recess is coming to an end. I would argue that a good intercessor is always one step ahead of the news. As we are led by the Holy Spirit, He will have us preemptively praying for news items we didn't even know about. Later, you'll see the news report and the Lord's assignment from days earlier will make more sense.
While we always need to rest in God and be sensitive to go into a season of rest, it seems that it's time to come back to the front lines as we end the month of August. Let us not be seduced by the stupor of distraction and arrive late to the battle, realizing in late September or October that we have already missed many fights.
Elijah faced a similar temptation. He lived in a land full of wickedness and ungodly leadership.
There he went into a cave and spent the night. And the word of the Lord came to him: "What are you doing here, Elijah?"
He replied, "I have been very zealous for the Lord God Almighty. The Israelites have rejected your covenant, torn down your altars, and put your prophets to death with the sword. I am the only one left, and now they are trying to kill me too." (1 Kings 19:9-10)
What was the response? The Lord gave Elijah supernatural sustenance, His Presence and a fresh Word to get him out of the cave and back into the fight.
The Lord said, "Go out and stand on the mountain in the presence of the Lord, for the Lord is about to pass by."
Then a great and powerful wind tore the mountains apart and shattered the rocks before the Lord, but the Lord was not in the wind. After the wind there was an earthquake, but the Lord was not in the earthquake. After the earthquake came a fire, but the Lord was not in the fire. And after the fire came a gentle whisper. When Elijah heard it, he pulled his cloak over his face and went out and stood at the mouth of the cave. (1 Kings 19:11-13)
So, what does this all mean? Do not hide in the cave in discouragement any longer, no matter how dark it may seem. Also, understand the seasons of Washington, D.C. While there is a lull now (making the cave even more tempting) please understand that the battle will resume with ferocity within a few days.
With that in mind, let us pray:
-Father, give me strength as a prayer warrior for your Kingdom to not shrink back from the battle, to renew my strength in You. I give my discouragement to you. Strengthen me in your Presence and with your Word so I can get back in the fight. I pray the same for my fellow believers around the nation, that you would revive them and send them back to fight for your Kingdom.
-Lord, I ask that your sent ones in D.C. would get the rest they need during this August recess so they can return to work with renewed strength and purpose.
Verses to pray as you intercede on this issue:
This is why it is said: "Wake up, sleeper, rise from the dead, and Christ will shine on you. Be very careful, then, how you live—not as unwise but as wise, making the most of every opportunity, because the days are evil.  (Ephesians 5:14-16)
But My righteous one will live by faith; and if he shrinks back, I will take no pleasure in him. (Hebrews 10:38)
Have you felt discouraged by seeming ongoing crisis and needs? Share your thoughts and prayers in the comments below. Let's encourage one another to remain steadfast in our intercession!
(From the D.C. Insider. Article by Casey Harper. Photo Credit: Tom Gainor).
Partner with Us
Intercessors for America is the trusted resource for millions of people across the United States committed to praying for our nation. If you have benefited from IFA's resources and community, please consider joining us as a monthly support partner. As a 501(c)3 organization, it's through your support that all this possible.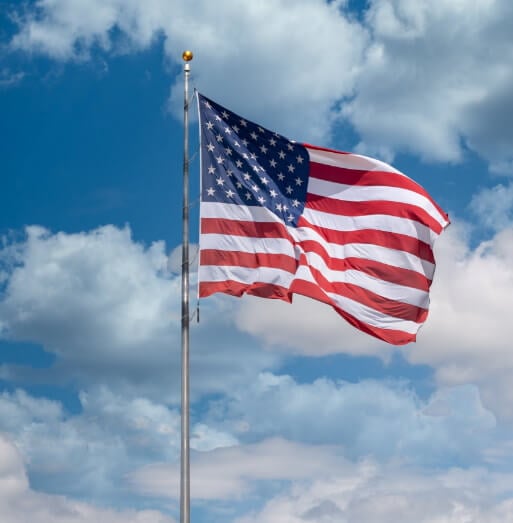 Become a Monthly Partner