How Are You Praying about Hurricane Ian?
IFA Staff
|
September 30, 2022
I Prayed
have prayed
Lord, we pray for the people impacted by Ian, and their leaders. Ian means God is gracious. Be gracious, Lord, in Jesus' name, amen.
Hurricane Ian continues to affect millions of Americans.
Let's make this post a prayer wall for the people experiencing the effects of the storm. We want them to know that we are praying for them!
View Comments (81)
Latest update: Hurricane Ian regathered strength after being downgraded to a storm. Now a category 1 hurricane, Ian is expected to make landfall in South Carolina this afternoon.
Are you praying? 
Here's what IFA intercessors have been saying . . . 
Kathy posted on IFA's Facebook page: Speak peace into the storm and winds. Jesus did and we can too. No water will raise against anyone. Pray the blood of Jesus over everyone and your homes. To God be the glory. Amen
Mary: Jesus, Your name is above all names. We call upon Your name to ask You to go before this storm, stand in the gap between the storm and Your people, Lord, and facing the storm with Your hand raised to stop it, proclaim, "Peace, be still." You and You alone are the One who will calm all the storms in our lives. Give Your wisdom and insight as You speak words of direction to each one of Your sheep. Give Your sheep attentive ears to what You say as You guide them to safety. May they share many testimonies of Who You are and how You provide for them this day and all this week. Ian, be still, in Jesus' name. Amen and Amen.
Gail: We are getting ready here in Florida for Ian and trusting God that it will not be so severe as being reported.
I want to thank all of you for your prayers and using the authority that God gave you to take authority over this and all inclement weather. We need and are so thankful and appreciative of each of you and your powerful and Godly prayers. I know that God is taking each one and that He is blessing each of those heartfelt prayers and blessing you all.
God bless you all !
Father God. You are so loving and merciful and we know that every prayer is special to you. We thank you precious Lord for taking the winds and for calming this enormous storm. There is nothing mightier or above you and your word.
We join our voices together and come before you Lord and pray the prayer of agreement.
In the mighty name of Jesus Christ of Nazareth by the power that God has given His children we take authority over hurricane Ian. We render null and void the sting and the punch of this storm. We say In Jesus Holy name , peace be still and come under subjection to God's word.
Every word that was spoken to give this storm power , we render null and void and of no effect.
We thank you Father God for your love and your protection over Florida and the citizens of our state. Praise You Father God and all glory , honor and praise be to you.
Amen
Judy:
In Jesus name I declare and decree that IAN decrees. I pray a hedge of protection over Florida. I live in Bradenton and recent widow. I stand firm and will pray through this. NO WEAPON formed against us will prosper. Under HIS wings I will find refuge. AMEN
Susan CC:
Dear Heavenly Father, You have saved me throughout a lifetime of hurricanes. We cannot ask too much of You but we can believe too little. I am believing for each person in harm's way. I am believing for every animal, crop, and structure as well. I believe You have this storm in You hands and ask that you diminish the winds and guide it to the perfect path. Ian is what it has been named but You are Elohim, God the Creator. Nothing has breath, life or existence apart from You. For everything comes from You and exists by Your power and is intended for Your Glory. All glory to God forever! Amen.
Romans 11:33-36
Oh, how great are God's riches and wisdom and knowledge! How impossible it is for us to understand his decisions and his ways! For who can know the LORD's thoughts? Who knows enough to give him advice? And who has given him so much that he needs to pay it back? For everything comes from him and exists by his power and is intended for his glory. All glory to him forever! Amen.
Laura K:
I live a few miles from the coast which is known as the Bay of the Holy Spirit. Ian is coming through on Thursday.
We have intercessors in all 67 counties who are praying together through this and praying for it to collapse upon itself and dissipate into nothingness.
The Lord has also said to worship over the water and many are going to places of water to do this.
THE LORD HAS GOT THIS!!
Thank you all for praying for Florida.
Encourage your brothers and sisters in Christ who are dealing with the storm. How are you praying for them? Leave a comment.
(Photo credit: Getty Images.)
Partner with Us
Intercessors for America is the trusted resource for millions of people across the United States committed to praying for our nation. If you have benefited from IFA's resources and community, please consider joining us as a monthly support partner. As a 501(c)3 organization, it's through your support that all this possible.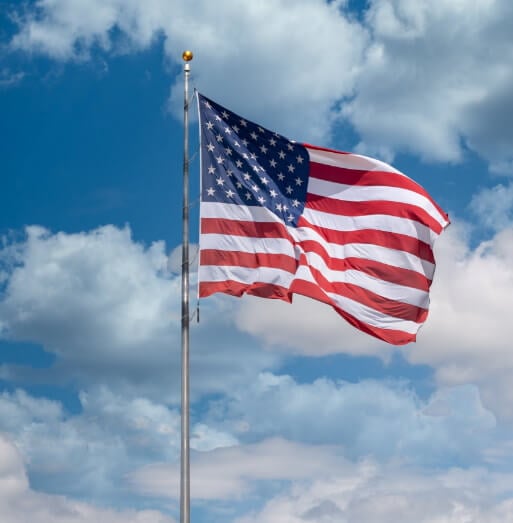 Become a Monthly Partner
You can post a prayer to share with others.
Christine S
October 5, 2022, 2:50 pm
Lord, we pray for the people impacted by Ian, and their leaders. Ian means God is gracious. Be gracious, Lord, in Jesus' name, amen.
Jackie W
September 29, 2022, 11:50 am
Lord, we pray for the people of Florida. Protect them from the hurricane. touch the winds and still them as Jesus did in the boat. Let any damqage be minimal, and help the people recover quickly. We ask this in Jesus name. Amen
Janis S
September 29, 2022, 11:47 am
FATHER YAHWEH HAVE MERCY ON YOUR CHILDREN IN FLORIDA DURING THIS TIME OF MAJOR CRISES. THY KINGDOM COME, THY WILL BE DONE IN JESUS NAME, AMEN.
Pastor Gerald W
September 29, 2022, 11:09 am
Lord we pray for the people of Florida and their leaders. Ian means God is gracious. Be gracious, Lord. I pray for all who are dealing with any issues of flooding and rain and storms. Give them help, piece and hope. I ask this in Jesus' name, amen.
Barb D
September 29, 2022, 7:43 am
Lord, You are the God of peace. We pray for peace for all those devastated by this storm. We ask You to turn and dissipate this storm surge that is coming today. We pray for Governor DeSantis and all the leaders in Florida for wisdom as they begin to recover. We pray for protection for all the workers being sent right now to restore electricity. Father, bring comfort to those whose homes and livelihoods have been destroyed. May people turn to You at this time for You are our only hope.
Dorothy P
September 29, 2022, 7:13 am
Lord I lift Florida up to your throne asking God that you would just let it cease and stop before it does any more damage to the people in Florida. Lord please be with those that are losing their homes and maybe even their lives during this tragic time. Please direct Ian back to where it can't harm or damage anymore than what it already has. God please calm this hurricane as you did in Matthew 🙏 Please forgive me for my delay in lifting up Florida and the approaching hurricane before now. Lord, bring peace and reassurance to the people of Florida that if they depend on you you will bring them through this tragedy and restore their livelihood and homes. In Jesus name I pray Amen
Suzanne R
September 29, 2022, 6:33 am
Lord we pray for the people of Florida and their leaders. Ian means God is gracious. Be gracious, Lord Psalm 107: 28 Then we cried out, "Lord, help us! Rescue us!" And he did! 29 God stilled the storm, calmed the waves, and he hushed the hurricane winds to only a whisper. 30 We were so relieved, so glad as he guided us safely to harbor in a quiet haven. 31 So lift your hands and give thanks to God for his marvelous kindness and for his miracles of mercy for those he loves! 32 Let's exalt him on high and lift up our praises in public; let all the people and the leaders of the nation know how great and wonderful is Yahweh, our God! Father: RESCUE FLORIDA! Still the Storm Calm the waves Hush the hurricane winds to only a whisper. Guide them to safe harbor-a quiet haven. And we will give YOU all the glory! , in Jesus' name, amen.
Dianna P
September 29, 2022, 5:27 am
Lord we pray for the people of Florida and their leaders. Ian means God is gracious. Be gracious, Lord, in Jesus' name, amen.