HIGHLIGHTS FROM SEN. TIM SCOTT'S POWERFUL REBUTTAL TO BIDEN'S ADDRESS
From IFA Staff
|
May 1, 2021
HIGHLIGHTS FROM SEN. TIM SCOTT'S POWERFUL REBUTTAL TO BIDEN'S ADDRESS
From IFA Staff
|
May 1, 2021
I Prayed
have prayed
Father, help us to be encouraged this address to our nation and to move forward as a nation with grace and be more united than ever before. Help us to respect and love one another.
Everyone is talking about Senator Tim Scott's Republican response to President Biden's Address on Wednesday. If you missed it, watch it now: https://www.youtube.com/watch?v=wQ62yLC0j9w&t=40s . Here are the highlights. Scroll down for short, shareable key video clips from his speech.
"America is not a racist country," Scott said. "It's wrong to try to use our painful past to try to dishonestly shut down debates in the present."
But our nation is starving for more than empty platitudes. We need policies and progress that brings us closer together. But three months in, the actions of the president and his party are pulling us further and further apart.
Becoming a Christian transformed my life, but for months, too many churches were shut down. Most of all, I'm saddened that millions of kids have lost a year of learning when they could not afford to lose a single day.
Another issue that should unite us is infrastructure. Republicans support everything you think of when you think of infrastructure: roads, bridges, ports, airports, water ways, high speed broadband. We're in for all of that. But again, Democrats want a partisan wish list. They won't even build bridges to build bridges.
Less than 6 percent of the president's plan goes to roads and bridges. It's a liberal wish list of big government waste. Plus, the biggest job killing tax hikes in a generation.
Experts say when all is said and done, it would lower wages of the average American worker and shrink our economy.
Weakening our southern borders and creating a crisis is not compassionate. The president is also abandoning principles he's held for decades. Now, he says, your tax dollars should fund abortions. He's laying groundwork to pack the Supreme Court. This is not common ground.
Common sense makes common ground. But today this conversation has collapsed. The state of Georgia passed a law that expands early voting, preserves no excuse mail-in voting, and despite what the president claimed, did not reduce election day hours.
If you actually read this law, it's mainstream. It will be easier to vote early in Georgia than in Democrat-run New York. But the left doesn't want you to know that. They want people virtue signaling by yelling about a law they haven't even read. Fact checkers have called out the White House for misstatements. The president absurdly claims that this is worse than Jim Crow.
So I am more than hopeful. I am confident that our finest hour is yet to come. Original sin is never the end of the story. Not in our souls and not for our nation. The real story is always redemption.
I am standing here because my mom has prayed me through some really tough times. I believe our nation has succeeded the same way, because generations of Americans in their own ways have asked for grace, and God has supplied it.
Black Lives Matter, NAACP silent in wake of 'Uncle Tim' Twitter trend
Some prominent liberal groups, including Black Lives Matter and the National Association for the Advancement of Colored People (NAACP), haven't weighed in on the "Uncle Tim" Twitter insults lobbed at Sen. Tim Scott Wednesday night.
Scott, R-S.C., the only Black Republican in the Senate, delivered Republicans' response to President Biden's address to a joint session of Congress. . . .
"I've also experienced a different kind of intolerance," Scott also said. "I get called Uncle Tom and the N-word by progressives, by liberals. Just last week, a national newspaper suggested my family's poverty was actually a privilege."
The term was trending for hours before Twitter eventually blocked it Thursday morning, saying the move was "in line with our policies on Trends… to promote healthy conversations on Twitter."
Republicans widely condemned the use of the term to refer to Scott. . . .
"Intolerance so often comes from the left with words like 'Uncle Tim' and the 'n-word' being used against me," Scott said. "And last night what was trending in social media was 'Uncle Tim,' and they doubled down on this concept of liberal oppression. It is stunning in 2021 that those who speak about ending discrimination want to end it by more discrimination." . . .
"The left has… doubled down that they are going to, not attack my policies, but they're literally attacking the color of my skin," he added. "You can't step out of your lane according to the liberal elite left."
But the NAACP and Black Lives Matter, two groups whose mission is to fight discrimination, have not made any statements on the attacks against Scott. Neither group responded to requests for comment from Fox News on Thursday.
The only apparent public reaction to Scott's speech from either group was a Wednesday night tweet from the NAACP that was critical of Scott's comment that "America is not a racist country."
"America is not a racist country!?!" the group posted. "@TimScottSC we should have a Word or a Word of Prayer!"
(Excerpted from The Gateway Pundit.)
View Comments (2)
Click HERE to read the full transcript of his address.
Watch Senator Scott's closing remarks as he gives The Aaronic Blessing over our nation:
Share your comments on Senator Scott's address in the comments below!
(Photo by Andrew Burton/Getty Images)
Partner with Us
Intercessors for America is the trusted resource for millions of people across the United States committed to praying for our nation. If you have benefited from IFA's resources and community, please consider joining us as a monthly support partner. As a 501(c)3 organization, it's through your support that all this possible.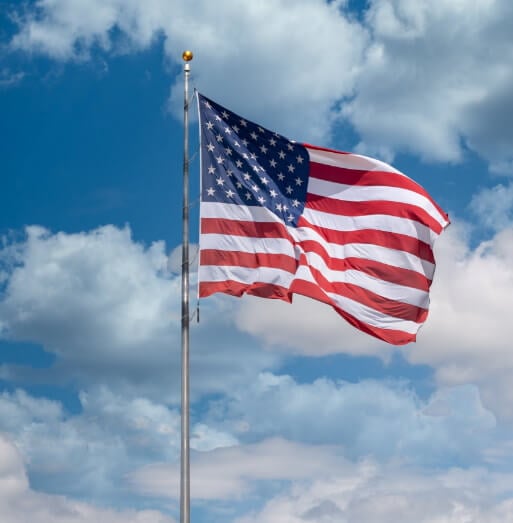 Become a Monthly Partner