HEARING FROM GOD IN THESE TROUBLED TIMES
IFA Staff
|
January 7, 2021
HEARING FROM GOD IN THESE TROUBLED TIMES
IFA Staff
|
January 7, 2021
I Prayed
have prayed
Father, show us how to pray in these days.
If you have been watching the horrific happenings in our nation's capital today, you may be wondering, where is God? What is happening and how can we see with spiritual eyes what is happening in the natural?
We have reached out to some of our IFA writers and personal intercessor friends for some collective wisdom and direction for us in these times. Read and pray into these things. Offer your own words in the comments below!
View Comments (101)
From Luis Cataldo, Intercessory Missionary:
The Lord has an agenda for individual believers as well as the body of Christ. He has orchestrated all the circumstances of our lives to bring about a bride equally yoked to his Son. So these shakings are real and disruptive but they come from a loving Father who is refining the bride and removing everything that hinders love. It will not get easier to love Jesus and be faithful to His Word in America. But we will also walk in increasing unity, humility, and power as we stand for righteousness and justice. Men will call evil good and good evil. Wickedness will increase but so will the glory of the Lord. All of this is in the Bible if we take it at face value. So we double down on standing for the truth of God's Word, on Jesus as the only means of salvation, and trusting his leadership and as we partner with Him.
From JoAnn, IFA intercessor:
"When Moses went to Egypt, I don't know what his expectations were, but I imagine he figured (and hoped) it would be a fairly quick process. But in Exodus 5:23, after he met with Pharaoh, who increased the workload of the Israelites, not realizing the time and circumstances that still remained before freedom was gained, he tells God "…neither have You delivered Your people at all."
He didn't understand the process, or that it was not just about freeing the people, but about the Glory of God.  We have gone into this season with expectations for specific actions and timelines and that is good and it is good that we pray for those things within God's will. Each thing is important and every person we pray for is pivotal…but it all pivots on God.
While I continue to pray for those events, people, and decisions on this path our nation is on, I have removed all specific expectations, except for this:  that God IS rectifying these wrongs, regardless of how it seems in the natural, and He is doing it in such a way that will exceed our expectations by bringing peace, unity, and righteousness back into our nation and in such a way that His Name will be glorified, not just in this time, but unto the ends of the earth and time.
Yes, the bumps in the road throw my stride off for a moment, but when I think of what God did in Egypt all those millennia ago that is STILL talked about, I am comforted in knowing that I don't have to understand or trust the process, I just have to understand God's nature and trust in Him.
I trust, believe, and declare that His glory is about to shine like it hasn't in decades…or even centuries!"
God bless you and thank you for the daily prayer calls for our nation. We are in this together. Where two or three are gathered together (in agreement) I am there in the midst of them. Matthew 18:20.
From Gloria Robles, IFA Contributing Writer:
I had another dream concerning awakening. I know that it's coming. I'm still uncertain concerning the circumstances and details of the dream which I am praying over. Right now I am interceding over the law enforcement, the Senate, and the people there for their lives and protection. I think we all may have had an idea this is how it would play out–with some kind of violence–but I believe if we stay contending and believing in prayer we will not see a tragedy.
I'm still questioning so much right now.
That dream I shared about the protecting the police, I remember vividly. Recently in prayer I asked the Lord, why would you show me every speaker…bashing Trump during the awards show, and saying to reject his presidency if he wasn't the President? It only made me believe that Trump would win the second term and I prayed that in faith believing that just as God intervened in the 2016 outcome, he would do it again in 2021 and that's what I've been praying. That is how I will keep praying up until the inauguration. My hope will never be lost, because my hope is the Lord. He will have His way. I know that hell is breaking loose because of what's at stake. Our freedom, our rights, the lives of the unborn, family, justice, evil being exposed at the very top. They have fought long and hard to control the people and have done unspeakable things that only God knows. But I know with everything in me that it's about to come into the light and that's why we are here right now. I will not stop believing that even as chaotic as it is right now, there will be awakening and who can stop God when He moves? Our job as the church is to not be silent! We must be the city on a hill and the light in the darkness. If this resonates with you, I can send you the dream later.
From Jamie Rohrbaugh, IFA Contributing Writer:
We have to continue believing God to establish righteousness and justice. Continue to pray. When our backs are against the wall, only He can save us, and we've been there for awhile and the situation hasn't changed. Backs still against the wall, only God can still save us.
From Roy Washam, IFA Intercessor:
Tuesday on Capitol Hill was purely spiritual.  It was mostly a Jericho walk and prayer.  There were about 1000-2000 people around during mid-day.
Wednesday was different.  Lots of people …. but amazing peaceful, given the huge number of people.
There were many young men among the crowd.  Once people started congregating in front of the Capitol, some of the rowdy portion of the young men went up to the Capitol building.  That is probably what the Mainstream Media is focusing on.  Still, the overall gathering was predominately peaceful.
I believe that officials are responsible to do their jobs.  When they do not, there are negative consequences.  I cannot read the history in the Bible much differently.
My "read" on what happened this afternoon in front of the Capitol was the "gut" of the nation was on display.  It was neither a worship service nor a prayer meeting.  A significant segment of our people are frustrated, desperate, and angry about the election fraud.  These feelings are being directed (legitimately) at our irresponsible officials.
A prayer for our nation from the Book of Common Prayer:
Almighty God, who hast given us this good land for our heritage: We humbly beseech thee that we may always prove ourselves a people mindful of thy favor and glad to do thy will. Bless our land with honorable industry, sound learning, and pure conduct. Save us from violence, discord, and confusion; from pride and arrogance, and from every evil way. Defend our liberties, and fashion into one united people the multitudes brought hither out of many kindreds and tongues. Endue with the spirit of wisdom those to whom, in thy Name, we entrust the authority of government, that there may be justice and peace at home, and that, through obedience to thy law, we may show forth thy praise among the nations of the earth. In the time of prosperity, fill our hearts with thankfulness, and in the day of trouble, suffer not our trust in thee to fail; all of which we ask through Jesus Christ our Lord. Amen.
Partner with Us
Intercessors for America is the trusted resource for millions of people across the United States committed to praying for our nation. If you have benefited from IFA's resources and community, please consider joining us as a monthly support partner. As a 501(c)3 organization, it's through your support that all this possible.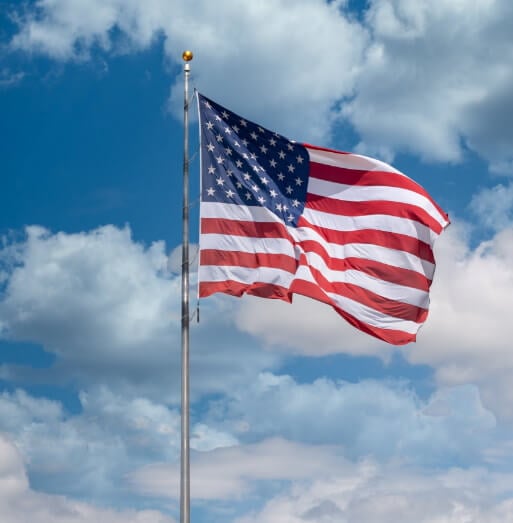 Become a Monthly Partner