EXPOSING THIEVES IN GOVERNMENT
Jamie Rohrbaugh, IFA Contributing Writer
|
April 8, 2021
I Prayed
have prayed
Father, the people who sit in government handle trillions of dollars of American taxpayers' money. We ask You to hedge them in behind and before, and deliver the American people from thievery, bribery, kickbacks, and extortion, in Jesus' name.
It's no secret that the people in Congress handle huge amounts of money. The federal budget is trillions of dollars each year, and our national debt grows each year as well. The government spends more money each year than it receives in revenues.
View Comments (9)
According to the Congressional Budget Office, the federal budget deficit for fiscal year 2021 is projected to be $2.3 trillion dollars. Our national debt is projected to increase to a whopping $22.5 trillion dollars by the end of fiscal year 2021.[1]
The American people are certainly in dire need of help due to the pandemic. There are programs that cannot and should not be sacrificed. However, all too often, when a new spending bill is passed by Congress and signed into law by the President, we find out about all the "pork" that was included in each bill. Frequently, more American money is sent overseas than is re-invested in the American people.
When considering these things, one has to wonder:
Where is the justice in these things? Furthermore, how many "pork" projects, whether domestic or foreign, are actually kickbacks? How much bribery is going on? How much extortion? How many millions, billions, or even trillions of dollars are being stolen from the American people each and every day?
There's no way for us to know, but there is a way for us to pray.
Scripture is clear that thievery and dishonest handling of finances is an offense to God. It is sin. However, when we think about the enormity of governmental finance, we have to admit that only God knows enough details about what happens behind closed doors to be able to expose what needs to be exposed and bring thieves to justice.
Furthermore, only God can force restitution to the American people.
Proverbs 6:30-31 says:
"People do not despise a thief if he steals to satisfy himself when he is starving. Yet when he is found, he must restore sevenfold; he may have to give up all the substance of his house."
Also, Proverbs 10:2 tells us this:
"Treasures of wickedness profit nothing, but righteousness delivers from death."
And Proverbs 11:1 continues:
"Dishonest scales are an abomination to the Lord, but a just weight is His delight."
Based on these Scriptures, I believe that American intercessors should be praying each and every day not only for the Lord to expose thievery in government, but also for Him to force any and all thieves to make restitution to the American people for their misdeeds.
It is God's will that money be handled responsibly. It is His will that governments and leaders be accountable. It is also His will that any treasures that wicked people steal will not prosper them, and that SEVEN TIMES restitution should be made to those who are robbed.
My friend, if you also believe that God wants to expose thievery and fraud wherever it exists in government, then pray this with me today:
"Dear Heavenly Father,
I come to You today in Jesus' name. Father God, You are a pure and just and holy God. You do not steal, and it does not please You when others steal either. Thievery is sin, Father, and You hate it.
So, Father God, we come to You today to ask for Your help.
Father, we suspect that thievery, bribery, extortion, and kickbacks happen every single day in American government. We aren't naming names or places, but Father we acknowledge that the problem may be far more widespread than we can even imagine.
Father, You alone know all things. You alone know what goes on behind the scenes, and You alone sit as Judge over all the peoples of the earth. So, Father, in the mighty and matchless name of Jesus, who is King of Kings and Lord of Lords, we ask:
That You would expose thieves in government at every level.
That You would expose the roots of "pork" in every situation, both domestically in the USA and internationally in all of our dealings.
That You would expose bribery, extortion, kickbacks, and every other wicked financial dealing in government.
That You would bring forth evidence against them that will stand up and win the battle in every court.
That You would raise up and bring forth the prosecutors to prosecute these cases.
That You would cause every court to hear the cases to bring thieves to justice.
That every thief would be convicted.
That You would show mercy to all who will receive it; that You would pour out Your Spirit of repentance upon all who sit in government, and that all the wicked who are willing to repent would repent.
That You would require those who have stolen from the American people to restore what they have stolen seven times over.
That the money the wicked have stolen would not profit them.
Father God, we ask in Jesus' name that You would sit as Prosecutor over these crimes. We ask that You would expose what needs to be exposed; that You would rout criminals and criminal dealings out of government; and that You would replace them with righteous leaders who love You, who will steward Your resources well, and will fight for righteousness and justice.
Father God, we need You. The national debt is growing, and we cannot do anything about it other than pray and vote. Please help us to vote in people who will be fiscally responsible with America. Let our voice be heard and counted. Give us leaders who will preserve America for the sake of our children, and for the sake of our children's children.
Father, we ask in Jesus' name that You would turn the people in government at every level into wise stewards, for all of our resources belong to You. I ask the same thing for myself too, Father. Convict every American, even those in government, of our lack of godly stewardship. Give us all a holy fear of mishandling the resources You have entrusted to us. Help us to steward this nation that belongs to You wisely and well.
Thank You, Heavenly Father. In Jesus' mighty and precious name I pray, amen."
Beloved, remember that the weapons of our warfare are mighty through God to the pulling down of strongholds.
Even the stronghold of fiscal irresponsibility and thievery in government can be exposed, rooted out, and torn down as we pray. Let's continue to join together and contend for righteousness to come forth in our land, even in our handling of money!
How do you pray over our nation's finances? Leave your favorite Scripture on this topic in the comments!
Jamie Rohrbaugh's constant prayer is, "Lord, make me a better steward today than I was yesterday." She believes the Lion of Judah is roaring over your finances right now and He can redeem anything, even the United States of America. Jamie blogs for a global readership at FromHisPresence.com, where she writes about prayer, prophecy, the supernatural lifestyle, inner healing, and Kingdom wealth. She is a frequent contributor to Charisma Magazine, The Elijah List, Spirit Fuel, and various other ministry outlets. Her podcast, Take Your Territory with Jamie Rohrbaugh, can be found on iTunes and Spotify. (Photo Credit: Unsplash.)
[1] https://www.cbo.gov/topics/budget accessed on April 1, 2021.
Partner with Us
Intercessors for America is the trusted resource for millions of people across the United States committed to praying for our nation. If you have benefited from IFA's resources and community, please consider joining us as a monthly support partner. As a 501(c)3 organization, it's through your support that all this possible.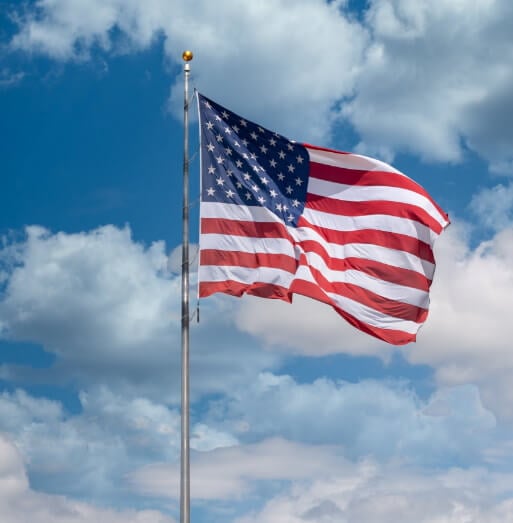 Become a Monthly Partner