BREAKDOWN IN AMERICA
IFA Staff
|
June 20, 2020
I Prayed
have prayed
Lord Jesus, we fix our eyes on You. We put our trust in You.
America is broken. Not just in the many obvious ways that are all over the media, but specifically in three foundational institutions of America: family, government, and the Church.
God created these three institutions to care for our needs as individuals. Today we are facing crises worse than most of us have seen in our lifetimes. Perhaps more important, we are seeing the utter breakdown of each of these institutions. In some ways it seems that this has happened suddenly, but the evidence of breakdown has been present for many years.
View Comments (40)
First, let's look at the family. When I was a teenager in the 1980s, it was still fairly unacceptable to live with someone who was not a spouse. Most children were raised by a father and mother who were married to each other. Sunday dinners and holidays meant gatherings with extended family. Homosexuality was rare. Even as late as six years ago, transgenderism was considered strange and evidence of mental illness. At that time, people who advocated for abortion said they wanted it to be safe and rare.
What about now? Most couples live together outside of marriage, if they marry at all. Statistics are clear on the rise of children living with unmarried parents. This is not even primarily due to divorce; marriage is steeply declining. "Big, interconnected, and extended families" have given way to increasingly fractured nuclear family units. The actual percentage of homosexuals and bisexuals is debated, but we all can agree that it is now fully mainstream—almost all television programs (even historical ones) have at least one gay character and now children's programs do as well. Transgenderism is common, even among children. Here, in the conservative D.C. bedroom community where I live (with ample Christian influence), the cross-wearing principal of my son's elementary school gives a special recognition award to a 5th grade boy and girl every year for outstanding conduct and leadership from kindergarten through 5th grade. This year she awarded it to a boy and a transgender "girl" (who was a boy and two years ago started the school year as a girl). Finally, abortion and now infanticide are championed despite ample evidence of the humanity of the unborn and the fact that fetuses experience pain in abortions.
Family. Broken down.
Let's look at our government. Intercessors, our government does not function as it was intended and it has not for years. Today, reading Justice Clarence Thomas' opinion in the ruling on President Trump's action on the Dreamers program, this truth hit me between the eyes. I can't write about it better than he did (my comments are in italics and key points are in bold):
(First, a succinct description of the history.) Between 2001 and 2011, Congress considered over two dozen bills that would have granted lawful status to millions of aliens who were illegally brought to this country as children. Each of those legislative efforts failed. In the wake of this impasse, the Department of Homeland Security (DHS) under President Barack Obama took matters into its own hands. Without any purported delegation of authority from Congress and without undertaking a rulemaking, DHS unilaterally created a program known as Deferred Action for Childhood Arrivals (DACA). The three page DACA memorandum made it possible for approximately 1.7 million illegal aliens to qualify for temporary lawful presence and certain federal and state benefits. When President Donald Trump took office in 2017, his Acting Secretary of Homeland Security, acting through yet another memorandum, rescinded the DACA memorandum. To state it plainly, the Trump administration rescinded DACA the same way that the Obama administration created it: unilaterally, and through a mere memorandum. (This point is paramount. Obama created DACA and Trump rescinded it in exactly the same manner, BUT . . .)

Today the majority makes the mystifying determination that this rescission of DACA was unlawful. In reaching that conclusion, the majority acts as though it is engaging in the routine application of standard principles of administrative law. On the contrary, this is anything but a standard administrative law case. DHS created DACA during the Obama administration without any statutory authorization and without going through the requisite rulemaking process. As a result, the program was unlawful from its inception. The majority does not even attempt to explain why a court has the authority to scrutinize an agency's policy reasons for rescinding an unlawful program under the arbitrary and capricious microscope. The decision to countermand an unlawful agency action is clearly reasonable. So long as the agency's determination of illegality is sound, our review should be at an end. (Why didn't their review end here? The next sentence is vital.)

Today's decision must be recognized for what it is: an effort to avoid a politically controversial but legally correct decision. The Court could have made clear that the solution respondents seek must come from the Legislative Branch. (The Legislative Branch hasn't functioned as it should for many years. Watch this succinct description of this by Senator Ben Sasse, or a similar explanation by Senator Josh Hawley.) Instead, the majority has decided to prolong DHS' initial overreach by providing a stopgap measure of its own. In doing so, it has given the green light for future political battles to be fought in this Court rather than where they rightfully belong—the political branches. (In one week, look at what the Supreme Court has done—redefined "sex" in Title VII, failed to defend the 2nd Amendment, and this decision. These will have a huge impact in our nation and exalt the power of the Supreme Court.) Such timidity forsakes the Court's duty to apply the law according to neutral principles, and the ripple effects of the majority's error will be felt throughout our system of self-government. Perhaps even more unfortunately, the majority's holding creates perverse incentives, particularly for outgoing administrations. Under the auspices of today's decision, administrations can bind their successors by unlawfully adopting significant legal changes through Executive Branch agency memoranda. Even if the agency lacked authority to effectuate the changes, the changes cannot be undone by the same agency in a successor administration unless the successor provides sufficient policy justifications to the satisfaction of this Court. In other words, the majority erroneously holds that the agency is not only permitted, but required, to continue administering unlawful programs that it inherited from a previous administration. (I cannot put a strong enough emphasis on this. Read it again. Not only is the power of the judiciary exalted, but so is the power of the Executive Branch, even to do what is unlawful.)
Government. Broken down.
What about the Church? Catholics and Protestants have been divided for centuries. How many Protestant denominations are there? Could you even count? And even within denominations, look at the many sects and divisions. How many denominations have split about cultural issues like homosexuality—Presbyterian, Episcopal, Methodist? What will be next? We are split about theological issues as well. Dispensationalism. Baptism. Communion. The list goes on. And right now, the most obvious split is the racial division in the American church.
The pandemic strained the Church, unearthing differences that caused people to call into question the faith and sincerity of other believers based on opinions about gathering, mask-wearing, and social distancing, all non-essentials of our faith. Next the protests and riots. Pastors are caught in the crossfire of cultural debate and the Church is suffering as a result. The Enemy sowed the seeds of destruction and is likely standing back with glee as we tear each other down.
Church. Breaking down.
I would never say the Church is broken down because we stand on the promise of Jesus: "But what about you?" Jesus asked. "Who do you say I am?" Simon Peter answered, "You are the Christ, the Son of the living God." Jesus replied, "Blessed are you, Simon son of Jonah! For this was not revealed to you by flesh and blood, but by My Father in heaven. And I tell you that you are Peter, and on this rock I will build My church, and the gates of Hades will not prevail against it. (Mt 16: 15-18)
Intercessors, we must look to Jesus. (Hebrews 12)  We must seek Him fervently. We must ask Him to show us if there is anything in us that does not please Him. (Ps 139:23) We must pray, and not give up, for our families, for the government, and for the Church. (Luke 18) Finally, we must realize that while we pray for the family, the government, and the Church, our trust must be solely in Christ.
We love to hear what you think about what the Lord is showing us. Leave a comment.
(Judy McDonough is the IFA Director of Communications.)
Partner with Us
Intercessors for America is the trusted resource for millions of people across the United States committed to praying for our nation. If you have benefited from IFA's resources and community, please consider joining us as a monthly support partner. As a 501(c)3 organization, it's through your support that all this possible.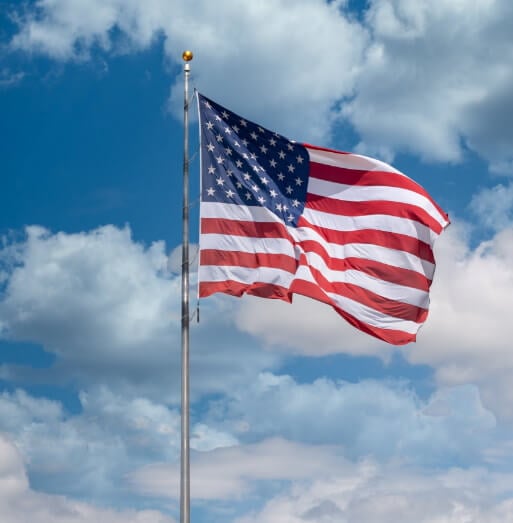 Become a Monthly Partner