SHARE THIS MESSAGE WITH YOUR GRADUATE
From Susie Smith
|
June 20, 2020
I Prayed
have prayed
Lord, with the uncertainty that surrounds our world, we pray that all graduates would be anchored in your truth and all-consuming love. Help them to seek You first in all things and trust you with the next chapter of their lives.
Dear Graduate,
What a momentous, albeit incredibly unusual time, to graduate and enter the next chapter of your life. Many congratulations! Whatever path you may take, I pray the following will adorn your journey as markers of wisdom to adhere to, as you navigate the unique road before you.
View Comments (6)
Watch for God in the events of your life. ~C.H. Spurgeon
God created you and has designed you with specific gifts and talents that are exclusive to you. God is always at work in the universe and in our lives. We are wise to look for Him throughout each day. Be sensitive to His guidance and promptings so that you may live life to the fullest.
Those who seek the LORD lack no good thing. ~Psalm 34:10
The precarious thing is to try and live without God. ~Oswald Chambers
With God all things are possible. ~Matthew 19:26
God grants you and me this assurance: IF we seek Him, we will lack nothing. While independence is touted as something to aspire to in our culture, God encourages us to rely completely on Him. He desires daily connection with us as He walks through life alongside of us. What may seem insurmountable to the world, even to you, becomes possible when we are linked to God.
A life without prayer is a powerless life. ~J.R. Miller
Pray continually; give thanks in all circumstances. ~1 Thessalonians 5:17-18
Prayer is essential. We all know communication is vital in any relationship. The same is true with God. The One who formed you, and knows every intricate detail of your life, has insight to offer you as you maneuver the many ups and downs of life. It is crucial that you seek Him through constant communication. Even in the most dire of situations, we can also find something in which to give thanks. Create a legacy of thankfulness.
Now this is what the LORD Almighty says: "Give careful thought to your ways." ~Haggai 1:5
Do not be misled: "Bad company corrupts good character." ~1 Corinthians 15:33
He who walks with the wise grows wise, but a companion of fools suffers harm. ~Proverbs 13:20
You will make some of the most monumental decisions of your life over the next several years. Your choices will determine where you will spend the bulk of your time working, who you will marry, where you will live, and so on. The people with whom you share life will be significant in all of these arenas. It is imperative to give careful thought to where you are spending your time and with whom.
Keep your lives free from the love of money and be content with what you have. ~Hebrews 13:5
Contentment is elusive for the great majority of people. God shares with us a poignant piece of advice in this sphere: wrestle against a preoccupation with and love of money. By nature, most of us make comparisons which often lead to ungratefulness and disappointment. The crux of contentment lies in the mindset of being satisfied despite circumstances. A continual attitude of thankfulness for what we have, as opposed to a fixation on what we don't have, produces a heart of contentment.
Jesus said, "In this world you will have trouble. But take heart! I have overcome the world." ~John 16:33
Someday we will know that the most exquisite work of our lives was done during those days when it was the darkest. ~J.R. Miller
We all know intuitively that life is filled with surprises, uncertainty, and, at times, sorrow, grief, and difficulties. Jesus Christ himself was well acquainted with sorrows and suffering. He is a God who empathizes and understands. Even the Bible affirms the fact that we all will have trouble. Nevertheless, you need not be paralyzed by fear of what may come. You need not remain in a state of anxiousness, filled with dread of what may happen. Simply embrace the notion that every. single. person. faces suffering and hardship and there is a God who will undoubtedly carry you through.
At all times, even in the midst of any type of suffering, I can realize that God knows, loves, watches, understands, and, more than that, has a purpose. God's love for you can never be exhausted. ~Billy Graham
I pray the following weaves its way into your soul, above all else. Remember, God loves you unconditionally. There is absolutely nothing you have done, are doing, or will do, to remove His love for you. Unlike most of life, you need not perform for God nor earn anything from God. Jesus sacrificed everything on the cross for you and me. His death and resurrection are a finished work. This graduation and each day, you must simply receive His gift of eternal life: rich with mercy, forgiveness and unending grace. His all consuming love for you is based on the fact that you are His child and He created you. He loves and accepts you wholeheartedly.
For I am convinced that neither death nor life, neither angels nor demons, neither the present nor the future, nor any powers, neither height nor depth, nor anything else in all creation, will be able to separate us from the love of God that is in Christ Jesus our Lord. ~Romans 8:37-39
Personal contact with Jesus alters everything. ~Oswald Chambers
A summation of the above thoughts are written below. May you be encouraged and inspired to enter into the unique life God has established for you. I pray God's richest blessings over you.
Seek the Lord with all your heart, mind, soul, and strength.
Live by faith and deliberately cast out fear.
Be quick to listen, slow to speak, and slow to become angry.
Understand the depth of God's unconditional love and forgiveness for you, so that you can readily extend those same qualities to others.
Be strong and courageous; take risks.
Accept the fact that you are imperfect and you will fail. Persevere.
Do not be paralyzed by fear of what may come. Trust God. He has a plan for you.
Exercise your faith by doing that which is impossible apart from reliance on God.
Communicate with God daily.
Give thanks in all circumstances.
Fix your eyes on Jesus, not yourself, not others, not the struggles with which you contend… solely on Jesus.
Learn to be content in any and all situations.
Wrestle against a preoccupation and love of money.
Be generous with your time and yourself.
Contemplate this assertion: Being is more important than doing.
Seize all opportunities to encourage those around you.
Treasure the fact that God loves and accepts you without condition.
Love without limit.
(Used with permission. Author Susie Smith is a gifted Bible teacher and passionate follower of Christ. She blogs at HE is trustworthy.)
Partner with Us
Intercessors for America is the trusted resource for millions of people across the United States committed to praying for our nation. If you have benefited from IFA's resources and community, please consider joining us as a monthly support partner. As a 501(c)3 organization, it's through your support that all this possible.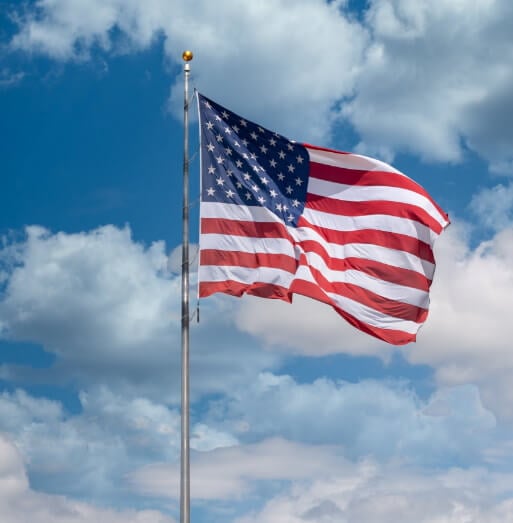 Become a Monthly Partner