"RIOT FOR THE LORD!": A WORD FROM MARCH 2020
Wanda Alger
|
June 20, 2020
"RIOT FOR THE LORD!": A WORD FROM MARCH 2020
Wanda Alger
|
June 20, 2020
I Prayed
have prayed
Lord Jesus, may we, the Church, have the faith You described that can take the Kingdom of Heaven by force. May we submit to the work You are doing in us. We pray for the end of the Coronavirus and this pandemic. In Your wonderful name, Jesus, we pray.
Today we revisit this word from Wanda Alger. Posted on March 17, 2020, it is even more powerful now. Who knew riots were coming? God. It is important to revisit words after circumstances or the Lord provide further illumination. We can now pray into this with more understanding and confidence. See our new notes, in italics throughout Wanda's original word below, showing the amazing updated perspective of her original word.
On Friday, March 13, I woke up with the word, "RIOT FOR THE LORD!"
View Comments (51)
The word struck me as extreme and I hesitated to embrace it until I looked up the word "riot." Though commonly understood as a "violent disturbance of the peace by a crowd," the Lord was highlighting another usage. A riot is also "an impressively large or varied display of something." In other words, it is the intense passion and conviction of a group of people that ultimately deems something a "riot."
In Matthew 11:12 (ESV), Jesus stated that "…the kingdom of heaven has suffered violence (has been coming violently), and the violent take it by force." In the context of the coronavirus threat, I believe the Lord is calling the Church to rise up in this hour with a "VIOLENT FAITH" that stops the enemy in his tracks. We are seeing the physical riots around us–violent, yes. "Displays of something"–chaos, anarchy, lawlessness, violence. The counterfeit. What does "violent faith" look like?  The "disturbance" we are creating through our passionate praise and our faith-backed prayers has power to destroy the works of the devil!  
This past Sunday in our own small congregation, there arose a passionate zeal of the Lord in our worship that stirred our faith and confidence in God's overriding purposes. A righteous indignation grew as we beheld His glory and confronted this curse which seeks a foothold in our nation. I believe this is what believers must continue to do if we are to see the tide turn. Regardless of our proximity to one another in the natural, our combined faith in God and oneness of heart and mind will be our primary vaccine against this demonic disease and our greatest weapon in nullifying its effects.
The second word, I received this morning (March 16). It is a reminder of God's purposes beyond the coronavirus and the journey we now face towards a greater goal:
"IN THE STRIPPING WILL BE THE CLOTHING…"
"This shaking is a stripping; a course correction for those who are called Mine. As My people are stripped of that which their flesh has depended on and looked to for comfort, so will I clothe them with heaven's provision and presence. This stripping is not unto nakedness and shame, but unto throwing off that which has hindered your faith and trust in a supernatural God."
"You have been covering yourselves with clothes made of the earth, sewn with dust, and void of power. You have begun to look to the earth for your protection and safety instead of Me. I long to clothe you with My Spirit from which heaven's power and presence can flow. I am stripping My people of those comforts and conveniences that have become stumbling blocks, hindrances, and obstacles to My glory and power. Do not fear this stripping or resist the uncovering, for as the true nature of man is revealed, so will I reveal Myself through those whose lives have been laid bare."
"The governments of the world and demons from hell may manipulate this stripping for their own purposes, but I tell you I have My own, and it is My purpose that will prevail if you yield to it. Do not debate the source or contemplate the plots for I use ALL things for My purposes when your hearts are yielded to mine. Do not allow the need for answers to rob you of the treasure hidden in the wilderness. We certainly are seeing this demonic manipulation happening in our nation today! What has happening within each of us during the quarantines, the stripping away of big gatherings, slick programs, busy activities, comfortable existence, causing us to look within our own lives for God's call of holiness and focus, has given way to a literal riot that is seeking to strip down the liberties and order of our nation for the Enemy's purposes. 
Do you think My arm is short or My vision blurred? Am I fumbling the ball from the deceptive plays of My enemies? I tell you I laugh! Little do they realize how I am using every demonic scheme from their playbook to embolden a people that will RISE UP and reveal heaven! For it is My pleasure to prepare a people that are filled with power from on high that no power of hell can vanquish or sickness from the pit can overturn. It is My people who I am CLOTHING IN THE STRIPPING to manifest another Kingdom and another realm that can only be accessed by the Spirit of God." May God continue the stripping-away process that He began in us during the quarantine. He is rebuilding His Church on the core principles that are ultimately lasting–the power we have in Christ that overcomes. Let us not be distracted by the different kinds of riots happening in our nation. They are a counterfeit of the stripping away that God is doing to His Church.
"It is the Mountain of the House of the Lord that I am establishing in this hour! It is MY House that is being built up in the inner courts of your homes and dwellings.  Seize this opportunity and use it to build up your faith, your worship, and your communion in the Spirit. For out of it, I am clothing My people in garments of praise and presence and restoring the true Fear of the Lord that will displace every other fear."
"Praise Me in the stripping, for that which has been covering you in comfort and convenience must be laid aside to reveal an inner WELLSPRING of LIFE that earth can never produce but heaven will never deny."
Wanda Alger has been a field correspondent with Intercessors for America and written for Charisma, The Elijah List, Spirit Fuel, and The Christian Post. She is an author of numerous books, including "Moving from Sword to Scepter: Ruling through Prayer as the Ekklesia of God." Follow her blog at wandaalger.me. 
(Editor's Note: IFA seeks the Lord for discernment in selecting all of the information we post, and especially when sharing prophetic words. We encourage you to ask the Lord whether and how prophetic words may apply to you personally or to the Body, as well as how to pray. Every prophetic word is to be tested by each believer, in accordance with 1 Jn 4; 1 Thes 5:1; and Acts 17:11.)
Partner with Us
Intercessors for America is the trusted resource for millions of people across the United States committed to praying for our nation. If you have benefited from IFA's resources and community, please consider joining us as a monthly support partner. As a 501(c)3 organization, it's through your support that all this possible.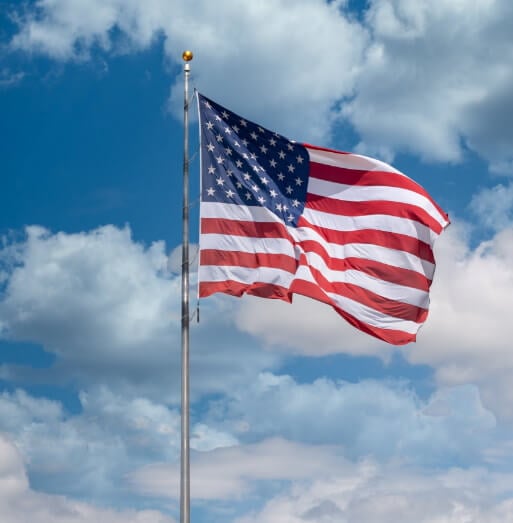 Become a Monthly Partner