AMERICA'S TIME OF TESTING: A PROPHETIC WORD
Angela Rodriguez
|
February 16, 2021
AMERICA'S TIME OF TESTING: A PROPHETIC WORD
Angela Rodriguez
|
February 16, 2021
I Prayed
have prayed
God, we ask that Christians in our nation would understand that government is appointed by You and for Your purposes.
"Let's Roll!" What comes to your mind when you read these words? Most people remember they were the last words of Todd Beamer, a heroic passenger aboard United Airlines Flight 93. His actions, as well as many others, thwarted the plans of four evil hijackers on September 11, 2001.
View Comments (118)
Todd Beamer and the other passengers and crew had no idea what awaited them aboard Flight 93. Tom McMillan, the author of Flight 93: The Story, the Aftermath, and the Legacy of American Courage on 9/11, describes it this way: "They were forty people traveling on a Tuesday morning, just living their lives."
These forty passengers and crew came from all walks of life and were traveling for different reasons. But they were about to experience an unbelievable time of testing. The test would begin at 9:28 a.m. when the terrorists jumped out of their seats, rushing to the cockpit with unhindered force. It would end with their plane violently crashing upside down into a field in Shanksville, Pennsylvania. The plane plummeted at a forty-degree angle, traveling at a speed of approximately 560 miles per hour. None of the passengers and crew could have imagined this scenario or outcome.
The passengers didn't know they would face this earth-shattering test. But God knew this test was coming, even when they were in their mothers' wombs. He also knew when the time came, they would be "ready to roll."
When we look at the outcome, it seems like the battle was lost. After all, every passenger and crew member lost their life. But if we look more closely, we see it from a different perspective.  Mark 8:35 says, "For whoever wants to save their life will lose it, but whoever loses their life for me and for the gospel will save it."
The plane went down, but the terrorists were not able to accomplish their mission. Their goal was to hit the White House or Capitol Building. They did not hit their intended target because these forty passengers and crew were willing to lose their lives.
By the way, the number forty symbolizes testing in the Bible. Examples tied to the number forty and testing can be seen in the story of Noah's Ark, where it rained for forty days and forty nights. In addition, the prophet Jonah went to Nineveh and told the nation they had forty days to repent. Moses, Elijah, and Jesus all fasted for forty days. Saul, David, and Solomon each reigned for forty years. The Israelites wandered through the desert for forty long years. Goliath harassed and bullied Israel for forty days before David defeated him. The number forty is quite relevant to our times right now because we are in a time of testing as we continue to deal with the COVID-19 crisis. Interestingly enough, the word quarantine comes from the Latin quadraginta, which means forty.
God knew this time of testing was coming for the passengers of Flight 93, just like he foreknew the details of the COVID-19 crisis, as well as the time of civil and political unrest in our nation. But he gives us the skills we need to overcome, as you will see in the story of Flight 93.
In the midst of their crisis, many passengers were able to make calls to loved ones using Verizon Airfones that were on the plane. Passenger Todd Beamer was able to connect to a GTE-Verizon call center in Chicago, where his call was transferred to supervisor Lisa Jefferson. He tells her the details of the hijacking, as well as the plan to take down the terrorists. Though Lisa is a complete stranger to Todd, they form a powerful connection through something God had lined up from the very beginning. They both knew the Lord Jesus as their Savior. Knowing he would need Jesus' strength and guidance, Todd asked Lisa to recite the Lord's Prayer with him. Lisa faithfully recited this prayer with Todd.
"Our Father who art in Heaven, Hallowed be thy name. Thy kingdom come. Thy will be done on earth, as it is in heaven. Give us this day our daily bread. And forgive us our trespasses, as we forgive those who trespass against us. And lead us not into temptation, but deliver us from evil: For thine is the kingdom, and the power, and the glory, forever, Amen."  (The Lord's Prayer comes from Luke 11:2-4 and Matthew 6:9-13)
Todd and Lisa also prayed the 23rd Psalm together, which describes Jesus being our shepherd through times of crisis. Here are a few lines from Psalm 23: "Even though I walk through the darkest valley, I will fear no evil, for you are with me; your rod and your staff comfort me."
If you examine the Lord's Prayer carefully, you will notice it says, "THY WILL BE DONE." What this means is that we accept what Jesus' will is for us at that moment. This doesn't guarantee our lives will be spared. What it means is that THE WILL OF THE LORD WILL COME TO PASS–NOT OUR WILL. Sometimes, this means death in the midst of trial. This will be the case for all of the forty passengers, and the four hijackers aboard Flight 93. But, the will of God will do something quite extraordinary, and the effect will have far reaching consequences for America.
The fact that Todd and Lisa accepted the Lord's will shows they were dwelling with the Savior as Psalm 91 describes. They did not let fear overcome them. They rested in the shelter of Jesus' wings, even as the wings of Flight 93 became unsteady.
When Jesus died on the cross the enemy thought he had won. What the enemy didn't know is that Jesus' death would blow Satan's plans to smithereens. His death would save all who receive him as Savior. Keep in mind when Jesus prayed in the garden before his crucifixion he said, "Father, if you are willing, take this cup from me; yet not my will, but yours be done."
Notice he says, "NOT MY WILL, BUT YOURS."
The fact that Todd and Lisa called out to the Lord through prayer is a grand lesson to us all. May we call upon Jesus during our times of need and accept his will, whatever it may be.
In the midst of the ensuing crisis, a plan was being forged by the passengers, which included Todd Beamer. Several of the passengers had been alerted through Airfone calls that the Pentagon and World Trade Center towers had been hit.  Suddenly, there was the realization that THEIR PLANE–FLIGHT 93–could be used to hit another target.
Passenger Tom Burnett said to his wife Deena, "We've got to do something." His wife asked who would help him. He said, "Different people. Several people. There's a group of us."
Passenger Jeremy Glick was talking to his wife and said, "There's three guys as big as me and we're thinking of attacking the guy with the bomb."
Todd Beamer, still speaking to Lisa Jefferson, said, "A few of us passengers are getting together. I think we're going to jump the guy with the bomb."
Lisa Jefferson asked Todd if he was sure that's what he wanted to do.
Todd said, "Yes, I'm going to have to go out on faith. At this point, I don't have much of a choice."
Did you notice what Todd said?  He said he would have to go out on FAITH. Hebrews 11:1 says, "Now faith is confidence in what we hope for and assurance about what we do not see."  Psalm 91 says, "his faithfulness shall be thy shield and buckler."
Todd had to act on faith, even though he didn't know what would happen. He couldn't see the future. But he knew Jesus could. It is the faithfulness of Jesus who would endure in this situation. Todd had to trust the outcome was in Jesus' hands.
Did Todd and the other passengers know if their plan would work? Did they know how the hijackers would react? Did they know they could perish? The truth is they did not know. But God knew. He set them apart for "such a time as this."
Whatever you are going through right now, you must remember God knew this was coming before you ever set foot on the ground. He is the Alpha and the Omega–he knows your beginning and end. He also knew exactly what our nation would be facing right here and now. Psalm 31:15 reminds us that our times are in His hands.
"For if you remain silent at this time, relief and deliverance for the Jews will arise from another place, but you and your father's family will perish. And who knows that you have come to your royal position for such a time as this," Esther 4:14.
This verse is referring to Queen Esther, who was in a position to save her people, the Jews. But she had to act. She couldn't sit back and let fear rule her life. She had to do something. Realizing her actions were risky, she later said, "IF I PERISH, THEN I PERISH."  She would act, even if it led to her death. She was accepting the will of God and not her own will.
Todd Beamer and the rest of the passengers had to act as well. It was their "such a time as this" moment. They knew they could perish, but they accepted that fate. They acted on faith–no matter what it would bring.
Even though the crash was horrifying, violent, and devastating, the actions of the heroic passengers and crew were life-saving. The plane was destined to hit the Capitol building or the White House. It did not hit either. Also, this plane went down in an open field. It just so happened there was a school and houses nearby, but the plane did not land in any populated area. It landed in the safest spot for a crash landing.  If the passengers had not acted in their time of testing, the story would have been much different. They acted as a team to take down evil. The enemy's plans were thwarted.
I can't help but think of the Lord's Prayer that Todd and Lisa recited where they said, "Deliver us from evil." I can't help but realize these passengers dwelled in the secret place of the Most High while they were flying high in the air.
These passengers took down evil. It fell right from the sky. They acted in their time of testing and lives were saved, even though they lost their own lives in the process. The plane bore the mark of this time of testing because it crashed at a forty-degree angle with forty heroes on board.
Ephesians 6:14 says: "Stand your ground, putting on the belt of truth and the body armor of God's righteousness."  The King James Version actually says, "Stand therefore, having your loins gird about with truth."
"Girding your loins" is what a soldier would do when he was preparing to fight. During biblical times, men wore long tunics. Around the tunic they would wear a belt. When it came time to fight, they had to tuck the hem of the tunic into their belt/girdle so they wouldn't trip, and so they wouldn't be hindered while fighting.
The passengers fought and took down the terrorists. They tucked their tunics into their belts and they got to work!  As believers, we will face battles on a regular basis. Some days the enemy is treacherous and frightening. But we have what it takes in Christ to pass the test before us. We have the belt of truth which says he is with us in every trial and test. That should be enough for us to have the courage to fight and not be fearful. We have the promises of Psalm 91 that tell us, "we are covered under his wings."
Lisa Jefferson, the operator who spoke with Todd Beamer, had this to say in an interview.
"I wasn't prepared for my test on September 11. I went on faith and made myself available. God is not concerned about your ability, but your availability."
Wow! Isn't that powerful? Lisa Jefferson encouraged Todd Beamer from a phone, helping him feel confident enough to act on what God wanted him to do. God wanted him to stop the terrorists. Yes, the plane went down, but think of the thousands of lives that were saved because Lisa, Todd and all the other passengers acted on FAITH. They didn't know how it would turn out, but they acted anyway.  They made themselves available to do what God needed them to do. But they could not do this without reminding themselves that Jesus is their shelter in times of crisis. The terrorists did not know who they were dealing with! Evil cannot stand against the faithfulness of those who trust in Jesus' divine wings. The enemy lost this battle the moment these passengers took up their shield.
Right now, people need to hear the gospel of Jesus Christ. We are dealing with a pandemic that's creating tension and despair in many lives. At times, we are subjected to social distancing, but that doesn't mean we need to distance ourselves from how Jesus can use us. In fact, Jesus' power goes beyond any social distancing. He can use you through a phone call, just like he used Lisa Jefferson. He can use you through a text. He can use you through a card, or on FaceTime. Like Lisa Jefferson said, just be available.
In John 19:11, Jesus says to Pilate, "You would have no power if it were not given to you from above."
Jesus is declaring that God is in charge of everything. Man does not have control. In the case of the attacks on 9-11, God was in control of all the events. This doesn't always mean we escape trials and tests, but it does mean we know he is in it with us, and his perfect will unfolds in the middle of it. Ultimately, enemies have no power over us, but God can choose what he allows in our lives.  We can be sure he will provide us with a way to stand through the power of the Holy Spirit.
As we continue to face pandemics, political unrest, censorship, corruption, and times of testing, let us be like Todd Beamer and the passengers and crew of Flight 93. When it's time to take action, LET'S ROLL with faith, love and courage. By the way, Jesus did most of his preaching in an area known as Galilee, which means "rolling." Galilee comes from the verb galal, which means to roll or encircle. Now is certainly the time to roll out the gospel and encircle our nation with the truth that God is in control and his perfect will shall be done.    
(Photo Credit: Unsplash.)
Share your prayers that the Gospel would be spread in the comments below!
Partner with Us
Intercessors for America is the trusted resource for millions of people across the United States committed to praying for our nation. If you have benefited from IFA's resources and community, please consider joining us as a monthly support partner. As a 501(c)3 organization, it's through your support that all this possible.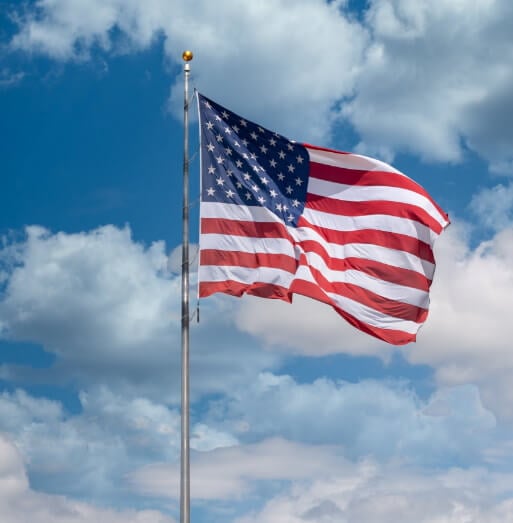 Become a Monthly Partner