A WORD FOR THOSE WHO UNDERSTAND THE TIMES
Kurt Nauck, govpray.org
|
December 5, 2020
A WORD FOR THOSE WHO UNDERSTAND THE TIMES
Kurt Nauck, govpray.org
|
December 5, 2020
I Prayed
have prayed
Father, it is with a heavy heart that I come to You today. In tandem with my brothers and sisters across the nation, and even around the world, I pray for an outpouring of Your Spirit upon those lost souls under the dominion of the enemy and those believers under his influence.
In my personal time with the Lord this morning, He led me to the 12th chapter of Luke.
View Comments (35)
"I have come to cast fire upon the earth; and how I wish it were already kindled! But I have a baptism to undergo, and how distressed I am until it is accomplished! Do you suppose that I came to grant peace on earth? I tell you, no, but rather division; for from now on five in one household will be divided, three against two and two against three. They will be divided, father against son and son against father, mother against daughter and daughter against mother, mother-in-law against daughter-in-law and daughter-in-law against mother-in-law." – Luke 12:49-53
I write from my heart as I believe the Spirit guides. No doubt, there are some who don't always get where I'm coming from, or where I'm going. If that proves to be the case in this instance, this message wasn't intended for you. But I know that there are others with whom it will resonate. Thanks be to God that He is capable of speaking to us in many different ways through many different voices.
Jesus told His disciples, "I have come to cast fire upon the earth, and how I wish it were already kindled." What an interesting statement coming from the man of peace. This passage does not seem to reflect the meek and mild Jesus of the 21st century – that Lord who is content to overlook sin, willingly accepting the non-repentant into His kingdom. No, this appears to have been spoken by none other than the Lion of Judah; the One who will someday return to earth in fire and fury with a sword in His mouth (Revelation 19:15).
Some would argue that Jesus is talking about His sending of the Holy Spirit, and I believe that is probably true. But as we so often see in Scripture, prophetic statements frequently have more than one meaning. I believe that Jesus was also expressing His weariness with faithless mankind, and His longing for the day when He would judge the world and establish God's eternal kingdom. (See Matthew 17:17, Luke 13:34-35)
Jesus' words fully reflect the earnest desires of my own heart, especially in these difficult and uncertain days. Have we not been fervently praying for God's Spirit to be unleashed upon the hearts of men, both within and without the Church? Have we not been crying out both privately and publicly, day and night, for this very thing?
Where, O Father, is the consuming fire of your Spirit? When will You fill the hearts of men and turn them towards You? How long must we wait?
But even as I pray this prayer, I am equally seeking the return of Jesus, the judgment of the wicked, and the vindication of the saints.
How long, O Lord, shall the wicked prosper? For we are told that He who avenges blood remembers, and does not ignore the cries of the afflicted.
Yes, sometimes it feels as if my prayers are in conflict with one another; that I'm speaking out of both sides of my mouth at the same time. One moment we pray for our enemies and the salvation of their souls, and in the next breath we imprecatorily declare God's judgment and vengeance upon all who are evil and would dare raise a hand against His kingdom.
Thankfully, Peter was well aware of this conflict, and he addresses it as follows.
By His word the present heavens and earth are being reserved for fire, kept for the day of judgment and destruction of ungodly men. But do not let this one fact escape your notice, beloved, that with the Lord one day is like a thousand years, and a thousand years like one day. The Lord is not slow about His promise, as some count slowness, but is patient toward you, not wishing for any to perish but for all to come to repentance. But the day of the Lord will come like a thief, in which the heavens will pass away with a roar and the elements will be destroyed with intense heat, and the earth and its works will be burned up. – 2 Peter 3:7-10
The ultimate judgment of the wicked is sure, but in His divine patience, God waits for any who would turn to Him in repentance.
After Jesus' comment regarding the casting of fire upon the earth, our Lord speaks directly to generational division, and specifically to conflict between parents and children. My fellow intercessors, I know that there are a great number of us who are experiencing this dynamic within our own families. Some months ago, I suggested to a friend that we form the Cast Away Parents Society, for truly, that is what many of us are. If you happen to be in that number, you know the pain and grief associated with a broken heart. Be aware and comforted in the fact that you are not alone. Though your family may mock and revile you for cleaving to the word of God and the Holy Spirit's prompting, know that this too is prophesied in scripture.
For son treats father contemptuously, daughter rises up against her mother, daughter-in-law against her mother-in-law; a man's enemies are the men of his own household. But as for me, I will watch expectantly for the Lord; I will wait for the God of my salvation. My God will hear me. – Micah 7:6-7
Dear Body of Christ, though there are amazingly humble and godly young people in our world (a number of whom are fellow participants within this community of intercessors), I believe that it is mostly the older saints who have truly understood the signs of the times and have carried the lion's share of the prayer burden for our country. Knowing the blessed company with whom we intercede, let us not lose heart in doing good, for in due time we will reap if we do not grow weary. – Galatians 6:9
. . . I  pray for those who, like Cornelius, are good and righteous people, but don't yet know the Lord. Turn those hearts that may yet be reached while there is still opportunity, for no one knows what tomorrow brings.
And Father, upon those whose hearts have become impervious to Your touch, or who steadfastly refuse to heed the Spirit's call, we pray swift, sure and public destruction.
Lastly, I pray for all those with estranged family members. May we seek reconciliation wherever possible, and pray for Your help to avoid and overcome any and every root of bitterness. Thank You, O God, for being our heavenly Father when our own family forsakes us.
For the sake of Your people and for the sake of our country – but most of all for the sake of Your Holy Name – we pray these things.
(Used with permission from Kurt Nauck from govpray.org. Photo Credit: Unsplash.)
What encouraged you most from this article?
Partner with Us
Intercessors for America is the trusted resource for millions of people across the United States committed to praying for our nation. If you have benefited from IFA's resources and community, please consider joining us as a monthly support partner. As a 501(c)3 organization, it's through your support that all this possible.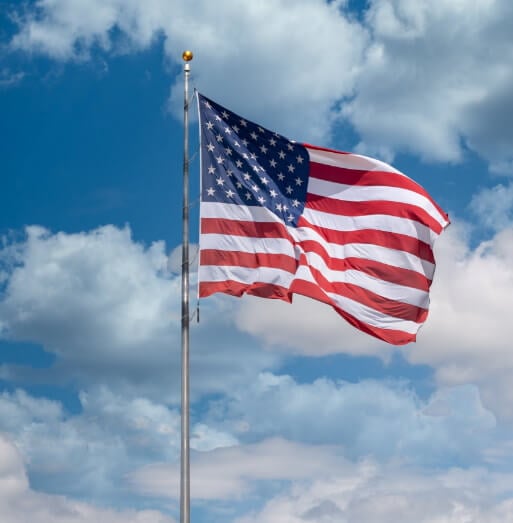 Become a Monthly Partner