HAVE WE BEEN TOO MERCIFUL IN OUR PRAYERS?
Jamie Rohrbaugh , IFA Contributing Writer
|
December 5, 2020
HAVE WE BEEN TOO MERCIFUL IN OUR PRAYERS?
Jamie Rohrbaugh , IFA Contributing Writer
|
December 5, 2020
I Prayed
have prayed
Father God, where there is hope of salvation for any person, we ask that You would extend mercy, bring them to repentance, and save them.
We the people of the United States of America have long been too merciful in our prayers.
I recognize that this statement is going to raise some eyebrows, but the simple fact is that God has designed and fashioned His church—His ekklesia—to be THE governing body on the earth. And if we do not sit in governance, we are not truly functioning as the church that Christ built.
View Comments (95)
"In what way should we govern," you ask?
In many ways. Today, however, I want to call your attention to a principle that King David of the Bible knew, but which we have forgotten: the fact that God does want to judge His enemies.
It's true that mercy triumphs over judgment. However, it's also true that the Bible tells us that there are some people for whom mercy is not an option—people who have rejected God for the last time, and for whom the opportunity to repent will not be presented again.
Romans 1:24-32 tells us this:
"Therefore God also gave them up to uncleanness, in the lusts of their hearts, to dishonor their bodies among themselves, who exchanged the truth of God for the lie, and worshiped and served the creature rather than the Creator, who is blessed forever. Amen.
For this reason God gave them up to vile passions. For even their women exchanged the natural use for what is against nature. Likewise also the men, leaving the natural use of the woman, burned in their lust for one another, men with men committing what is shameful, and receiving in themselves the penalty of their error which was due.
And even as they did not like to retain God in their knowledge, God gave them over to a debased mind, to do those things which are not fitting; being filled with all unrighteousness, sexual immorality, wickedness, covetousness, maliciousness; full of envy, murder, strife, deceit, evil-mindedness; they are whisperers, backbiters, haters of God, violent, proud, boasters, inventors of evil things, disobedient to parents, undiscerning, untrustworthy, unloving, unforgiving, unmerciful; who, knowing the righteous judgment of God, that those who practice such things are deserving of death, not only do the same but also approve of those who practice them" (Romans 1:24-32 NKJV, emphasis mine).
According to Strong's Concordance, the word translated "debased" in Romans 1:28 means "unapproved, i.e. rejected; by implication, worthless (literally or morally):–castaway, rejected, reprobate." This tells us that there are some people who have rejected the wake-up call of their conscience enough times that their mind has literally become morally worthless. These are the people who have rejected God … and the Bible tells us that these are people upon whom God has given up.
Although we do not like to hear it, the simple fact is that people who have permanently decided to reject God are His enemies.
And when their decision against salvation has become final, even though God does not prefer to judge them (He would rather save them), He will judge them—because they have permanently embraced wickedness. For those unfortunate souls, salvation is no longer an option.
Our job as intercessors is to pray the Word of God at all times.
This means to pray for salvation for all those for whom salvation is possible. However, it also means that, as the Psalmists did, we should pray for judgment against those who have permanently rejected God.
I do not recommend that any of us sit in judgment against any person personally; that is not our place. God alone knows every heart, and God alone can tell whether a person has permanently refused Him or not. So I would never say, "Pray that this person or that person be destroyed." That is for God, and God alone, to decide.
But I do believe that we, as the church, need to rise up and pray judgment upon whomever God deems to be His enemies—for our deliverance from the hand of our enemies only comes when the Lord rises up to fight for us and against them.
Are you ready to pray? Pray this with me, asking the Lord to rise up and judge His enemies:
"Abba Father God, we come to You in Jesus' name. Father, thank You for inclining Your ear to hear our prayer today. Thank You for Your mercy toward us who are covered with the blood of Jesus, for You are the great Judge of all the earth—and it is a fearful thing to fall into the hands of the Living God.
Holy Father, we come to You today to ask in Jesus' name that You would deliver us and help us. We are being oppressed by the wicked, Lord. Those who hate You and everything You stand for have risen up against the righteous, and we cannot conquer the wicked ourselves.
But Abba Father, You can. And Father, we know and believe that You sit in the heavens and laugh at Your enemies. We know and believe that You, and You only, are He who lifts one king up and brings another down. And You only, Father, have power over all the earth—to save or judge as You see fit.
Father, for all the wicked ones who have not heard Your message of salvation, but for whom there is still hope:
We ask that You would open their ears to hear the message of salvation through the blood of Jesus Christ. Give them ears to hear and eyes to see, Abba Father, and open their hearts and conscience to the Gospel. Shower them with Your goodness, which brings men to repentance; and save them, Father.
But Father, for those who have permanently rejected Your salvation, who have given themselves over to a degenerate mind and for whom there is no hope of repentance:
We ask, O Lord, that You would rise up and judge Your enemies. And together with the Psalmists we pray:
Let God arise, and His enemies be scattered; let those who hate You flee before You (see Psalm 68:1).
Wound and crush the heads of Your enemies, destroying their power and influence (see Psalm 68:21-23).
Dethrone Your adversaries. Let their violence and their wicked plots return on their own heads (see Psalm 75:7; Psalm 7:16).
Let the sword of the wicked enter their own heart; let their tools and weapons be broken (see Psalm 37:15).
Cut the wicked off and let them not even be found on the earth anymore (see Psalm 37:10).
Father, we know it is not Your will that any should perish, but that all should come to repentance. However, we also know that those who have given themselves over to a debased and degenerate mind, who have permanently rejected You, are wreaking havoc on the earth.
So Father, for Your great name's sake, and for the sake of all the righteous ones, we ask today in Jesus' name that, according to Your will only, You would judge, destroy, obliterate, humiliate, and embarrass the enemy and all his dark forces who are at work in America.
Father, Your victory was purchased for us upon the cross with the blood of Your Son Jesus Christ, and humbly ask today that You reveal and enforce that victory in America.
So finally, Father, we speak to America, as well as to her enemies and allies. We stand together today in our role as the governing ekklesia of God, and we say:
To every political seat;
To every election and polling place;
To every corporate boardroom;
To every financial position and pillar;
To every source of funding for the activities of the wicked;
To every abortion clinic;
To every crooked politician;
To every house of government, from each local mayor's office to the state houses to the White House;
And we say:
'O wicked ones, wherever you may be found, hear the word of the Lord:
We command you in the mighty and matchless name of Jesus to repent and be saved. And if you will not, we declare and decree Your judgment in the name of the Holy One of Israel, Jesus Christ of Nazareth, that you must be removed, judged, cast down, and utterly destroyed by the great God of all the earth in Jesus' name.'
Thank You, Father. Thank You for Your mercy toward us, and for Your great love for our nation. Thank You for hearing and answering our prayer.
In Jesus' holy, mighty, majestic, and matchless name we pray, amen."
Beloved, we have been silent and merciful to the wicked too long. Let us each rise up today and become the true ekklesia—seated in judgment to carry out our righteous cause, and obeying the mandate Christ gave us when He fashioned His church before the foundation of the world.
Jamie Rohrbaugh is an author and speaker who equips people to walk in the manifest presence and power of God. Jamie blogs for a global readership at FromHisPresence.com, where she writes about radical prayer, the prophetic word, the supernatural lifestyle, inner healing, and Kingdom wealth. She is a frequent contributor to Charisma Magazine, The Elijah List, Spirit Fuel, and various other ministry outlets. You can contact her here or download her free ebook containing 555 names of God for prayer and worship here. (Photo Credit: Unsplash.)
Have we been too merciful? What do you think?
Partner with Us
Intercessors for America is the trusted resource for millions of people across the United States committed to praying for our nation. If you have benefited from IFA's resources and community, please consider joining us as a monthly support partner. As a 501(c)3 organization, it's through your support that all this possible.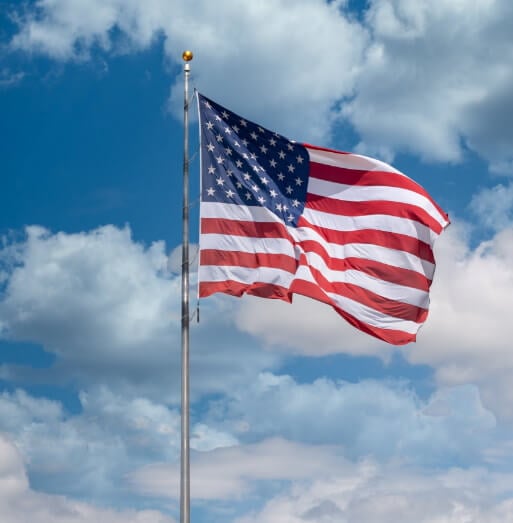 Become a Monthly Partner