A PROPHETIC WORD FOR THE WEARY
Gloria Robles, IFA Contributing Writer
|
June 23, 2020
I Prayed
have prayed
Lord, help us use the gifts we have to bring the lost to Jesus.
Some time ago l, I was sitting at my table with my Bible opened, praying. I was seeking a word from God. I felt very discouraged, heavy, frustrated, and even anxious. I knew what I was feeling was not of God. If you have been feeling this way, you are not alone. Recently I have talked with other intercessors and they have felt worn out as well.
In my daily Bible time, I am now studying the book of Exodus. The Lord spoke from his Word, giving me an exhortation that reflects where we are now.
View Comments (45)
God heard their groaning, and he remembered his covenant promise to Abraham, Isaac, and Jacob. He looked down on the people of Israel and knew it was time to act. (Ex 2:24-25)
In a time of prayer the Lord revealed that He is "hearing the cries of his people." There is a cry rising up before the throne of God. It is the sound of those who are crying out for justice. There are cries of those who cry out day and night for the shedding of innocent blood (abortion), global cries from our brothers and sisters in nations where persecution is growing worse. There are cries from believers who are  hungry and desperate for a move of a God. We are in confusing and dark times right now, but this means we have an opportunity to be light in the darkness and messengers of hope in the midst of chaos. This is a time to act.
In Exodus, God heard the groaning. He looked down and he knew it was time to act. God could have dealt with Pharoah immediately; however, when God decided to act, he pursued Moses in the wilderness and called him to be a deliverer of his people. Moses tried time after time to get out of it, but God wouldn't have it.
While reading this, I sensed the Lord speaking through this and He asked me a question: "What's in your hand?" I immediately recognized this as a Scripture, so I kept reading and found the exact verse: Then the Lord said to him, "What is that in your hand?" "A staff," he replied. (Ex 4:2)
I believe right now the Lord is asking his Body, "What's that in your hand? What do you have that can bring Jesus to people?" Romans 12:6 tells us God has given us different gifts for doing certain things well. If he's giving you the ability to prophesy, speak. If it's serving, serve. If it's teaching, teach. In other words, use what you have in your hands. I'm going to go a step further. If you are an intercessor, intercede. If you are creative, create. If you are a blogger, blog. If you are a writer, write. If you are a podcaster, make podcasts. If you have a large social media presence, use your influence for the Gospel. It may not seem like it, but people are listening and looking.
During times of darkness, people are most receptive to the Gospel, because they are looking for "good news." Just look what happened after 9/11. The churches were full, salvation was abundant.
God further lays out some important points for us in his dialogue with Moses. In Exodus 4:10-14, we see that Moses pleaded with the Lord, "O Lord I'm not very good with words." But a few verses later the Lord said, "Go. I will be with you." He sent Moses' brother Aaron along with him because Aaron was an eloquent speaker.
Some things God spoke through this are:
1) God doesn't want excuses right now. Now is not the time to hide and make excuses. Now is the time to arise and shine because the Lord is with you.
2) God will align you with the right people to accomplish His will. Maybe some people from the last season aren't with you now, and that is okay. They were for a past season. Just as God brought Aaron alongside Moses, God will put the people you need alongside you to partner with you and go the extra mile.
3) Your age is NOT a factor. Moses was 80 years old when God called him. Do not let your age be the excuse to run from your assignment. Jeremiah tried to tell God he was too young, but it didn't change God's mind.
4) Don't argue with God. Moses didn't argue with Pharoah when God sent him. He simply did what he was told. You will face opposition. Don't argue. It can be a fruitless distraction. Have nothing to do with foolish, ignorant arguments; you know that they breed quarrels. (2 Tm 2:23)
I'm not exactly sure why, but many in the church have been silenced. Maybe it's fear of persecution, maybe it's a fear of being "cancelled." Let me remind you, we may live in "cancel culture," but the Word of the Lord can never be cancelled. The Enemy can try (and is trying) to silence believers, but we have a promise that the word of the Lord endures forever. (Is 40:8). We have another promise that the word of the Lord will never return void (empty). (Is 55:11)
The word of God is like a seed, it produces fruit whether you are aware or not.
So intercessors, brothers and sisters, I leave you with the words of God to Moses, and also to you.
"What's that in your hand?"
When you discern the answer, rise up and do what He tells you to do.  Now Go! I will be with you as you speak, I will instruct you in what to say. (Ex 4:12)
Author Gloria Robles is a passionate intercessor with a prophetic voice for today.
(Photo by Chris Moore on Unsplash)
Partner with Us
Intercessors for America is the trusted resource for millions of people across the United States committed to praying for our nation. If you have benefited from IFA's resources and community, please consider joining us as a monthly support partner. As a 501(c)3 organization, it's through your support that all this possible.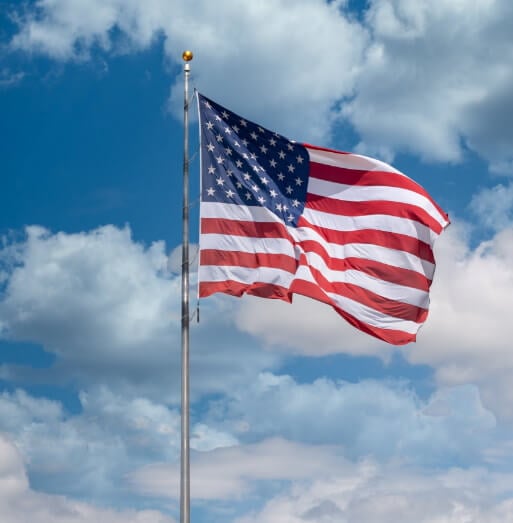 Become a Monthly Partner