A POWERFUL REMINDER TO REPLACE FEAR WITH COURAGE
Angela Rodriguez, IFA Contributing Writer
|
April 27, 2021
A POWERFUL REMINDER TO REPLACE FEAR WITH COURAGE
Angela Rodriguez, IFA Contributing Writer
|
April 27, 2021
I Prayed
have prayed
Lord, we pray you will help us be strong and courageous as we navigate these uncertain times. Please give us a discerning heart, so we can know how and when to take a stand.
FEAR–This simple four-letter word has the power to cripple our walk with Jesus if we don't learn to master it. Creeping behind us with outstretched claws, it waits for the perfect opportunity to shred every ounce of hope. Truth be told, fear has driven me to my knees more than I care to mention. That's not necessarily a bad thing because it's better that we surrender it to Jesus, so it doesn't take over our hearts and minds. But in order to dwell with Christ, we cannot let it be our daily companion. It's like two opposing forces walking side by side–one is faith, while the other is fear. They will compete for our time, energy and allegiance.
View Comments (35)
The concept of fear is nothing new. Our perception of it begins early in life and continues as we grow older. A loud noise–the face of a stranger–a car accident–the covid virus–these are all things that can produce fear. The question is…what do we do with it? The answer will make or break us, determining every step we take–do we move forward in faith, or backward in fear?
"Fear not" is one of the most common commands in the Bible. According to biblical scholars, there are at least 365 times where scripture reminds us to "fear God," "be not afraid," "do not worry," or "receive God's peace."  No matter how it's stated, the underlying meaning is that we are to fear only one thing–God himself. This doesn't mean we cower in the corner, worrying that God will punish us, or send great calamity to our door. Instead, the message is that the only thing we fear is not doing what God asks of us! We have such reverence and faith in him that we will "fight the good fight, finish the race and keep the faith," as 2 Timothy 4:7 declares. In our eyes, this may seem frightening. But with Christ as our ally, we can boldly declare a battle-cry against fear. We must raise a shout and give fear a punch to the gut.
Courage stands in opposition to fear. This word is used in at least 41 verses of the Old Testament. Perhaps one of the most well-known examples comes from Joshua 1:9 which says, "Be strong and courageous. Do not be terrified: do not be discouraged, for the Lord your God will be with you wherever you go."
As I watch the news, I've noticed several stories which have been powerful reminders that we need to replace fear with strength and courage. One particular account that captured my attention comes out of Holland, Michigan and involved restaurant owner Marlena Pavlos-Hackney. According to an article in the Detroit News, the owner of Marlena's Bistro and Pizzeria was arrested March 19, 2021, after she ignored orders to close her restaurant during a state-wide ban on indoor dining. She also did not force her customers to follow social distancing or mask protocols.
Pavlos-Hackney appeared on Tucker Carlson Tonight, as well as Glenn Beck's Blaze Radio Network–both of which aired days before her arrest. On the shows, she describes how she escaped communist Poland in 1983. In 1988 she came to the United States, becoming a citizen in 1992. Opening a business in the land of the free was truly her American dream. Pavlos-Hackney stated, "We the people, small-business owners, like I told you, have to fight. I will fight for freedom for the American people. And I encourage everyone, business owners, other people–stand up and fight for your freedom before it's going to be taken away." 
Some people might say this woman deserved to go to jail. After all, she defied the state's orders. But others see it as a clear violation of her constitutional rights. Pavlos-Hackney even put a notice on her front doors which read: "Welcome. We are a Constitutionally Compliant Business. We are not infringing on anyone's inalienable rights. By law, we do not follow any of the governor's, mayor's, health department's, or other government agency orders or suggestions pertaining to social distancing or mask wearing. Your health is your responsibility."
Pavlos-Hackney says the rules being imposed during the pandemic are a reminder of what happened to her in communist Poland. She also feels like small business owners are being treated differently than larger businesses. "They discriminate against small business owners…You go to big places and they don't have to follow the rules we do. They do whatever they want and they don't go after them. They only go after us."
I have noticed this phenomenon as well. Big businesses such as Walmart, Target and Home Depot stay open, while small shops, bars, salons and restaurants must close their doors. For months, small restaurants across the United States were unable to serve customers, yet thousands of people were free to shop the big-name stores.
Whether you agree with Pavlos-Hackney's decision to defy the state's orders or not, you have to admit that what she did took courage. Merriam-Webster defines courage as: mental or moral strength to venture, persevere, and withstand danger, FEAR or difficulty. This restaurant owner certainly faced difficulty and what she did required moral strength. But there is more to this word than we realize. The words courage and heart are closely related because in Latin, cor means heart. This has carried over to other languages such as French and Italian, whose words for courage are corage and coraggio. In early renderings, it meant "to speak one's mind by telling all one's heart." This begs the question–who does our heart truly belong to?
Jeremiah 17:9 reminds us, "the heart is deceitful above all things, who can know it?" It is only the blood of Jesus Christ that can transform us into the strong and courageous people God made us to be. Courage without Christ doesn't really exist because without his spirit, we are dwelling in man-made security and hope.
When Joshua was about to enter the Promised Land, God told him three times to be strong and courageous (Joshua 1:1-16) But God also said, "Be careful to obey all the law my servant Moses gave you; do not turn from it to the right or to the left…keep this Book of the Law always on your lips; meditate on it day and night, so that you may be careful to do everything written in it. Then you will be prosperous and successful."
To follow God's Word takes courage. Notice the verses say Joshua had to obey ALL THE LAWS. He had to do everything that was written in it. I would have failed on day one because I cannot keep the entire law and do everything it says! But when I do keep God's commandments, it often requires courage. I have to step outside society's box of conformity and walk a narrow path set before me by biblical scripture. It's much easier to go along with what popular opinion commands than to stay true to God's Word.
The words strong and courageous take on completely different meanings in today's world. Promoting and celebrating lifestyles that are contrary to biblical truth is seen as brave. The media, politics and the rich and powerful become the voice of strength and courage. The proclamation of self-love trumps God's perfect love. But as we see in the story of Joshua, this is not courage at all. God's Word outlines what bravery looks like.
Fear will discourage you. It will seize your courage and crush your heart. If we want to be strong and courageous, we must abide under the shelter of the Most High (as Psalm 91 describes) and follow God's will for our lives. I cannot promise it will be easy and there may be a cost involved, but "be strong and take heart, all you who hope in the Lord," (Psalm 31:24).
Marlena Pavlos-Hackney stood up for what she believed in. She felt her constitutional rights were being violated so she refused to give in to what she saw as tyranny. She was eventually released from jail after paying a $15,000 fine and agreeing to close her restaurant. She certainly paid a price, but to her it was well worth it.
As Christians, what price are we willing to pay? As more and more of our freedoms erode, what will we do to fight against the woke mob that tries to silence us? Like Joshua, are we willing to be strong and courageous by standing on the Word of God, no matter what it costs us?
Fear will try to stop you. It will shake its fist in your face. But when you look to the cross and the Word of God you will know what to do. "So do not fear, for I am with you; do not be dismayed, for I am your God. I will strengthen you and help you; I will uphold you with my righteous hand," Isaiah 41:10.
What does courage look like? In what areas of your life is God asking you to kick fear to the curb? Leave a comment.
Pray with author Angela Rodriguez today at 12:15 pm ET. Call (712)775-7430 or IFApray.org/live.
Angela Rodriguez is an author, blogger and homeschooling Mom who studies the historical and biblical connections between Israel and the United States. You can visit her blogs at 67owls.com and 100trumpets.com. (Photo Credit: Canva.)
Partner with Us
Intercessors for America is the trusted resource for millions of people across the United States committed to praying for our nation. If you have benefited from IFA's resources and community, please consider joining us as a monthly support partner. As a 501(c)3 organization, it's through your support that all this possible.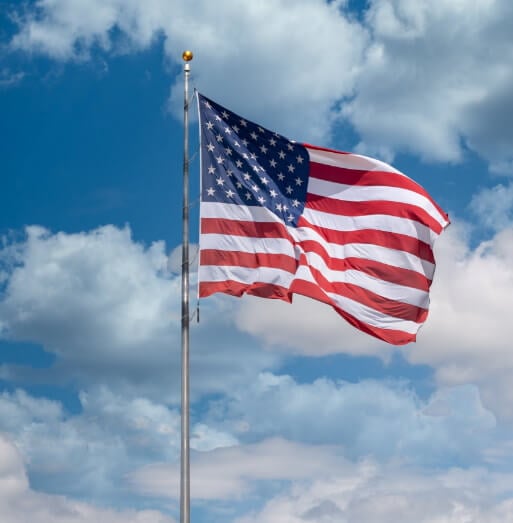 Become a Monthly Partner