A Place of Rest for Intercessors
Remco Brommet, IFA Contributing Writer
|
May 22, 2022
A Place of Rest for Intercessors
Remco Brommet, IFA Contributing Writer
|
May 22, 2022
I Prayed
have prayed
Father, we pray that You would strengthen us in our intercession. Help us to be strong prayer warriors and grant us rest when we need it.
"For thus said the Lord God, the Holy One of Israel, "In returning and rest you shall be saved; in quietness and in trust shall be your strength."   Isaiah 30:15
View Comments (14)
From time to time we talk about the spiritual well-being of our community of intercessors, partly because we hear your struggles, and partly because we know that spiritual self-care is crucial.
Intercessory prayer is not for the faint of heart. The amount of energy it takes to pray into the needs of the nation and the world consistently and urgently can be easily underestimated. I know I have. The more I moved from prayer mobilization into actual intercession the more I realized I hadn't known how tiring that can be.
There are some clues in Scripture I should have picked up on. Terms like "wrestling" (Ephesians 6:12), "travail of soul" (Isaiah 53:11), "devotion" (Acts 2:42), "cried out with a loud voice" (Revelation 6:10), "without ceasing" (1 Thessalonians 5:17) all indicate hard work. The apostle Paul frequently stated that he prayed non-stop for the churches he planted, and that in some cases, he was in anguish over them (Galatians 4:19).
Dear friends, it is the price intercessors pay for his God-given assignment in the work of His kingdom. You could call it an occupational hazard. But because you do most of your kingdom work in the closet, very few people notice and understand. It is much more visible when a pastor or chaplain or youth leader burns out, but you operate under the radar, and it can make you feel isolated and lonely.

Prayer-burden burnout can occur when you feel like the weight of the world is on your shoulders. Headline after headline, usually bad news, emergency after emergency, tragedy after tragedy, need after need can easily make you feel overwhelmed. On top of that, intercessors can suffer from "anticipation fatigue" – praying for certain burdens for years without seeing even as much as an inkling of an answer. I served for a few years as a chaplain to a 911 call center and learned that one of the greatest frustrations dispatchers have is that they don't hear the outcome of a high stress call. Did the person survive? Did the burglar get caught? Intercessors are God's 911 operators, bringing urgent needs to the throne of grace for divine intervention.
And if that isn't enough, Satan attacks you where he can, especially with his three favorite weapons: doubt, discouragement, and distraction. He hates what you do, because he, of all the created beings that exist beside God, understands the power of prayer the most, and therefore fears it.
How, then, do we give ourselves enough care and protection to prevent discouragement, burnout, distraction, doubt, and anticipation fatigue?
I prayed into that for myself after an exhausting month, and the Lord gave me some gracious insights from Isaiah 30:15 that I would like to share with you in hopes that they may help you as well.
In returning and rest you shall be saved – I am saved from doing too much in my own strength, from Satan's attacks on my prayer life, from distraction and emotional depletion, by my daily, intentional decision to turn to Him and rest in Him. In practical terms that means that I make myself dependent on Him to tell me what I should pray for, how I should pray for it, and lean on His Spirit praying in me and through me. It is a decision I must make every morning. I have learned the hard way that not making that decision leads to leaning on my own insight and brain power. Relying on my own insight and strength instead of God's is where much of my exhaustion comes from.
In quietness and in trust shall be your strength. I begin my priestly duty before the altar in heaven by simply asking the Lord what He wants to say to me today and how He wants me to pray. Then I declare my trust in the power He has invested in the simple prayers of a sinner made righteous by the blood of Christ (James 5:16), in the truth that He has ordained to win great victories through the prayers of His people, and that part of my true identity in Christ is that I belong to a royal priesthood (1 Peter 2:9) called by God.
Isiah 30:15 describes a domino effect of sorts: turning to Him leads to rest in Him, which in turn leads to quiet listening and receiving His thoughts and perspectives, which in turn builds trust in Him. That whole process is what gives me the spiritual, emotional, and mental strength to prevail in prayer and not fall prey to exhaustion.
There are four other practices that are important to maintain your spiritual health as an intercessor:
Keep the Sabbath (Exodus 20:8). God rested and created us for rest. Likewise, intercessors should have at least one day a week when we do not take the weight of the world on our shoulders, but just rest in the presence of the Lord. Enjoy His company. Worship. Give thanks. Don't look at the news. Do something fun to recharge. Satan is, of course, right there to make you feel guilty about "neglecting your priestly duties" but resist Him and stand on the biblical truth that we are commanded to rest. One of the main reasons why an army loses a war is because of underfed and rest-deprived soldiers. A good 911 call center has a quiet room where operators can come, be alone, burn a scented candle, listen to some music and recharge after a stressful call. It's no different for intercessors. We need to take breaks so we can continue.
Take a sabbatical. Occasionally you need more than a day's rest from your priestly duties. Especially when you have come under prolonged enemy fire, got wounded, or have become so exhausted that you need extended recuperation. Enter God's "MASH tent" and let Him tend to your injuries and nurse you back to health. You didn't fail – the attacks and injuries are proof that you are a force to be reckoned with in the heavenly places. You will emerge recharged to go at it again. In the meantime, God will raise up others to take your place.
Stick with your kingdom assignment. It gets overwhelming to pray for everything you see coming your way through the news, through prayer letters, and even through the IFA publications. I have found that the Lord draws me to pray over certain things and not over others. I firmly believe He calls upon others to pray for those things so that everything does get covered by. Sometimes, He calls me to pray over singular events. At other times, He gives me a prolonged burden. Some last as long as the crises do, others are ongoing. For instance, I have long had a call to pray daily for missions through Operation World, and for persecuted Christians through the Voice of the Martyrs Prayer Guide. He may have a different assignment for you. Just like an army that has different divisions doing different things, God's army of intercessors consists of different units working together in prayer for different issues and kinds of kingdom work knowing that our Supreme Commander knits it all together according to His battle plan.
Avoid isolation. A soldier becomes more vulnerable to attack and exhaustion when he gets separated from his unit. A pastor burns out more easily when he does not have the benefit of fellowship and support from fellow pastors who understand his work. The same goes for an intercessor. If you don't already have a group of people to pray with, join one or form one soon. Not only does it increase the power and effectiveness of your prayer (see Matthew 18:19,20), but it also gives you emotional and spiritual support as you share prayer burdens with others. Faith is contagious, while unbelief thrives in isolation.
Please hear my shepherd's heart in all of this. Intercessors are sometimes secretly admired, and oftentimes misunderstood. For that reason, we need each other. And above all, we need to "guard your heart,
for everything you do flows from it." (Proverbs 4:23) Protect your Father-child relationship with the Lord – put it first, because it is the root of every spiritual service in His kingdom.
"Father in heaven, I pray that you awaken in everyone who reads this article a desire to be close to you, to turn to you, rest in you, and find strength in quietness and trust. May the intercessors you have appointed in this nation and around the world find renewed hope, strength, fellowship, and faith to continue and prevail in prayer for the advance of your kingdom even as tribulation and distress intensify with ever greater speed. Affirm each prayer warrior in their calling and worth today with Your delight in their prayers, connect them to a community of prayer warriors where needed, and refresh their souls through loving fellowship with You. In Jesus' Name. Amen."
What did you think of this article? Share your thoughts and prayers in the comments below!
Author Remco Brommet is a pastor, spiritual growth teacher, and prayer leader with over 40 years' experience in Europe, Southeast Asia, Africa, and the US. Born and raised in the Netherlands and pastoring his first church in Amsterdam, he moved to the US in 1986. He and his wife Jennifer currently live north of Atlanta, GA When not writing books, he blogs and assists his wife as content developer and prayer coordinator for True Identity Ministries. Jennifer and Remco are passionate about bringing people into a deeper relationship with Christ. Photo Credit: Fa Barboza on Unsplash.
Partner with Us
Intercessors for America is the trusted resource for millions of people across the United States committed to praying for our nation.
If you have benefited from IFA's resources and community, please consider joining us as a monthly support partner. As a 501(c)3 organization, it's through your support that all this possible.

Dave Kubal
IFA President
& CEO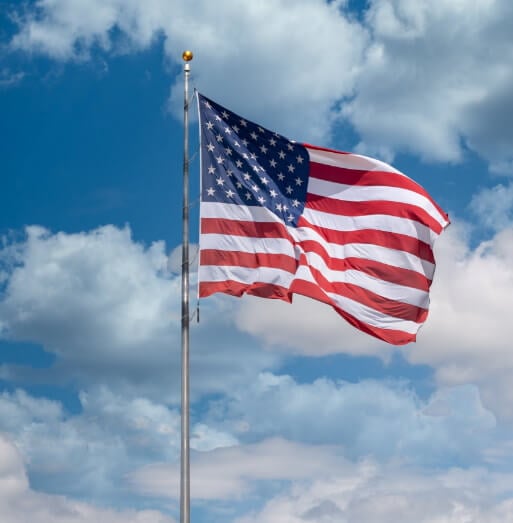 Become a Monthly Partner
You can post a prayer to share with others.
Kathy M
May 22, 2022, 12:50 pm
Dear Lord, thank you so much for this spiritual support and encouragement all us prayer warriors need every day. What we do SO matters to God's heart!!!!He wants us to go to Him daily and meet Him at His Throne; pleading to meet the needs of all people! Thank you Lord for drawing us to you; the Master of all!!!! ✝️✝️✝️✝️✝️✝️✝️
Alan V
May 22, 2022, 9:11 am
Father, we pray that You would strengthen us in our intercession. Help us to be strong prayer warriors and grant us rest when we need it. Praise the Lord who raises up and coordinates prayer armies to achieve His purposes. In Jesus name, amen.