June 23, 2020 | From Epoch Times
Father, give us faith like a child. Matthew 18:3 And He said: "Truly I tell you, unless you change and become like little children, you will never enter the kingdom of heaven."
Seven-year-old Trey Elliott, from Tulsa, Oklahoma, is going viral for praying with local police officers. Photos of Trey's mission were shared by his mother on social media and are warming hearts across the nation.
Trey's mom, Brittany, explained that her son's prayer mission started when the little boy learned about the protests taking place in his city in response to the death of George Floyd on May 25, 2020.
This encouraging story needs to be shared far and wide. How can you encourage the police officers in your town? Leave a comment.
. . . (Editor's note: There was a large gathering in Tulsa on Sunday, May 31st that began as a peaceful protest.)
. . .Trey's mom said,"Sunday night it turned into rioting and businesses being destroyed, busted out windows, things like that in our area," she continued. "So, Monday I was telling Trey about it because we drive right through that area."
. . .  After learning about the role of law enforcement in the riots, Trey told his mother that he wanted to pray for the officers.
. . .Brittany posted the first photo of Trey praying with a police officer on Facebook on June 1. "The current state of our city breaks my heart into so many pieces," she wrote, "[b]ut this little boy restores it every time."
"This boy laid his little hands on officers to show them that we love and support them" . . .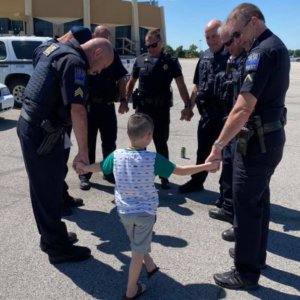 (Courtesy of Brittany Elliott)
After Brittany's first photo went viral, the tables turned; all of a sudden, Tulsa Police Department (TPD) officers began actively seeking out the 7-year-old at public events, and even at his own home, in order to pray with him.
. . . According to a Facebook post by Brittany, as of June 16, Trey has prayed with a grand total of 147 police officers and counting. According to KJRH, Trey's goal is to pray with every single police officer at the Tulsa police department, 800.
. . . Through his ongoing movement, Brittany told The Western Journal that "all he hopes is that other people think to pray for their own officers and their own towns."
Watch Full Story and Interview Below :
(Excerpt from Epoch Times.)