South Carolina
State Prayer Call:
Wednesday at 12:00 PM EST
(605) 313-4146
Access Code: 8055469
State Leader(s):
Billie Jo Youmans/ David Wall
State Motto:
Dum spiro spero, translated "While I breathe, I hope"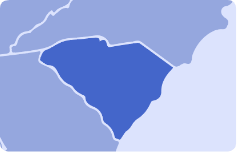 Download State Prayer Guide
Post Your Prayers For South Carolina
Submitted Prayers For South Carolina
kay randolph r
June 25, 2022, 8:45 am
Almighty God and Father of our Lord Jesus Christ in the power of your Holy Spirit, please protect and defend our SC leaders. Especially guard Sens. Graham and Scott, Gov. McMaster, Lt..Gov. Evette, Alan Wilson, AG and Mark Hammond, Sec'y of State. Thank you Lord for your mercy and grace!
Billie Jo Y
June 8, 2022, 7:47 am
Father in heaven, we need you...as residents we need you. Our leaders need you. Open eyes that are blind, blind those who would interfere with Your will by what they think is 'vision.' Stir up your children, light fires in our hearts that propel us to glorify You. In Jesus' name, amen.
Amanda K
May 23, 2022, 2:07 pm
Abba Father, I pray for the swampy areas of our state to be flooded with the River of God- where spiritual swamps once set, may a living active flow of outpouring of Your Spirit come and cause life to spring forth! Let those who bear Your name experience You and truly know You beyond intellectual theology. Come, to each of the historic camps of past revival. Come, reveal Yourself to the people and may South Carolina be a state of firebrands that sets the pace and pattern for our nation. In the mighty victorious name of Jesus, I ask. Amen.
Carren R
May 23, 2022, 10:06 am
My Dear Father God, I come to you Thanking you for the state of South Carolina. I lift up before you, the leadership, and law enforcement of our great state.. I pray Isaiah 11.:2 I pray that the spirit of the Lord would rest upon them, The spirit of wisdom and understanding, the spirit of counsel and might, the spirit of knowledge and the fear of the Lord. May they delight in the fear of the Lord! I pray in Jesus name, and we give you thanks.❤️🇺🇸
Judith V
May 23, 2022, 9:42 am
Lord, I ask that you make your presence known to all our state leaders. May the Holy Spirit soften hearts and guide each one to your truth. Lord, I pray for our children, teachers and educational system. I pray for parents to be actively involved with the curriculum that is being taught. God call out your body of believers to humble ourselves and pray. I ask this in the mighty name of Jesus and for His glory.
Pray For South Carolina Leaders