Oklahoma
State Prayer Call:
Every 2nd and 4th Thursday of the Month at 7:00 PM CT (Starting June 30th)
(667) 770-1894
Access Code: 5134580
State Leader(s):
Carol Unsell
State Motto:
Labor omnia vincit, translated "Hard work conquers all things"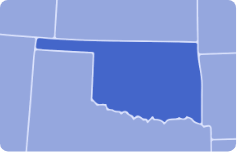 Download State Prayer Guide
Post Your Prayers For Oklahoma
Submitted Prayers For Oklahoma
Terri P
June 26, 2022, 7:19 pm
Dear Heavenly Father, Thank you the victory against Roe vs Wade and the promise of more to come to turn our great Nation around. Dear God I humbly offer myself for whatever work you need me for in our fight against the Devil and his attempt to invade our Government. Please cover me with the Holy Spirit and guide me where you need me. Thank you Jesus for leading me to Cornerstone and the welcome I felt from day one, I feel your spirit moving and want to be a part of it . I love you God Amen
David U
June 25, 2022, 12:48 pm
Lord, we thank You for being with us. We thank You that we no longer see abortion as a constitutional right. We continue to ask for Your grace and forgiveness. We ask for Your judgement to be tempered by Your grace. Lord, our nation is in turmoil, but that has not surprised You. You have a plan to heal this nation. We ask, Holy Spirit, that You speak to us and show us each step to take and tell us what words to speak. You have a plan. You knew this time would come. May we be attentive and obedient to Your Word.
Carol U
June 18, 2022, 1:53 pm
Lord Jesus, thank You for blessing us with a "sanctuary" state for truly it was established as a sanctuary for First Nation's people, the home of the red man. Forgive us, Your church, for the way we have treated the First Nation's people. We have stolen the land given to them; we have murdered them in order to steal their mineral rights, and we have placed people over them to "manage" their finances then denied them adequate food and medical care. Forgive us Father, for we have sinned, and restore this state to be a sanctuary state for all people. May those who are burdened, lost, and faint of heart find rest in this state because Your presence abides here. And may You always be glorified!! In Jesus's Name, amen!
Vicki R
June 13, 2022, 9:51 am
Gracious Father, I thank You for a governor and legislators who believe that life begins at conception. Enable them to keep standing firm for truth and justice. Bless and protect them and their families in this world of chaos I pray in the mighty name of Jesus.
Bruce H
May 23, 2022, 2:16 pm
Father, thank you for all the blessings and anointing you have rained on our state leadership. Continue to give them guidance as they make decisions that effect people's lives. Bless them and their families for the sacrifice they make in doing their jobs. In the precious name of Jesus.
Donna P
May 23, 2022, 11:12 am
Father, we ask for your complete guidance and protection over our elected officials here in Oklahoma. These are turbulent times and we cover them in prayer and your protection as they battle these tough issues at hand. There is a war going on in the spirit realm and we ask that you give our officials your favor and guidance as they move forward and that you speak to them loudly on their choices. May each one of them move Your heart! We thank you for what you've done and are doing and are going to do! I'm Jesus name!
Pray For Oklahoma Leaders