New York
State Prayer Call:
Every Tuesday Evening at 7:00 pm EST (No prayer gathering on the 26th of July)
(667) 770-1936
Access Code: 1185331
State Leader(s):
Rev. Lynnette L. Holloway/Mary Massoud
State Motto:
Excelsior!, translated "Ever Upward!"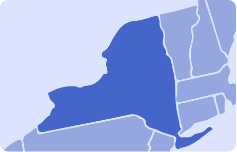 Download State Prayer Guide
Post Your Prayers For New York
Submitted Prayers For New York
Lizette V
June 30, 2022, 8:59 am
Heavenly Father , we thank you for this opportunity to make the most of these days we are living for the days are evil. As Jesus said we are the salt and light of the earth, we are the answer to the world and the difference makers here and now, let us be the watchmen on the wall for NY state and city. Let us be alert and pray continously for our state leaders. We pray that they will have an opportunity to encounter Jesus , to make a decision for Him. Let the fear of the Lord be the beginning of wisdom for our leaders. We pray for your protection for each leader and provision for their families.. Open their eyes in order to see what there decisions can do in the long run in our city and state. May they fear you and revere you. Father, we ask for your justice and righteousness to be established here in NY in Jesus name we pray.
Lizette V
June 22, 2022, 1:23 pm
With the authority and the wisdom you have granted the body of Christ, we come in agreement to pray and cover the State of New York. We pray your will be done over this state. We present to you all leaders that sit in seats of authority , to exercise their jobs with honesty and integrity. May they execute their decisions for the fair and well being of all. Grant them your wisdom, protection and through your kindness and goodness that it would lead to true repentance in Jesus Christ. I thank you for New York and its tri states, continue to have mercy and protect us from the evil that runs rampant in our city and state. In Jesus name we pray.
Joana D V
June 10, 2022, 12:50 am
Abba God I thank you that You are still the Mighty God Lord of Lords King of kings who is still on the Throne and has all the control over everything that's going on in our State of New York and our entire nation of United States of America. I lift up all of New York's officials and leaders in every brach of this government to Your throne of grace that You ,Abba God open their spiritual minds, eyes and hearts to your will and that You give them wisdom and obedience to Your will as they lead and perform their individual duties and positions that You each put them in. May You draw them closer to You and protect their loved ones from the evil ones. May You give us Godly government officials in future elections and take out those in their present positions who choose to disobey Your will. May You continue to restrain the evil works and plans of those until You Abba God take all your precious people home with You. I thank you Abba God for your goodness, grace love and mercy to us your children not only in New York State but also in entire USA. Thy will be done in everything that's going on in New York state and USA now and always in the name of Christ Jesus, amen!
Wendy F
June 2, 2022, 1:58 pm
ABBA Father Maker of heaven and earth I lift up nys to you We are in dark times and we need your light to shine on the darkness We ask for Godly leaders to do your will and protect the unborn children I pray for you Fsther to protect the unborn and give them a voice Replace the leaders who are for killing the unborn for political gain and money and power with leaders that follow and hear your voice Father in the name of Jesus we pray
Tammy B
May 30, 2022, 4:31 am
Father, Your Word tells us that, "If Your people, Who are called by Your Name, will humble themselves, repent from their wicked ways and turn to You, then You will hear our prayers from Heaven and heal our Land." We need Your touch in America, so that people will draw closer to You & turn from our wicked ways. We call on You to help us repent from our sins and seek Your Face, In Jesus' Name, Amen. Thank You Lord for hearing our cries for help & turning our hearts towards You today!
Pray For New York Leaders