Mississippi
State Prayer Call:
Mondays at 6:00 AM Central
(716)384-3055
Access Code: 5757372
State Leader(s):
Pastor Sheryl D. Washington
State Motto:
Virtute et armis, trasnlated "By valor and arms"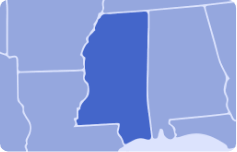 Download State Prayer Guide
Post Your Prayers For Mississippi
Submitted Prayers For Mississippi
Christine K
July 1, 2022, 9:47 pm
Please join us in Prayer for Fourth Chancery District Judge Debbra K. Halford The Mississippi Supreme Court Chief Justice Michael K. Randolph has appointed a chancellor to hear the abortion clinic's challenge to Mississippi's trigger law. Late Thursday, Fourth Chancery District Judge Debbra K. Halford was appointed to hear the challenge. On Monday, JWHO filed a state court case challenging the constitutionality of the trigger law and the 6-week Heartbeat law based on a 1998 court case (Pro-Choice Mississippi vs. Fordice) that upheld a constitutional right to abortion in the state constitution based on precedence in Roe vs. Wade and Casey vs. Planned Parenthood. On June 24, 2022, the U.S. Supreme Court overruled both Roe and Casey in the landmark case Dobbs v. Jackson. The new state court challenge is Jackson Women's Health Organization vs. Thomas E. Dobbs, Health Officer, and others. The challenge was originally filed in Hinds County Chancery Court, but all four judges recused themselves from the case. In that situation, the MS Supreme Court is responsible for appointing a chancellor to preside over the case. Mississippi Attorney General Lynn Fitch and her staff are preparing to defend state laws and the MS Constitution in this case. At this time, we do not have a date for a hearing before the chancellor. We are confident that our state's leaders are being extremely diligent to follow the law and prevent any loopholes that would lead to more court challenges. If the chancellor upholds the state's laws, then we expect the abortion facility in Jackson to be closed on July 7. Their last day to destroy innocent human lives would be July 6. Please pray for: -Fitch and all of the lawyers involved that Life would be upheld and the abortion clinic would close -Pro-Life Mississippi - our efforts be fruitful, lives would be saved, and everything we do would be a witness to God's glory and grace. Mississippi Supreme Court - they would protect mothers and the preborn from the predatory and violence of the abortion industry. -Women who may have an unplanned pregnancy and are seeking abortion.
Shellie M
June 15, 2022, 4:43 am
LORD GOD, I pray for you to keep the beautiful state of MISSISSIPPI preserved, and kept away from the extreme leftists and their wicked agendas and the Elitist's plans. I pray that the one abortion clinic in our state will be completely closed down, and for Abortions to be abolished within all of the United States. I pray that Roe Vs Wade is completely overturned, and for planned parenthood to be completely defunded. Let every ounce of truth that is being covered up, come to the light right now in JESUS CHRIST'S mighty name. I pray for your biggest angels to stay encamped around the entire state of Mississippi. May the crimes in Jackson CEASE, and may murder be found no more within our state. May Mississippi stay within the covenant it entered with you GOD. I pray psalm 91 over our entire state, and over our infrastructure here, our food supplies and gas too. Let your perfect will be done for Mississippi, in JESUS CHRIST'S mighty name, amen and amen
David P
June 2, 2022, 8:48 am
LORD I pray for Mississippi and everyone that lives there. I ask that the schemes of the left will not be fruitful and die. Protect and guide YOUR people. May YOUR will be performed. Praise GODJESUSHOLYSPIRIT.
Elizabeth M
May 23, 2022, 10:53 am
Pray for a victory against abortion and for pro life
Dana C
May 23, 2022, 7:04 am
Pray for strength and focus on godly principles to lead our state.
Pray For Mississippi Leaders