Minnesota
State Prayer Call:
Every Saturday at 7:14 PM CT
(667) 930-8252
Access Code: 3666604
State Leader(s):
Jim & LaRae Crawmer
State Motto:
L'étoile du Nord, translated "The star of the North"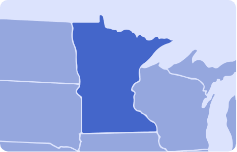 Download State Prayer Guide
Post Your Prayers For Minnesota
Submitted Prayers For Minnesota
Deb K
June 8, 2022, 2:55 pm
Lord Place faith filled Christian's in our state offices.Change the hearts of those in office now.Convict their hearts and bring them to repentance.Bring forth legislation to stop abortions and the Left's agenda in Minnesota.
Amber A
June 8, 2022, 6:52 am
I break off demonic curses over Minnesota in the mighty name of Jesus! I pray Godly leaders will rise up in our state. God's glory will fill our land. And, the presence of the Lord would be strong. In Jesus Name, Amen.
Kristina R
June 2, 2022, 10:45 pm
Dear Lord Jesus, I pray that our legislation flips from Democratic to Republican. In Your Mighty Name I pray. Amen!
Pray For Minnesota Leaders