Maryland
State Prayer Call:
Every Tuesday at 7:00 PM EDT
(605)313-5615
Access Code: 1531635
State Leader(s):
Leader Karen Hatfield, Co-Leader Carolyn Whitaker
State Motto:
Fatti maschi, parole femmine, translated "Strong deeds, gentle words"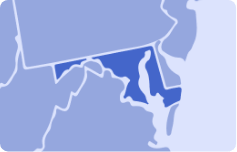 Download State Prayer Guide
Post Your Prayers For Maryland
Submitted Prayers For Maryland
Mary D
June 22, 2022, 8:29 am
We are the only State with Scripture on our seal. Psalm 5:12. "He surrounds us with favor, as with a shield. " Lord let the shield of Faith in your people rise up to meet the barrage of challenges in the State of Maryland. This State was dedicated to You in 1632 and so many know nothing of our History. I ask that You open the eyes of our understanding! Maryland has both a beautiful and a sin filled past. Father we repent for the sins of Slavery in all of its forms, of riding the fence to look tolerant (which is one of Maryland's nicknames) and yet at the same time participate in the horrors of that sin. Baltimore was the leading city in the nation for buying, bartering, and trading human flesh. It is paying a terrible price now. We ask for forgiveness and cleansing, and healing under the Blood-and the authority given to your Ekklesia in the Name above all Names, Christ Jesus our Lord and Savior.
Jane L
May 23, 2022, 7:11 am
Lifting up Maryland and all government, financial, education, church, entertainment that they would be led by men and women of integrity according to God's heart. Crying out for freedom from all oppression and inroads of the enemy. for B
Pray For Maryland Leaders