Maine
State Prayer Call:
Date and Time TBD
(605) 313-5701
Access Code: 1653577
State Leader(s):
Robin McLaughlin
State Motto:
Dirigo, translated "I Direct"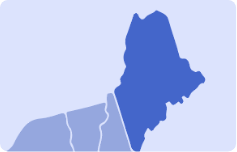 Download State Prayer Guide
Post Your Prayers For Maine
Submitted Prayers For Maine
Tim M
July 3, 2022, 3:39 pm
Father we love you. I ask that you would give us your heart for Maine. I ask that you would show us the secrets to pray into for our land, Jer 33:3. I ask that the enemies schemes would be brought down, for confusion in the enemy camp. At the same time I ask for your people to be raised up with a spirit of boldness and courage. I ask for righteousness to be exalted in our state. I ask for men and women to arise, that have your strategies in their hearts, to take back all the positions of authority that belong to the righteous. I call forth your new leadership now into our state and all areas of leadership! Father you are the great King over all the earth. Thank you for your love for each one of us.
Carol M
June 1, 2022, 9:54 pm
Jehovah God, Please raise up God fearing school board members and legislators that will protect our children from the evil curriculums the schools are trying to impose. Bring in teachers that will oppose this kind of thing and empower parents to stand up for their kids. We know nothing escapes Your notice, Lord God, and You control all things. Protect our children Lord. In Jesus I pray, Thy kingdom come and Thy will be done. Reveal the evil intent against our children and the family unit that schools are pushing on our kids. Expose all lies and depose all administrators snd teachers lined up against You in this evil . To God be the glory. Amen