Idaho
State Prayer Call:
Date and Time TBD
(720) 527-5940
Access Code: 7195523
State Motto:
Esto perpetua, translated "Let it be perpetual"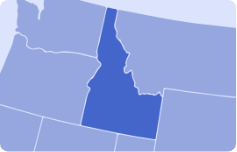 Download State Prayer Guide
Post Your Prayers For Idaho
Submitted Prayers For Idaho
christine s
June 22, 2022, 7:58 pm
Oh Lord Jesus Christ! Idaho has long honored You! it's people have been loyal to You! please destroy the efforts of those people in Idaho who want to turn the hearts of this state away from You!
Christy Z
June 15, 2022, 7:51 am
Dear Father, Bless the good people of this state. Strengthen their resolve to see and hear the truth. Bless them to turn from darkness and the evil that is working it way into our world. Hold us in your hand of salvation. This prayer I offer in Thy Holly Name Amen
christine s
June 13, 2022, 7:12 pm
Dear Lord God of Heaven and earth, Please overturn the evil murderous law Roe v. Wade and protect ALL unborn babies, regardless of HOW they were conceived, or WHO their parents are. Please provide loving arms and homes for ALL babies born into this world. Thank You.
Esmeralda W
May 20, 2022, 10:19 am
Lord, I lift up the state of Idaho. May you give each one of us the strength we need to do what is expected of us. Elections are coming up Lord and you have placed many God fearing conservatives up for elections this November. I pray you touch each one of them with your strength, guidance, wisdom. May there be a just and fair election. In Jesus name!