Colorado
State Prayer Call:
2nd Wednesday of the Month at 12:30 PM MT
(605) 313-5966
Access Code: 4931475
State Leader(s):
Bret Smith
State Motto:
Nil sine numine, translated "Nothing without the Deity"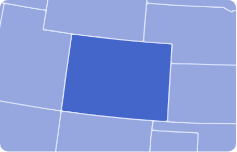 Download State Prayer Guide
Post Your Prayers For Colorado
Submitted Prayers For Colorado
Patty A
June 29, 2022, 5:21 pm
I pray for Gods supernatural wisdom and discernment to be washed over every leader in Colorado. Our state has enormous challenges with the rise in crime and the deteriorating of our conservative values that we hold near and dear to our hearts and election integrity. I pray Lord Jesus you will touch their hearts and change their minds on the most important issue in America today stopping abortions in every state. What man cannot do Abba, Father can and this absolutely is His will for every state in America. Amen
Leslie E
June 13, 2022, 4:43 pm
Lord Heavenly Father, As the darkness appears to spread, help us be the light to shine in that murky darkness. Colorado needs you Lord, and please forgive us as we have gone our own way in so many areas. I pray for our children, both the unborn, and the older ones. The enemy is trying to seek, kill and destroy and I pray life, health, protection, and Jesus love over them all. In Jesus name, Amen
Carroll D
June 10, 2022, 7:35 am
Lord, We see the corruption that has been allowed to creep into, and start taking over, our beloved state. You have blessed us with so much majesty and beauty in this state, we ask You to help us clean out the ugliness. Lord, we pray that all the corruption that has snuck into our state capital be removed, in Jesus name, and that all the election fraud in this state be revealed. We repent for allowing the abortion laws in this state to come to the point of infanticide, and we pray that You will help us overcome that evil. We pray that both Jared Polis and Jena Griswold lose their bids for reelection and that they be replaced by state leaders that honor You. Thank you, Lord, for those that are faithful, and we pray that You continue to raise up faithful people that will honor You.
Griffin Y
June 8, 2022, 8:30 am
Lord we ask that every leader in Colorado bump into Your Son Jesus in a major way. That their eyes would be opened to Your love and they would have a heart for You. Please save us from ourselves, our wicked ways and anything that does not bring Glory to Your Great Name! This nation was built on the fact that You are our only hope and nothing good is accomplished without putting our trust in You. Please help us find that faith again! Draw us back to You! In Jesus Name
June 2, 2022, 12:46 pm
Oh, Lord, You are to be feared above all. The hearts of all leaders are in Your hands. Let there be a change of heart in state leaders who voted for this evil recent Colorado abortion law. May it be removed. In Yashua's Name.
Antoinette H
June 2, 2022, 8:37 am
Heavenly Father, we pray for thorough "election integrity". Thank You that You are in the process of EXPOSING, PURGING and CLEANSING here in Colorado, here in the US and all over the world -- that Your DEVINE LAW is performing it's perfect work. You know the end from the beginning and You have called Your people to be salt & light everywhere they go in all Your amazing creativity. Raise up the righteous in positions of authority everywhere!
Beatriz B
June 1, 2022, 11:57 am
Lord And King Jesus Christ, we bless you and worship you, we pay for your intervention in Colirado, to change the hearts of people back to you and the ways of righteousness, we pray your kingdom come, and light be in Colorado we ask arrows of the Lord delivarence for our sons and daughters from the womb to highst colleges, deliver them from evil man, from the evil one, undo unrighteous laws agaist their lives, agains what is teach i. Schools that does not align with you, I ask for your i tervention, that every knee will bow dow and worship you, in Jesus name, may you be enthrone and nothing be without your providence ( divine oresence ) thank you King Jesus, we enforce the cross of calvary where you display your victory by dying for us cleansing us and rediming us to our heavenly father, redim this land we pray cover our sons and daughters with your precios blood, forgive us for our apaty for being asleep and didn't even realuze we were loosing territory, but no more we will pissess the inheritance you ha e given us. Be enthrone in Colorado. In every heart may we experience your kingdom come. Your shalom and unity in this State in your Holy name, I also pray your proteccion for Godly and righteos man and women in goverment, and cry out for mercy and delivarence for those against you, n ay tgey come to you quickly. Amen
Marie A
May 23, 2022, 11:34 am
My Lord and Saviour....In the name of Jesus we ask for your hand upon the State of Colorado and all their leaders. Open their eyes to truth. We pray against all the evil agendas they have passed and those that haven't. We pray for leaders who serve you and stand for truth, liberty and justice. May God Bless Colorado and America!
Lewallen F
May 23, 2022, 3:53 am
Dear Heavenly Father open the eyes of the leaders in Colorado to see the senseless abortion laws in the state. Murder of the unborn is just that .
Pray For Colorado Leaders