Alabama
State Prayer Call:
Every Wednesday at 9:00 AM CT (Starting July 6th)
(716) 384-3285
Access Code: Code 1585201
State Leader(s):
Anne Cox
State Motto:
Audemus juras nostra difendere, translated "We have to fight for our rights, or they might end in bloodshed"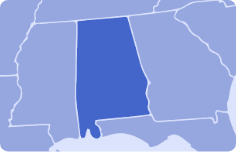 Download State Prayer Guide
Post Your Prayers For Alabama
Submitted Prayers For Alabama
Kay M
June 25, 2022, 8:53 am
Father, We thank you for placing our boundaries in this Justice state for such a time as this. Give us the wise and understanding heart to discern what we need to do. We agree with the prophets that Alabama is marked out, carved out and a leader in doing those things that are right and just in Your eyes. That other states would follow our courageous lead for Justice. Thank you for the strong stand against abortion Governor Ivey has given us. We also ask that we as your sons and daughters would step in as mothers and fathers to guide and help those new moms who may not have anyone to help them. We ask You for courage and strength as we stand against the enemy's plans for our state. Uncover the enemy's plans, and shine Your light on them, so we will not be taken by surprise. We ask that You would give us Your blueprint and strategies for Victory and release Your help from heaven to help us in this fight. Thank you for these Alabama intercessors. Release Your increase all around us. Thank you that we lack nothing and we are complete in You. In Jesus name we ask, amen.
Regina H
June 2, 2022, 6:29 pm
Father, we lift up our state, city, and county leaders to you. We ask for righteous people to fill the offices and to lead us back to You. We call for the principalities and strongholds that have kept a religious spirit over the state and hindered Your move to be brought down. We decree that You are Lord over Alabama. We remind You that Alabama was the first state to recognize Your beloved Israel as a nation. We ask for the blessings that come with blessing Israel and peace for Jerusalem to be seen in our state. You love Alabama. You love the First Nation peoples of Alabama and we pray for Your blessings to be on them. We call for the fires of reformation to be in pockets of this state and for them to burn until they grow so large that the state is covered and the power of the Holy Spirit is seen visibly. Let Your Fire fall and let this state always stand up for good, righteousness, and freedom. We ask that Your will be done and Your jingdim be manifested right here. Let wicked business fall and righteous business rise up to take their place. We thank You that You know us and love Alabama. We ask in Jesus Name. Amen
Candice J
June 1, 2022, 9:09 am
Father God I plead the blood of Jesus over the sins of my state Alabama. We are the justice state. I pray we stand for life, protecting our children. And stand with Israel. Give our leadership courage to fight for our rights as a people. Thank you Father
Connie S
May 23, 2022, 9:23 am
Dear Gracious God, please be with the state if Alabama. Guide the true Godly leaders to follow your word and when they do that, they can truly be there for the people. I pray this in the name of Jesus Christ our Lord and Savior, Amen
Mary G
May 23, 2022, 7:25 am
Father, we praise You and give You all Honor and Glory this morning. You are Ruler over all. We lift our hands and voices in everlasting praise to You and plead the Blood of Jesus over Alabama as we head into this election season. May your will be done. We pray for righteous leaders that will be strong and stand against tyranny that we might live in peace. We lift up the Supreme Court Justices that they will be strong and courageous to overturn Roe v Wade. Release your mighty warring angels to surround and protect us against violence. Give your people discernment at the voting booth. We ask your forgiveness where we have failed to walk in your ways. Lead us back to the path of Righteousness for Your Name's sake. In the Mighty Name of Jesus we pray.