October 7, 2021 | Joyce Swingle, IFA Contributing Writer
Father, use the Maricopa County audit and the work of Cyber Ninjas to bring revival to the church of Christ in America.  And from that revival bring forth salvations upon salvations rolling across from sea to shining sea until this nation is reclaimed, reformed and reactivated as mission-critical in the Great Harvest that is coming upon the earth.  In Jesus' Name.  Amen.
Will the Lord bring more out of the Maricopa County forensic audit than cleaned-up election processes?  If Cyber Ninjas CEO Doug Logan's prayers are answered, nothing less than revival will flow from the months-long, careful and exacting work.  Logan joined Pray with America's Leaders on Sept. 30, along with Virginia State Senator Amanda Chase to discuss the much watched and disputed forensic audit.
"I truly feel like the entire audit, I was carried through prayer," Logan said, thanking IFA's intercessors.  "I was very aware of all the people praying all the time."  The team installed a prayer wall at the Arizona Veterans Memorial Coliseum; over the course of the project, staff and volunteers added poster board upon poster board to collect all the prayers and Scripture.  "I am amazed at the high correlation between believers who are seeking the truth and who want to be involved in election integrity….There were so many Christians there. And they were there just to honor God," Logan said.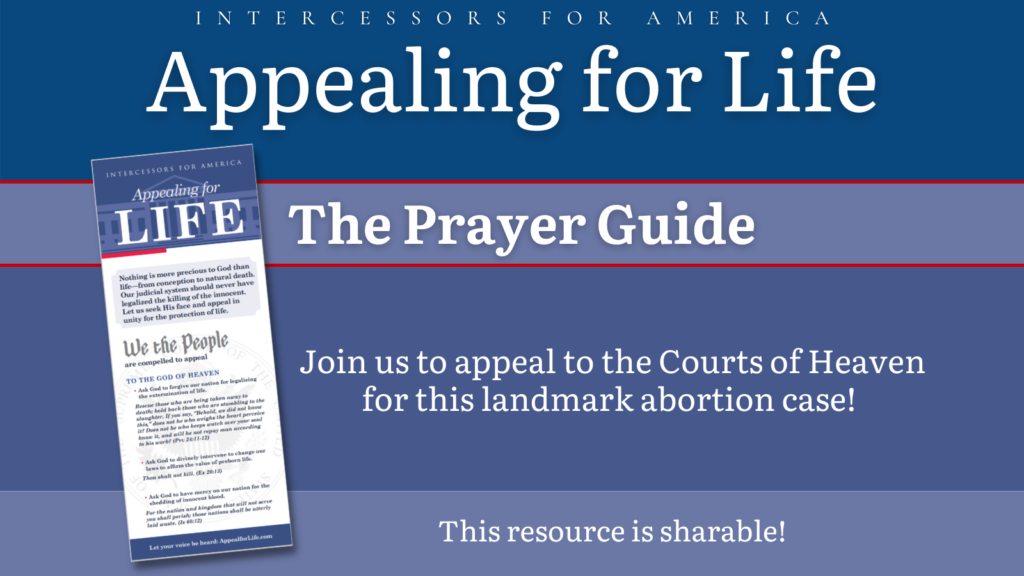 The prayer was needed as the audit revealed significant and disturbing discrepancies about the Arizona election.  Logan shared three key findings:
The numbers from various sources (canvassing; official voter lists; mail-in ballots) didn't match.  As Logan said, something so important as voting should balance, just as your checkbook and accounts do.
 More than 23,000 mail-in ballots sent to invalid addresses were included in the vote, despite the fact that mail-in ballots are not supposed to be forwarded.  This discrepancy alone exceeds the Biden margin of victory (less than 10,500) in the entire state.
Maricopa County election officials deleted data that should have been retained, making the audit more difficult to complete.
Many questions remain, but responsibility for answering them is now in the hands of Arizona Attorney General Mark Brnovich.  Especially important:  Resolving the issues surrounding the mail-in ballots, Logan said.  (Cyber Ninjas was unable to work further in this area because the Arizona Senate had excluded canvassing from the project's scope.)
From the start, Logan found himself immersed in the maelstrom of mainstream media.  "It was really frustrating to see all the news articles calling me a grifter…negative partisan…there to manipulate the results…paid to change the results," Logan said.  "I've lived a life of integrity that people usually comment on."
In fact, Logan endeavored to run the audit in a transparent and thorough way.  "Integrity was really important to the way that we did everything," he said.  "In making sure that we're accountable in the way we put our processes and procedures together, 24/7, live-streaming.  That was extremely, extremely important to us."
Intercessor Cheri Tuttle confirmed the careful work, telling IFA's Gloria Robles  (Arizona Audit:  Eyewitness Testimony of the Power of God at Work, Aug. 17) "…there was such a positive atmosphere, the peace of God was there."  The tone was set early on, according to Tuttle, as Logan met with staff and volunteers to emphasize the importance of living above reproach and of individual and national repentance.  Tuttle shared how impressed she was when Logan spoke about listening to the Holy Spirit.  Recounting one prompting that he unfortunately ignored, Logan laughed:  "About a week before the audit, I felt like I was supposed to buy a megaphone.  And I was like, 'Why? I don't need a megaphone. What do I need a megaphone for?  Sure enough, I'm at first day of training, it would have been very helpful to have a megaphone."  You can hear more about Tuttle's audit adventures on an IFA prayer call here.
Chase, the senator from Virginia, visited the audit site and resonated with Logan's goal to conduct an audit above reproach.  "I knew at that point that he was a believer," Chase said.  "So I knew we were in good hands and I left the audit thinking 'okay, he has the mind of Christ.'"  Chase said she and other states' legislators are hearing how frustrated their constituents are that truth — specifically about the election — is not widely disseminated in mainstream media and society.
As a conservative in a liberal-dominated state, she has first-hand experience of the pressure to silence her views about the election.  So when the final report was presented in Arizona, Chase was onsite to hear the findings for herself and her constituents.  Encouraged by the results in Arizona, Chase has started an election integrity caucus comprised of several like-minded state legislators. The caucus is digesting the Arizona audit reports for application to their own state election processes.
Chase thanked Logan for persevering despite obstruction from several quarters.  "Unfortunately, in the book of Revelation, … It says in the end times, those things which they call good are evil and evil good.  And here we are," Chase said.  "Every morning I get out of my bed, I [say] 'Well You didn't come back today, so I guess there is still a lot of work to be done.'"  Among that work, exposing Virginia's risk-limiting audit, which requires only nominal ballot checks.  With the registrar of one of the counties she represents, Chase took what she called the "Fraudit" public, revealing its short-comings and pushing for a true forensic audit.
That work is a real battle, as Logan and Chase attest.  Earlier in the interview, Logan shared, ""There were so many days, where I privately got on my knees and was in literal tears as to the weight of what was going on and in prayer.  I could just tell that people were praying for us."  Later, Logan shared, "When you step into this, everyone is out to get you.  Everyone is out to make you look bad.  There's a lot of…spiritual warfare…that seems to happen in the middle of it."
Logan continued, "I don't fully understand why this audit is so pivotal in what is happening to our country right now. But it is in the spiritual realm.  It's not just in the physical realm.  It has a core impact on where our country is going.  And I'm truly believing for revival.  I don't know how revival comes out of an audit, but that's what I've been praying for!"
Logan's prayers are being answered.  He beamed with joy as he shared with IFA that at least five people working on the audit gave their lives to the Lord.
Those lives saved won't be the only lasting result of this work.  As Logan marveled at God's provision and responsiveness to their needs, he was reminded of the Old Testament memorials to the Lord's goodness.  "There are always those moments in your life that become your pile of rocks in your faith," Logan said.  "I feel like this audit is a very, very big one for me.  I will be telling my kids and my kid's kids about the time, the faithfulness that God had in meeting every possible need that we had over the course of the audit."
Logan still seems awed that he was chosen for this work.  Likening himself to Gideon, he didn't feel up for the task, but like that sheepish Biblical warrior, he knew God would equip.  "Probably, if I thought I could do it more in my own might," Logan said, "I may no longer be qualified."  He credits every achievement to the Lord.
But the work of the audit is not finished yet.  Prayer is still essential.  Among the needs:
 For Arizona AG Brnovich, Logan, Chase and others working on election integrity.  For courage, protection, perseverance, victory over the spiritual warfare.
 For truth, transparency, righteous resolutions of outstanding questions, especially related to mail-in ballots
 For appropriate actions on the part of the 22 states whose legislators are making serious inquiries about the audit.
 For wisdom for Logan as to the role Cyber Ninjas might take in additional audits.
 That the right people come forward to help.
 For the elections in Virginia.  For removal from office of those obstructing election integrity efforts.  For the Lord's best for Governor, Lt. Governor and Attorney General.  For a smart ballot with a QRC code to be developed and adopted to decrease opportunity for fraud.  For constituents across the nation to reach out to their legislators to encourage them to join the election integrity caucus.
For the Church to do what 2 Chronicles 7:14 says:  Humble itself, pray and repent of wicked ways.
For more people to nurture their relationships with God through prayer.
For revival and salvation to flow from the audit and the election integrity efforts.
See the entire prayer call with Logan and Chase here.
Will you agree in prayer that God would bring election integrity and revival?
Author Joyce Swingle is an intercessor and contributing writer for Intercessors for America.  With her husband Rich, Joyce share the Gospel of Jesus Christ around the world through drama and speaking.  Joyce also has performed on stage and screen.  Prior to going into full-time ministry, Joyce worked for about 20 major magazines and now works in pastoral ministry and Christian counseling. She lives in New York City with her husband Drama Evangelist Rich Swingle. (Picture Credit: Getty Images.)