WHAT THIS ADMINISTRATION IS DOING ON BEHALF OF THE BLACK COMMUNITY
Wanda Alger, IFA Field Correspondent
|
August 2, 2019
WHAT THIS ADMINISTRATION IS DOING ON BEHALF OF THE BLACK COMMUNITY
Wanda Alger, IFA Field Correspondent
|
August 2, 2019
I Prayed
have prayed
Our spiritual adversary, the devil, wants nothing more than to divide and conquer. If he can get us to doubt one another's motives and destroy the trust in our leaders, he will gain a big advantage in winning his cause and deceiving the masses. As constant threats of racism are being raised, perhaps we need to consider the truths of what this current administration and President are actually accomplishing on behalf of minorities of all kinds. Here is a sampling of news reports that reveals a different picture than what the mainstream media portrays. From first-hand testimonials to recent legislation supporting minorities, it appears this President may not be as racist as many claim. As Alveda King stated in her report, "The president is working for America, period, as he is draining the swamp. And African-Americans are benefiting." Kevin Jackson, an unapologetic black Christian conservative and radio talk show host states, "President Trump doesn't pander to blacks, he just simply delivers for the nation."
Please read and share this sampling of news articles to gain a different perspective on what is being done to heal the racial divide in our nation. (Note: Hyperlinks are embedded in each heading to access original articles.)
View Comments (15)
From theepochtimes.com – Pastor Calls Trump Most 'Pro-Black' President Ever
"This administration has taken a lot of people by surprise," Pastor Darrell Scott, from Ohio, told members of the round table in the White House's Cabinet room. "This is probably the most proactive administration regarding urban America and the faith-based community in my lifetime. This is probably going to be … the most pro-black president I've seen in my lifetime," Scott said. "This president actually wants to prove something to our community, our faith-based community, and our ethnic community. The last president didn't feel like he had to. He felt like he didn't have to prove it. He got a pass."
From thehill.com – Ben Carson: Trump is not a racist 
"I think you can see what the president means by looking at his accomplishments," Carson said. "Look at his policies. Under this president you see the rising tide lifting all boats. You see low unemployment — record low — for blacks, for Hispanics, for all the demographics of our nation. When you have somebody spending this much time and this much effort trying to elevate those who are vulnerable and who are suffering in our society, I think we should pay a lot more attention to what they are doing than what anyone is saying," he added.
From theepochtimes.com – Lynne Patton on Working for Trump and Why the Media Is Wrong About Him
"I don't need this job. I don't need the money. I'm here because I'm serving my country under a man who has served me very well. I'm the type of person who judges folks by their actions, more so than their words. And the Trump family and the president have really stood by me on multiple occasions on a personal and professional level. They gave me an opportunity of a lifetime. They recognized my work when I did it, again, going from, literally, a personal assistant to a vice president. They put me in charge of all of their philanthropy, determining which altruistic causes deserved attention.
I want folks to be able to give this president a chance. I get a lot of times, you're a black female. How on earth do you reconcile working for this man? He's never said those things. And what I would want people to leave with is that this administration has created an urban council that's now going to invest over $100 billion through opportunity zones into urban and rural communities. This administration has given maybe $40 million more to historically black colleges and universities than the Obama administration. This administration has also passed the single most progressive prison-reform bill in the last three decades. And those aren't my words. Van Jones said that. We are changing the lives and future of minority and rural Americans every day, and that's something that I'm very proud to be a part of."
From ijr.com – Former NFL Player Praises Trump's Efforts for the Black American Community
Former National Football League (NFL) player Jack Brewer is praising President Donald Trump on his efforts made for Black Americans. "Thank you @realdonaldtrump for taking so much time to meet with me this weekend to discuss tackling the critical issues affecting blacks in America. We are not as divided as our politics suggest and I pray that blacks continue to have positive results from policy reforms in criminal justice, jobs, college education and welfare."
From thedailycaller.com – It's 'Hard To Believe' That Trump Is Racist After Meeting With Him
[Pastor] Owens pushed back on the characterization of Trump's comments about Baltimore as racist. Owens, who is 80-years-old and the president of the Coalition of African American Pastors, said "I know [racism] when I see it. I find that hard to believe that Trump is racist. We discussed the issues facing the black community. There are many."
From thewashingtonexaminer.com – Alveda King: Black Americans are benefiting from his presidency
"The president is working for America, period, as he is draining the swamp. And African-Americans are benefiting. Our jobs are going up. Our unemployment is going down. Companies are saying they are going to raise their own minimum wage and do bonuses because of the tax cuts. So, the president is helping the African-American community. And I don't believe President Donald John Trump is a racist," she said.
From thedailycaller.com – President Trump Has Been A Champion For Black Americans
"The black community actually has a lot to gain from the president's jobs and justice agenda. In just over two years, President Trump has shown himself to be committed to making bold changes that are overwhelmingly good for people of color. Democrats sitting on the sidelines, tearing down every Trump supporter and administration staffer, threatening impeachment and baseless investigations do not do anything to bring the country together or solve our problems."
From thedailycaller.com – Trump is Winning the Black Vote
According to one of the most reliable pollsters of the 2016 election — Rasmussen — President Trump's black support has doubled from 2017 to an astounding 36 percent. Other polls show him hovering around 14 to 21 percent, which is still quite impressive when you consider that he enjoyed 8 percent black support during the 2016 election. Trump has bragging rights for fostering the lowest unemployment numbers for black people, the lowest poverty numbers for black people, a booming economy, millions freed from government assistance and an increase in black entrepreneurship.
From The Daily Signal YouTube – Why Trump's Policies Are Better for Black Americans
Turning Point USA's Candace Owens spoke to The Daily Signal about why conservative policies are better for the African-American community.
From theblacksphere.net – Blacks Love Trump Twice as Much
"President Trump doesn't pander to blacks, he just simply delivers for the nation. Because blacks historically are the underclass, we benefit most with Trump's results. Thus, black unemployment has dropped most dramatically. This is partially because illegals find life much more difficult in Trump's America. These jobs can now go to black teens and young black men. Working builds morale and self-esteem, which reflects in the new polls."
———
Lord, we pray that we as believers would rightly discern the truth and allow Your Spirit to lead us into the full counsel of heaven without bias or partiality. We pray for our President and his administration, that they would continue to champion the cause for all Americans, regardless of skin color or ethnicity. We pray that the lies circulating about the current President would be overshadowed by reports such as these, highlighting the positive initiatives and effective programs that are being implemented on behalf of black Americans and other minorities. Bring us together by Your Spirit to see as You do and learn to walk together as we bring healing to this nation and unity to the entire body of Christ. For Your glory alone, in Jesus' name. Amen. 
Partner with Us
Intercessors for America is the trusted resource for millions of people across the United States committed to praying for our nation. If you have benefited from IFA's resources and community, please consider joining us as a monthly support partner. As a 501(c)3 organization, it's through your support that all this possible.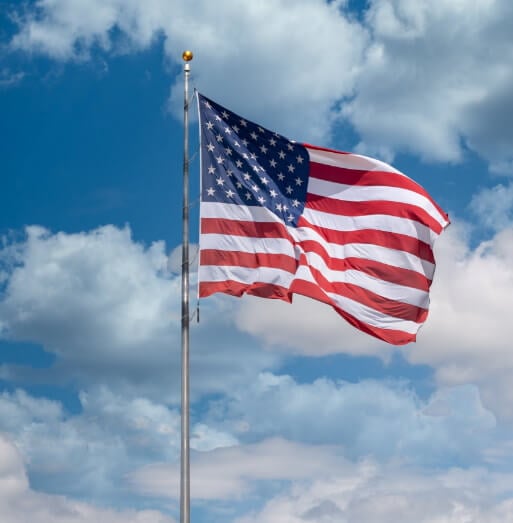 Become a Monthly Partner